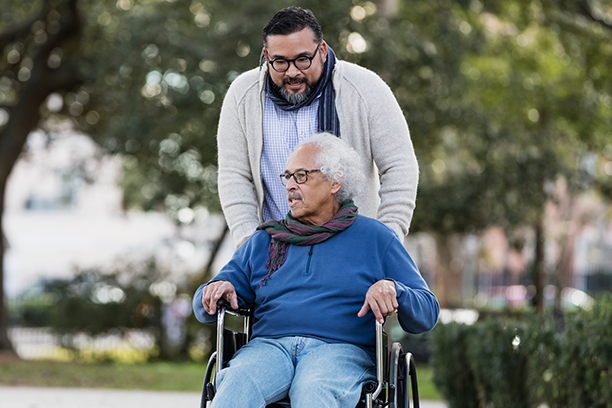 Find Answers to Frequently Asked Questions About Senior Home Care in Plano, TX and the Surrounding Area
Visiting Angels Answers Frequently Asked Questions About Senior Home Care in Plano, Murphy, Parker, and Nearby Cities
As you begin to explore senior home care services, you might be wondering what resources are available. At Visiting Angels of Plano, we provide top quality care for our local friends and neighbors. When you partner with Visiting Angels, your elderly loved one can remain at home or in assisted living while getting the flexible, one-on-one senior care they need.
Questions About Getting Started
How Do I Know If My Loved One Needs Senior Care?
There are many warning signs that a senior may need additional assistance to stay independent at home:
Disheveled appearance

They have unexplained bumps or bruises

It's hard from them to get around on their own

Their cognitive health is on the decline

They have had one or multiple falls

Their house is cluttered or dirty

They can no longer perform tasks that were once easy for them
How Long Does It Take to Establish Care?
Visiting Angels of Plano can typically begin providing senior home care services within 48 hours of the initial consultation. In some cases, services can start the same day.
What Are Your Office Hours?
We are available 24/7, but our standard office hours are from 9 am – 5 pm for inquiries of service.
How Do We Get Started with Senior Care?
To get started you can either fill out our intake form by clicking here or contact our office at 972-846-8417 to schedule a free, in-home assessment with one of our care coordinators.
Questions About Visiting Angels of Plano
Is Visiting Angels of Plano Licensed?
Yes. Visiting Angels of Plano is licensed, bonded, and insured.
What Services Does Visiting Angels of Plano Provide?
Our agency offers a wide range of senior home care services to help keep seniors independent at home – we encourage you to take a look at all services before completing your care plan:
Can You Provide Transportation?
Yes, our caregivers are able to provide transportation using your loved one's vehicle or, for a small mileage fee, the caregiver's vehicle.
Questions About Our Caregivers
Are the Caregivers Under Visiting Angels of Plano's Employment?
Yes. All caregivers are under our employment.
How Are Caregivers Screened?
To be a part of the Visiting Angels of Plano team, they must go under a rigorous interview process that includes multiple meetings, background checks, references, and personality assessments.
Are Your Caregivers Licensed and Bonded?
Yes, all caregivers are licensed and bonded.
Is There Consistency Among Caregivers?
We do our best to ensure that the caregiver schedule is as consistent as possible. Sometimes caregivers get sick or schedules get changed, but we do our best to fill those missing slots as soon as possible.
Do You Provide Training for Your Caregivers?
Yes, we provide specialized senior home care training for specific services like Fall Prevention, Alzheimer's Care, and Certified Palliative Care.
What If I Don't Like My Caregiver?
We will accommodate schedule and caregiver change requests. Our staff always does their best to find the perfect fit for your family. Although, if you believe the match is not quite right, you can request a different caregiver at any time, for any reason. We will modify care plans as needed when health conditions change.
Questions About Logistics
What Hours Can Your Caregivers Work?
We provide services 24/7, so whenever you need senior home care services, we will be there! Depending on the number of hours you need you may have multiple caregivers.
Can You Work with Home Health Agencies?
Yes, we are able to work with home health agencies.
Do You Provide Care in Assisted Living Facilities and Nursing Homes?
Sometimes our clients move into live-in facilities and realize that the care does not completely meet their needs, especially if the facility is at maximum capacity. A caregiver from Visiting Angels of Plano can be present around-the-clock or for just a few hours a day to provide supplemental personal care and attention.
What Areas Does Visiting Angels of Plano Serve?
Visiting Angels of Plano provides senior home care services to seniors living in Plano, Murphy, Parker, and the surrounding area.
Questions About Costs
How Much Does Care Cost?
Our costs can vary depending on the type of care you need, where you are located, and how many hours you need. We offer our services at an hourly rate.
Does Insurance Cover Your Services?
Medicare and Medicaid do not cover our services, but most long-term care insurances do.
What Is Long-Term Care Insurance?
Long-term care insurance is an insurance that covers care that usually isn't covered by healthcare, Medicare, and Medicaid.
Contact Us Today to Learn More
If you are interested in using Visiting Angels of Plano as your one-on-one senior care provider or have more questions about our senior home care services, we encourage you to reach out to our agency by clicking either of the buttons below.
Serving Plano, Murphy, Parker, TX, and the Surrounding Area
Visiting Angels
PLANO, TX
2301 Ohio Dr #135
Plano, TX 75093
Phone: 972-665-9946
Fax: 972-665-9949