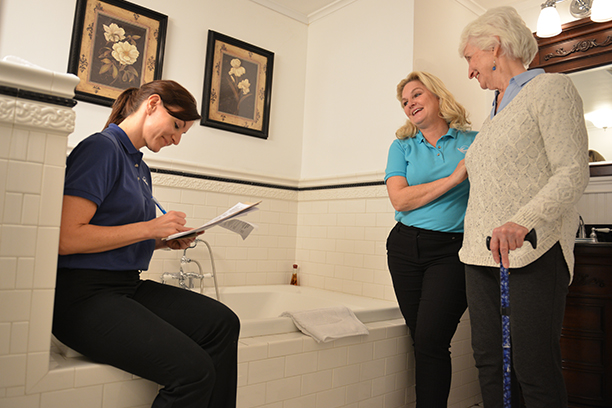 End of Life Care Provides Comfort and Support to Seniors and Their Families in Plano, TX and the Surrounding Area
Choose Visiting Angels for End of Life Care in Plano, Murphy, Parker, and Nearby Cities
When the prognosis is terminal, end of life care provides physical and emotional support for individuals during the final life stages. Caregivers assist your loved one while supporting your family during this difficult time. Although passing is a natural part of our lives, it is very emotionally challenging to say goodbye. An increasing number of people choose to spend their final days at home, so families must have access to compassionate and supportive care. While our program does not include hospice care, our caregivers can work beside and support the hospice team. At Visiting Angels of Plano, we provide home care options to help you and your loved one during this challenging time.
Care Services During Life's Final Stages
With a limited life expectancy, a plan to address pain relief and other symptoms is often required. End of life care at home is a favorable solution. Your loved one can receive care in the privacy of their own home, instead of in a hospital or nursing facility. Visiting Angels of Plano offers a client-focused, tailored approach. A care coordinator will create a plan designed around your loved one's unique needs. Caregivers provide not only traditional personal care such as meal preparation, laundry, light housekeeping, shopping, and running errands, but also help with more specific tasks including:
Minimizing pain and other symptoms

Dressing, bathing, and daily hygiene

Alleviating feelings of loneliness, stress, and anxiety
Relief for Close Caregivers
In many cases, responsibilities fall on close family and friends. The physical demands of providing care while managing sadness and grief can be exhausting. We make sure that family caregivers get the well-deserved break they need. Our home care providers become the anchor that family members can turn to when they feel overwhelmed, offering emotional support and a helping hand. If you are the primary caregiver, you do not have to shoulder these responsibilities alone—please call upon Visiting Angels of Plano for help.
Contact Visiting Angels of Plano Today
To learn more about end of life care for terminal loved ones in Plano, Murphy, Parker, and the surrounding area, call Visiting Angels of Plano. Our staff will answer your most pressing questions, go through our programs, and schedule a free, in-home assessment at your earliest convenience. We understand that most families will need care as soon as possible if their loved one is in their final days, so we do our best to get a care plan created as quickly as possible and start end of life care services within two days' time.
Serving Plano, Murphy, Parker, TX, and the Surrounding Area
Visiting Angels
PLANO, TX
1400 Preston Road STE 400
Plano, TX 75093
Phone: 972-665-9946
Fax: 972-665-9949