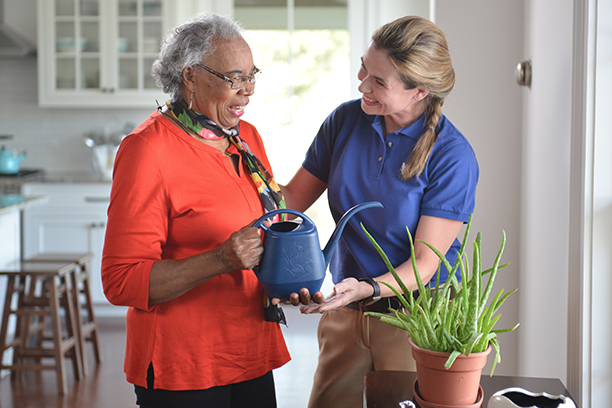 Respite Care for Family Caregivers in Plano, TX and Neighboring Communities
Visiting Angels Offers Compassionate Respite Care to Family Caregivers Looking After Aging Loved Ones in Plano, Murphy, Parker, and Surrounding Areas
For many caregivers, respite care is invaluable. The word 'respite' means to take a short period of rest or relief. At Visiting Angels of Plano, we help you take a break from your responsibilities as a caregiver so you can take care of your own needs.
It can feel daunting to leave the care of your loved one in the hands of another. We are committed to providing high quality, compassionate in-home care to all our clients so that families can put their mind at ease.
If you need outside assistance to help provide care to a parent, spouse, grandparent, or loved one, Visiting Angels of Plano is ready to lend a helping hand.
What Are Respite Services?
Respite care is an essential service to caregivers of all kinds. But what exactly is it?
This kind of home care is designed to support caregivers who need assistance in caring for their loved one so they can tend to their own needs.
This type of care from Visiting Angels of Plano can greatly reduce the risk of caregiver burnout, making everything feel more manageable. We can offer care anywhere from an as-needed basis, to a weekly routine. We have many flexible plans that can be tailored to fit your unique needs.
Many caregivers will use this time to run errands, meet up with a friend, attend an event, or simply rest. Whatever you need the time for, our caregivers are ready to help.
Additional Benefits of Taking a Break
Taking time for yourself has a tremendously positive impact on your health and well-being. It may feel counterintuitive at times, but the more you can balance your wellness, the more you can show up for others. Some of the most common benefits in-home care include:
The ability to relax, reenergize, and rest
Being able to focus on other responsibilities in your personal and professional life
Having peace of mind knowing your loved one is in good hands
Allowing yourself the time to focus on yourself – your health and well-being come first!
What Can We Help with While You Are Away?
The in-home care services offered through our respite care program cover a wide variety of caregiving activities.
Our home care services range from general care such as companion care and personal care, to more specialized services such as fall prevention and Alzheimer's care. Some of the most common tasks that our caregivers help with are:
Light housekeeping
Meal preparation
Laundry and linen changing
Transportation to appointments
Medication reminders
Assistance with activities of daily living
We want to make sure our programs work for you and each program is customizable to your needs. We offer care on an as needed basis, or you can set up recurring appointments to integrate us into your normal routine.
Getting Started
In some cases, care might be needed on short notice. We can fast-track the planning and scheduling process so you can start receiving needed services right away.
Whatever your needs, Visiting Angels of Plano is here to help. Click one of the buttons below to get started with our respite care.
Serving Plano, Murphy, Parker, TX, and the Surrounding Area
Visiting Angels
PLANO, TX
2301 Ohio Dr #135
Plano, TX 75093
Phone: 972-665-9946
Fax: 972-665-9949