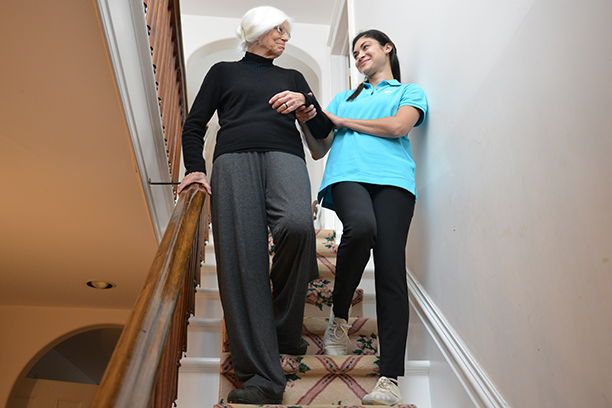 What Is Alzheimer's, and How Can Alzheimer's Assistance Help My Loved One in Greater Plano, TX?
Visiting Angels Provides Alzheimer's Assistance to Those in Plano, Murphy, Parker, and Surrounding Areas
According to the Alzheimer's Association, Alzheimer's affects about 5.5 million Americans, most of whom are over 65. Early Onset Alzheimer's affects approximately 200,000 Americans under the age of 65.
Receiving an Alzheimer's diagnosis is a life-changing event that leaves family caregivers in Plano, Murphy, Parker, and Texas's surrounding area with numerous questions. Visiting Angels of Plano is here to help answer questions you might have and provide assistance to your loved ones. Please read below to see our answers to our most frequently asked questions about Alzheimer's Disease and how our Alzheimer's assistance services can help.
What Is the Difference Between Dementia and Alzheimer's?
Alzheimer's Disease is the most common cause of dementia, accounting for 60-80% of all dementia cases. Dementia is a general term for brain disorders such as memory loss, cognitive decline, language difficulties, and other thinking abilities that are severe enough to interfere with daily functioning. Everyone who has Alzheimer's has dementia, but not everyone who has dementia has Alzheimer's.
Who Is at Risk of Alzheimer's?
Scientists believe that there is no singular cause of Alzheimer's Disease. There are risk factors that are out of our control that contribute to it, such as age, family history, and genetics, but there are other risk factors that we may influence.
Other risk factors include:
Head Injury:

There is a connection between a history of head injury and Alzheimer's. Protect your brain with safety measures like wearing a seatbelt in a car and wearing a helmet when applicable.

Heart Health:

The brain is dense with blood vessels designed to carry vital nutrients. If your heart is compromised and unable to pump blood efficiently, your brain is affected too. Stay heart healthy by eating a balanced diet and maintaining an active lifestyle.

Overall Lifestyle:

Strategies that promote overall healthy aging work to keep the brain healthy and may reduce the risk of developing dementia. Exercising your mind throughout your entire life can help maintain overall health.
What Are the Symptoms of Alzheimer's?
Symptoms of Alzheimer's are expressed through a person's speech, thought patterns, and behaviors. Because the symptoms are so disruptive to daily life, specialized assistance is a solution that can improve quality of life.
Someone with Alzheimer's may experience:
Confusion about time and place

Irritability and depression

Difficulty with finding the right word or phrase

Reduced cognitive capacity

Inability to problem solve
Living with these symptoms can make daily living an unexpected challenge. Alzheimer's care allows people to stay in their homes, avoiding the disruption that moving out of the house would cause. Extra support can go a long way in improving the quality of life for someone living with this condition and their families.
What Are the Stages?
Alzheimer's Disease is broken up into three stages:
Mild:

The individual experiences mild memory impairment, may have difficultly learning and communicating, have mood swings, or avoid unfamiliar environments.

Moderate:

This is when an individual begins to have difficulty performing daily tasks by themselves. They often experience confusion with time, dates, and facts. This is the stage independence typically is at risk of being lost.

Severe:

This stage is when individuals are utterly incapable of living without some form of Alzheimer's assistance. They will often struggle with caring for themselves, memory loss deteriorates further or is completely gone, and they are more vulnerable to illness and disease.
Each stage can benefit from Alzheimer's assistance. It is often recommended to introduce a caregiver at the earliest stage possible to ensure a senior is familiar and comfortable with their provider. Services through Visiting Angels of Plano can change and develop over time as your loved one's disease progresses.
What Are the Benefits of In-Home Alzheimer's Assistance?
As Alzheimer's progresses, individuals living with the Disease will need assistance in day-to-day tasks and to ensure their well-being and safety.
Moving a loved one living with Alzheimer's into a care facility can be a traumatizing experience for the individual and family. Disrupting familiar routines and environments is not advised as it can cause distress and a flare in symptoms for the individual.
Our care team provides in-home Alzheimer's assistance to maintain our clients' quality of life. We consider what we know about Alzheimer's, combined with an individual's preferences and needs when designing a plan of care. We work with you to create a tailored strategy and match your loved one with a qualified caregiver compatible with their personality.
What Are Your Caregiver's Qualifications?
Besides going through a rigorous interview process that includes background checks, reference checks, referrals, and personality assessments, our care providers must have specialized training in our Alzheimer's assistance program. Caregivers will have this training and experience before working with us, or they will receive specialized training through Visiting Angels of Plano. Any caregiver assigned to your loved one will be well-equipped to care for senior clients with Alzheimer's!
What Do Your Alzheimer's Services Include?
Our Alzheimer's assistance program is different for every individual, as everyone's needs are different. While services vary from client to client, there are a few essential Alzheimer's services we typically offer:
Wandering prevention

Medication and hydration reminders

Assistance with bathing, dressing, toileting, and grooming

Transportation and accompaniment to doctors' appointments

Meal planning and preparation

Routine establishment

Memory care to help encourage cognitive stimulation

Companion care to promote ongoing communication

Mobility assistance and fall prevention

Engagement in activities and hobbies
If there are any special requests that you would like included in your care plan, we encourage you to ask your care coordinator during your free, in-home assessment!
Do You Provide More Than Just Alzheimer's Care?
Absolutely! All our at home senior care services are available at no additional charge. We understand that seniors may need assistance in many areas, so we offer individual care plans tailored to each individual's needs. We offer a wide range of services, from daily living assistance to specialized care programs like our Alzheimer's assistance and dementia care.
Learn More About the Alzheimer's Services from Visiting Angels of Plano
If in-home Alzheimer's assistance sounds like the right solution for you or your loved one, contact Visiting Angels of Plano today or fill out our intake form by clicking one of the buttons below. We provide Alzheimer's assistance to those in Plano, Murphy, Parker, and Texas's surrounding areas. Our care team can answer any questions you have and set up a free in-home consultation with one of our care advisors. We will determine the best plan of care for your loved one during this assessment and begin setting up a high-quality care plan.
Serving Plano, Murphy, Parker, TX, and the Surrounding Area
Visiting Angels
PLANO, TX
2301 Ohio Dr #135
Plano, TX 75093
Phone: 972-665-9946
Fax: 972-665-9949