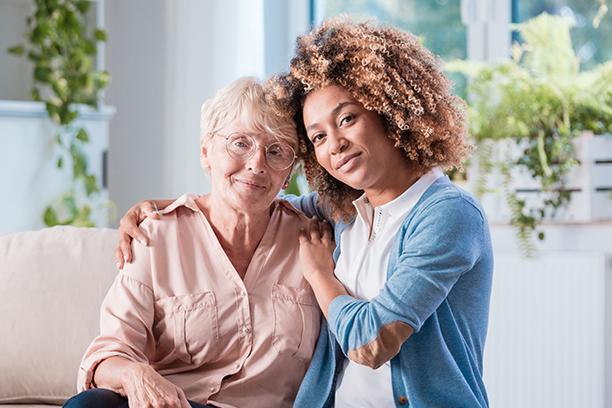 Alzheimer's Care for Seniors in Plano, Murphy, and the Surrounding Areas
Visiting Angels Provides Compassionate and Professional Alzheimer's Care to Seniors in Plano, Murphy, Parker, and Nearby Cities
When someone you love is diagnosed with Alzheimer's, it can be devastating and overwhelming. The Alzheimer's Foundation of America reports that nearly 5.1 million Americans have the fatal brain disease known as Alzheimer's. Alzheimer's - one of the forms of dementia - is well known for causing progressive memory loss and cognitive reasoning decline.
Though scientists have yet to discover a cure for Alzheimer's, some therapies and treatments can slow the disease's progression and make life easier. If you think your loved one is exhibiting symptoms of Alzheimer's, get them to see a doctor as soon as possible. If a diagnosis is made, it is essential to get an Alzheimer's care team in place as quickly as possible.
Alzheimer's Warning Signs
When seniors develop Alzheimer's disease, there are always signs. The following is a list of symptoms that seniors tend to display when they have the disease.
Seniors with Alzheimer's:
Often experience rapid mood swings or personality changes. They may also feel depressed, afraid, anxious, or suspicious and withdraw from social activities.

Withdraw from work or other activities they used to enjoy.

Often exhibit poor judgment and may fall victim to monetary scams. They may also pay less attention to hygiene.

Often misplace objects and have difficulty retracing their steps. They might also accuse others of stealing.

May have difficulty with words, both spoken and written. They may have trouble finding the right words, finishing sentences, and following conversations or directions.

Can have trouble understanding spatial relationships and images.

They are often confused about time and place. They may lose track of time, dates, or seasons.

May have trouble completing familiar activities at work or home.

Can face challenges solving problems or making plans. They may have difficulty keeping track of monthly bills, have trouble concentrating, or take far longer to complete activities.

Generally, memory loss affects daily life, such as forgetting names, recent events, and new information.
If you have a loved one who is exhibiting any of these signs, see a physician immediately and ask that they screen your loved one for Alzheimer's disease. Alzheimer's is not a normal part of aging. While some seniors may only experience some of these signs in different degrees, these symptoms will gradually increase and become more debilitating.
Caring for Seniors with Alzheimer's
When your loved one is diagnosed with Alzheimer's disease, you need to be proactive regarding Alzheimer's care.
How you can help a loved one with Alzheimer's:
Educate yourself about Alzheimer's. The Alzheimer's Foundation of America and the Alzheimer's Association are two great places to start.

Discuss preferences for future care and end-of-life situations.

Stimulate the brain with music, word puzzles, and memory games.

Set up respite and regular professional Alzheimer's care.

Build a support system for yourself. Caring for a loved one with Alzheimer's can be difficult. It would help if you had people you can ask for help with. Make sure you can maintain your mental and physical health.
Professional Memory Care
Even if you want to be the primary caregiver for your loved one with Alzheimer's, you must have support. At Visiting Angels of Plano, we offer professional and compassionate Alzheimer's care to help seniors and give family caregivers the respite care they need in Plano, Murphy, Parker, and the surrounding area. Our caregivers are patient, kind, and the level of care seniors with dementia need to improve their quality of life. Our team can make it possible for you to enjoy spending time with your loved one entirely. To learn more about how our Alzheimer's care can help your loved one, contact our staff today.
Serving Plano, Murphy, Parker, TX, and the Surrounding Area
Visiting Angels
PLANO, TX
2301 Ohio Dr #135
Plano, TX 75093
Phone: 972-665-9946
Fax: 972-665-9949