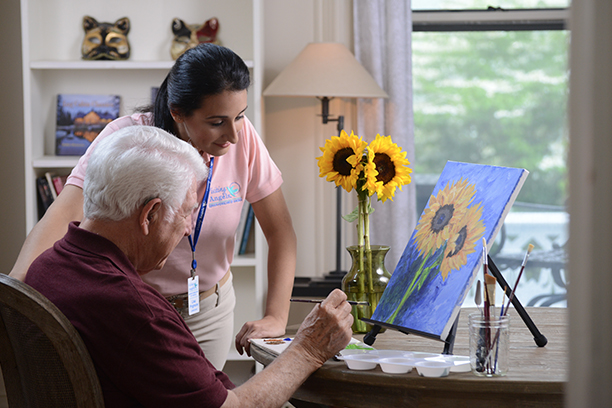 Long-Term Care at Home in Plano, TX
Long-term care at home from Visiting Angels can help seniors in Plano, TX and surrounding communities
As time goes by, seniors can develop age-related issues or be diagnosed with conditions that can make completing activities of daily living (ADLs) challenging. The simple tasks that we do daily (such as getting dressed, walking from one room to the next, or washing dishes) can become incredibly difficult for older seniors living with Alzheimer's, Parkinson's, cancer, and other illnesses and diseases. However, most seniors still value their independence-- this is why most assisted care facilities may not be the best option. This independence is the reason that Visiting Angels of Plano offers local seniors the care and support they may require without them ever leaving their own homes.
What Does Long-Term Home Care from Visiting Angels of Plano Include?
Visiting Angels of Plano offers an extensive list of personal care at home providers that make it a little easier to continue letting seniors live alone. We have long-term plans that include specific services our clients need to stay safe, healthy, and comfortable in their own homes. Our care at home providers can assist in many different ways, including:
We have the care solutions that have been shown to make life easier for seniors and their families; we help seniors manage their age-related difficulties and symptoms of diagnosed conditions by sticking to a healthy routine.
How Can Long-Term Care Help My Loved One?
Visiting Angels of Plano offer services that have been shown to benefit our local seniors in the long run truly. There are a few ways that our long-term care at home service has helped seniors:
Our essential personal care services can help seniors manage their symptoms and stick to a healthy routine for seniors with chronic illnesses.

Seniors with

Alzheimer's

, Parkinson's, ALS, and other memory and mental illnesses not only receive assistance with daily activities but ongoing monitoring from attentive and compassionate caregivers. The monitoring can help them avoid falling, wandering, and anything else that can pose a risk to their health.

Seniors receiving in-home treatment for cancer can receive meaningful companionship and help with personal tasks that may become difficult for them to do on their own during treatment.

Our services provide the comprehensive and flexible care needed to remain comfortable and safe in familiar surroundings for seniors with irreversible vision and mobility issues.
How Can My Loved One Afford In-Home Senior Care?
Long-term care at home can become expensive over time. Fortunately, Visiting Angels have a plan for everyone and every budget. There are also long-term care insurance policies that can help your loved one offset the cost of care. If you have a loved one needing assistance with ADLs, they may be eligible to use these benefits to be reimbursed for the cost of quality care at home over a certain period. If your loved one already has a policy, speaking with an insurance broker can help your family understand their specific policy.
Serving Plano, Murphy, Parker, TX, and the Surrounding Area
Visiting Angels
PLANO, TX
1400 Preston Road STE 400
Plano, TX 75093
Phone: 972-665-9946
Fax: 972-665-9949