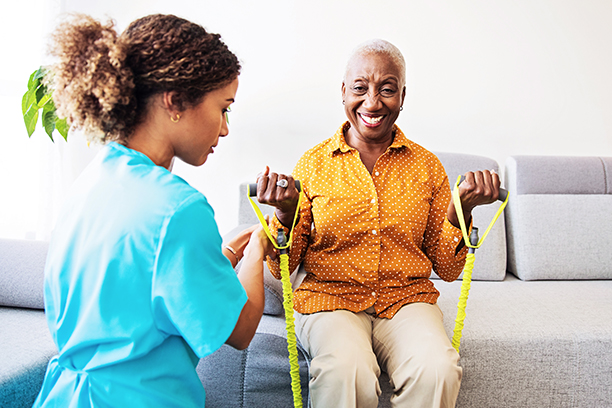 Caregivers Provide Light Housekeeping in Plano, TX
Visiting Angels of Plano, TX Caregivers' Provide Essential Care for the Senior Community
Most seniors nowadays choose to age in a house that they find comfortable and close to family, neighbors, and family. Staying close to family is known as "aging in place." However, as they begin to age and lose strength and suffer from many other age-related difficulties, this might cause complications. Many people find it challenging to keep their homes clean and safe.
If you have a parent, who can no longer keep their house safe and tidy, call Visiting Angels of Plano, TX. We provide a wide choice of light housekeeping alternatives as part of our complete in-home care services provided by compassionate caregivers. In addition to light housework, our homecare aids offer personalized and companionship care services to their clients. Even people who are relatively competent in keeping their homes in good condition may find the assistance given by our caregivers to be beneficial.
We provide light housekeeping services
Visiting Angels of Plano, TX has a mission to give our neighbors a full spectrum of at-home care solutions to assist seniors age in place, and one of our primary goals is to do so. One thing to bear in mind is that an untidy house is a breeding ground for bacteria, germs, allergies, and other harmful organisms. All of these things can lead to a range of ailments, many of which are life-threatening. Any untidy house is made worse because clutter is the most frequent cause of fall-related accidents. Our home care providers can keep your loved ones secure by following several safety rules and providing them with knowledge.
Our caregivers are available to provide the following in-home care services:
Changing the bed linens and doing the laundry
Assisting with making their beds
Vacuuming
Dusting
Wiping down countertops
Taking out the garbage
Our home care experts cannot assist with heavy lifting, furniture relocation, mowing lawns, washing windows, or clearing snow. Their responsibility is to assist in keeping your parent's home secure and clean, as well as to provide them with a healthy living environment. We have compassionate workers trained to provide a wide range of critical home care services, including personal hygiene, bathing and toileting, and mobility assistance.
How Can you Benefit from Visiting Angels of Plano, TX?
For more information on how Visiting Angels of Plano may assist your aging loved one in Plano, Murphy, Parker, TX, and the surrounding region, call 972-665-9946 today.
Serving Plano, Murphy, Parker, TX, and the Surrounding Area
Visiting Angels
PLANO, TX
1400 Preston Road STE 400
Plano, TX 75093
Phone: 972-665-9946
Fax: 972-665-9949