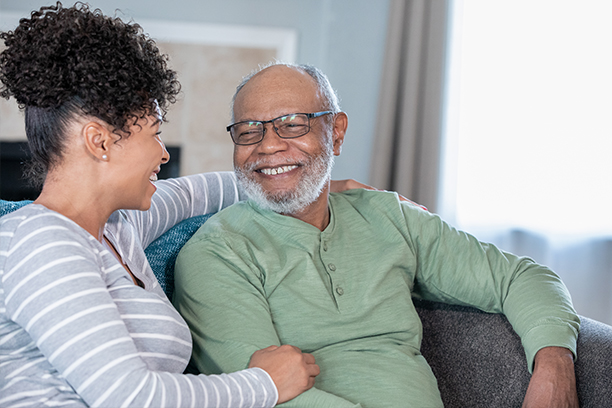 Home Care in Beaverton
Your loved one deserves to enjoy the comfort of home for as long as possible. At Visiting Angels® Portland, we are here to help. Our personalized home care in Beaverton enables more seniors to age in place comfortably and safely, while providing their families with greater peace of mind.
We are a locally owned home care agency with an unrivaled commitment to enriching our clients' lives in any way we can. We're proud to provide comprehensive home care services for seniors in Beaverton, Portland, Hillsboro, Tigard, and Milwaukie.
Our team of locally based caregivers are dedicated professionals who are deeply invested in each client's care. As part of our hiring process, each has been thoroughly vetted and undergone a national background check. In fact, we only hire the top 5% caregivers who apply for employment.
About Our Home Care in Beaverton
With the right support in place, your loved one can thrive in the home and the community they cherish. We offer a vast range of home care services to make that option possible. Whether your loved one has mobility issues or other age-related concerns, we can provide the comprehensive care they need.
Depending on your loved one's condition, living situation, and other factors, our caregivers can provide the following forms of support:
Planning and making meals
Bathing and dressing
Assisting with light housekeeping
Medication administration and reminders
Engaging in conversation and outings
Walking and transferring
Help with running errands and grocery shopping
Getting Started with Home Care in Beaverton
Your loved one's specific home care plan and schedule will be dictated by their needs. We can provide care any time and on any day of the year, be it a weekend, a holiday, or overnight.
Before we can provide the compassionate, respectful care your loved one deserves, we'll guide your family through the following steps:
Having a preliminary discussion that covers your loved one's general condition, what kind of care they may need, how our services can help, and what the costs could be
Meeting for a free, no obligation, in-depth consultation to fully evaluate and understand your loved one's needs, as well as those of your family
Working with you to build a care plan that will improve your loved one's quality of life and provide peace of mind for your family
Recommending a caregiver with the specific skills, availability, and personality to promote your loved one's care and well-being at home
Once your loved one begins receiving care, we'll maintain contact with your family to ensure everyone's needs are met. As your loved one's needs change — or those of your family — we can adapt care as required.
What is Personal Care?
Many aspects of daily life can become difficult if not dangerous for seniors living on their own. Our caregivers are highly skilled at preventing falls which in turn alleviates any unnecessary visits or stays within the hospital or a rehabilitation facility. With personal care, we can help your loved one with any routine tasks they can't manage as easily as before.
Personal care services can range from around-the-clock care to weekly visits and from walking assistance to buying groceries or doing laundry. It all depends on what your loved one needs to thrive.
What is Companion Care?
Social isolation is common among seniors, which can lead to depression and other concerns. In addition to physical assistance with household tasks, our caregivers can build a warm relationship with your loved one as part of our companion care service. Through engaging conversation and activities, we can introduce more joy into your loved one's daily life.
What is Respite Care?
After devoting so much time and attention to your loved one's needs, you may find it difficult to shift focus to your own. However, it's vital to take the time you need to rest physically, mentally, and emotionally. You also need space to engage with all the other demands of life.
To promote your well-being and reduce your risk of burnout, we can provide temporary coverage for your caregiving duties through our respite care.
Alzheimer's and Dementia Care in Beaverton
Has someone you loved been diagnosed with Alzheimer's disease or another form of dementia? If so, it may be affecting their quality of life at home — and, potentially, their safety. Through our specialized Alzheimer's and dementia care services, we can help your loved one remain in a stable, familiar setting as they grapple with the symptoms of cognitive decline.
Our Alzheimer's and dementia care can include the following:
Medication administration, assistance and reminders
Preparing regular, nourishing meals
Providing oversight to help prevent wandering and track possible changes
Mental stimulation and engagement
Fall Prevention Support in Beaverton
Falls can cause serious injuries for seniors, but many aspects of aging can increase fall risk. Our Safe and Steady Fall Prevention program includes an assessment of your loved one's risk and how to reduce it. We can also include walking and transferring support within your loved one's care plan.
Hospital Discharge Assistance in Beaverton
Designed to reduce hospital readmission risk, our Ready-Set-Go Home program includes in-person support before and after your loved one leaves the hospital.
Our care professionals can promote your loved one's recovery by helping you ask your loved one's doctor the right questions, monitoring for complications, and helping your loved one follow their post-discharge instructions.
Palliative Care in Beaverton
Visiting Angels Portland is here for your family during your most difficult moments. Available for clients with serious health problems, our palliative care is a holistic home care service that features physical, mental, social, and spiritual care.
End of Life Care in Beaverton
We provide end of life care for individuals in the later stages of a terminal condition and as they face the end of life transition. Our compassionate caregivers will strive to make your loved one as comfortable as possible. We can also relieve your family of routine tasks so you can focus on each other.
Get Started with Home Care in Beaverton Today
Getting started with our home care in Beaverton is as simple as picking up the phone. Call Visiting Angels Portland today at (503) 297-7000 to schedule a no-cost consultation.
Serving Portland, West Portland, Southeast Portland, & Beaverton
Visiting Angels
PORTLAND, OR
2365 SW Cedar Hills Blvd
Portland, OR 97225
Phone: 503-297-7000
Fax: 503-297-7025