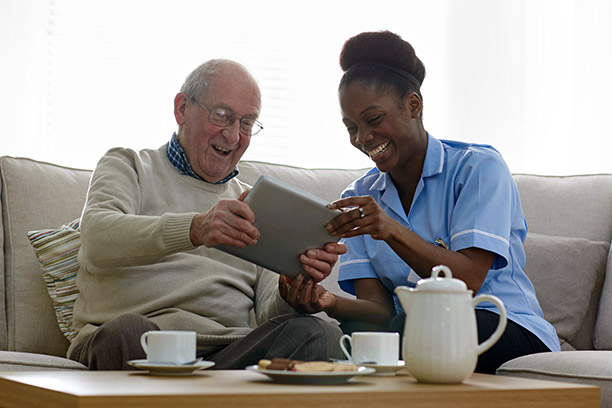 Alzheimer's Care Services for Portland Area Seniors
Our Mission: To Improve the Quality of Life for Those Suffering with Alzheimer's Disease and Their Families


Empathetic Alzheimer's Care Services for Portland Seniors
It can be incredibly hard to watch a loved one deal with Alzheimer's or dementia. You may find yourself worrying about their daily health and safety. Are they remembering to take their medication? Are they eating properly? With Alzheimer's care from Visiting Angels Portland, you can ease your worries.
We provide empathetic support to those suffering from Alzheimer's, dementia, or any other memory disorders. With our personalized care plans, generous caregivers, and engaged support, we can help make your loved one's daily life more comfortable. We are proud to bring our dedicated Alzheimer's care to Portland, Lake Oswego, Beaverton, Milwaukie, and Tigard.
Portland's Personalized Alzheimer's Care Services
When it comes to senior support, a one-size-fits-all solution simply doesn't work. That's why, at Visiting Angels Portland, our Alzheimer's care is personalized for your loved one. We understand that your loved one's needs may shift at any time, which is why we design our plans to be highly flexible. If your family member needs extra support on holidays, weekends, or evenings, we can provide it. If they go from needing part-time care to full-time care, we'll quickly adjust their schedule to incorporate it. Their care plan is customized to suit their daily needs and preferences as well as their preferred schedule. That way, as they progress through stages of Alzheimer's, their care can be updated to better help them.
Generous Alzheimer's Care Specialists in Portland
We understand that it can be difficult to let a stranger into your loved one's home. That's why we go the extra mile to ensure our caregivers are reliable and supportive. Before they join our team, each of our caregiver candidates is rigorously vetted through background checks, reference checks, and a detailed interview process. As a fully licensed, bonded, and insured company, we're equipped to find exceptional Alzheimer's care specialists in the Portland region.
Our caregivers are hand-picked for their compassion, patience, and dedication to making a difference. They can provide your loved one with support and companionship while also helping them through moments of anxiety or confusion. As engaged and proactive caregivers, they'll regularly update you on your loved one's care. If they notice anything out of the ordinary with your loved one, they can quickly let you know.
If your loved one lives in Beaverton, Lake Oswego, Milwaukie, Tigard, or Portland, they can receive dedicated and empathetic Alzheimer's care. To learn more, call the Visiting Angels Portland office today.
Serving Portland, West Portland, Southeast Portland, & Beaverton
Visiting Angels
PORTLAND, OR
2365 SW Cedar Hills Blvd
Portland, OR 97225
Phone: 503-297-7000
Fax: 503-297-7025