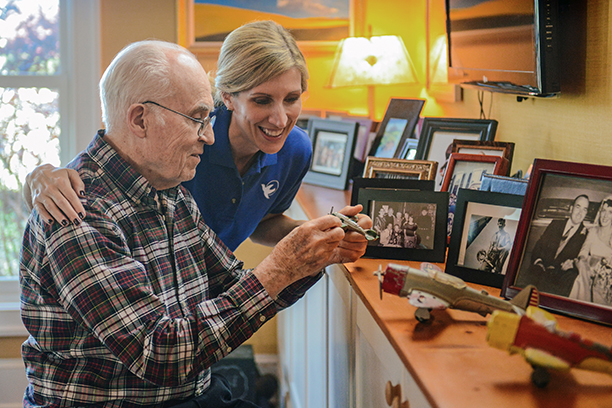 Visiting Angels Portland OR Reviews
Visiting Angels reviews
are an important way for us to receive feedback so we can be assured our caregivers are providing the best possible care and take action where needed. We'd like to thank those who so readily share their reviews of Visiting Angels and share some of them with the public. Here is just a small sample of some of the reviews we've gotten for Visiting Angels.
"You are a lovely person, and it's been a real pleasure to meet you and to be a part of your organization."
- Linda W. South Elgin, Illinois
"You provided assistance when I didn't know where to turn."
- Diane L. Carol Stream, Illinois
Please pass along our thanks to Tim, Chris, Linda, and Theresa for all they have done.
- Anonymous
"You were such a comfort to me and my grandmother before her death. Your caregivers are a godsend!"
- Melanie L.
"Thank you for the loving care provided by your Visiting Angels organization. It allowed us to keep mom home with us till the end."
- Bob & Ann H.
"With his caregiver Helen, Angell's humor, his sense of fun, his innate frankness shone. She blessed his life."
- Grace B., Boston, MA
Thank you so much for your kindness to me and giving me such good help. God Bless you in this adventure.
Thank you so much for all you have done to make the last few years easier on Marc and me.
- H. Graves, Pepper Pike, Ohio
Thank you once again for the fine service your agency has provided for my mother.
- J. Radican, Euclid, Ohio
Thank you for arranging for extra help for me on such short notice. Both "angels" were wonderful.
- Anonymous
Thank you for your wonderful service – and great people!
- Gail
Thank you for the 6 years of helping us care for mom. You provided a much needed service to us.
- Anonymous
Thank you for all that hard work. I couldn't do without your staff. You all did an outstanding job. Thank you.
- Anonymous
Thank you for your kindness and caring for our grandmother and mother. May God Bless you and keep you and give you the heart to continue caring for others who need you too.
- Anonymous

Thanks for taking such great care of my Dad. You are wonderful
- S. R., Aurora, Ohio
Thank you for sending your special angel that last week of my husband's life. I will never forget it.
- C.Brown, Rogers, AR
I thank you with all my heart for the kindness, consideration and care your "Angels" provided my mother.
- Devova J.
Thank you, for the love and care your caregivers showed my folks.
- Janet M.

"Just a note to express my thanks for sending a true "Visiting Angel – Sherena."
- Anonymous
Thank you for being so kind to my mother when she was in your care. She always spoke so highly of you and Alycia.
- Denise
Thank you for your kindness to our family at this time of loss of my Mom. Your caregivers made all the difference in helping to keep her at home, which was her fervent wish.
- Rip A. and Marcia L.

"Many thanks for this information, your thoughtfulness, and for your impeccable care of my mother."
- Daniel B Elgin, Illinois
It's amazing how many positive reviews Visiting Angels receives on a regular basis. For more reviews, check your local Visiting Angels franchise website. You can read more Visiting Angels reviews here or on our Google Places pages and across the web.
Serving Portland, West Portland, Southeast Portland, & Beaverton
Visiting Angels
PORTLAND, OR
2365 SW Cedar Hills Blvd
Portland, OR 97225
Phone: 503-297-7000
Fax: 503-297-7025