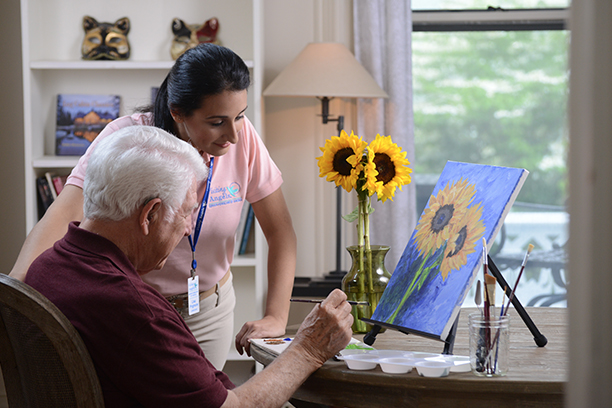 Benefits of Being a Visiting Angels Caregiver in Midlothian, VA and Surrounding Areas
Visiting Angels puts our caregivers first to make sure we're providing the best senior care possible in Midlothian, Richmond, Henrico and surrounding communities in Virginia. Want to join our team? Apply easily online today!
Visiting Angels is America's Choice in Homecare and a leading provider of essential living assistance services for seniors. Our office in Midlothian, VA is growing and we are actively searching for friendly, reliable and compassionate caregivers to join us.
We know that the best caregivers have many options when it comes to employers. You are probably looking for a company that will accommodate your schedule, give you your desired number of hours, and treat you with the respect you deserve.
If you're looking for a home care agency that truly values your abilities and hard work, look no further than Visiting Angels Richmond VA!
The Visiting Angels Difference
1. Work Close to Home with a Schedule that Works for You
Our office is located in Midlothian, VA and we serve families in Richmond, Henrico, Bon Air and throughout Chesterfield County. Our office knows how important it is to work with our caregivers to find a schedule that fits their needs.
With readily available assignments for both part-time and full-time availability, you can choose assignments close to home on days you want to work. Choose from mornings, days, evenings, overnights and around-the-clock shifts.
2. Find the Support You Need
With more than 15 years of experience, we know that our best caregivers choose to work with us – and stay with our agency for many years – because they know where to go for support.
Whether you have a question about your schedule, need assistance with a client's care plan, or want to discuss your career path, our friendly office staff is here to help 24/7. You will not be alone during cases and will have the support you need to do your work well.
3. Enjoy Caregiver Benefits & Perks
Being valued and recognized for your work is important. As much as we reward our caregivers for doing an awesome job, we know that your paycheck needs to be reflective of your hard work too. That's why we're proud to offer competitive wages.
Other caregiver benefits include:
Paid orientation and monthly in-service training
Paid Time Off for part-time and full-time
Vision, dental, accidental, short-term disability and life insurance
90-day and Annual performance reviews
Referral bonus for referring new caregivers
Caregiver of the month recognition in our monthly newsletter
Electronic signatures of care plans
24/7 on-call support from an office team member
And more!
If you're ready to start your rewarding career with Visiting Angels Richmond VA, visit our Employment page to apply today!
Serving Midlothian, Richmond, Chesterfield, Henrico and throughout the Southside neighborhoods of Brandermill, Bon Air, and Westhampton
Visiting Angels Richmond, Virginia
2405 Dovercourt Dr #A
Midlothian, VA 23113
Phone: 804-423-6500