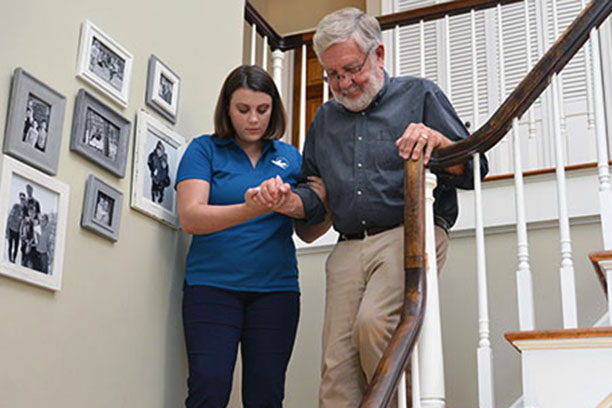 Fall Prevention Program for Seniors in Murrieta, CA
With Visiting Angels, we offer our "Safe and Steady" elder assistance services for fall prevention, this is for assisting seniors that have concerns about slips, trips, and falls at home. With this service we can reduce the risk of senior's hurting themselves; these type of injuries is the most common reason that leads to seniors losing their independence, this is why fall prevention a key aspect of aging in place.
The Reason, Fall Prevention for Seniors, is Important
Visiting Angels® is committed to assisting seniors that want to remain in their homes as they continue to age; we work hard keep them in the space that they are most comfortable. Because of this, we have basically engrained fall prevention into our DNA. 1 in 3 seniors experience a serious fall each year, more often that a younger adult by far. This is due to a number of risk factors that are more common among elderly adults, including:
Decreased strength
Poor coordination
Limited mobility
Reduced eyesight
Hearing loss
Stiff or painful joints
Health complications
Cognitive disorders
Multiple medications
With these serious falls, seniors are also most likely going to experience a serious energy—some that have shown to have life-altering or life-threatening side effects. Take a hip fracture for example, this type of serious injury can take up to 12 months of recovery and may require transitional elder assistance services, while also may lead to life-threatening complications. It is shown that the majority of seniors do not fully recover from a hip fracture, leading to most of seniors losing their independence. Thankfully, the majority of falls are preventable. Our Safe and Steady elder assistance services can help reduce your loved one's risk of falling at home—which is the most common location for slips, trips, and falls.
How to Prevent Falls at Home for Seniors
The home is where 75% of the most dangerous falls occur; meaning that the majority of falls can be prevented if the right precautions are taken in the home. OurSafe and Steady Fall Prevention Resource Guidecan help you identify risk factors in your loved one's home and take steps to reduce the risks of suffering a fall.
This guide includes key information about:
Physical, social, and emotional health impacts of falls by the elderly
Environmental risk factors that increase the likelihood of falls at home
Precautions you can take to eliminate fall risks from the home
Design changes that can reduce seniors' risk of an at-home fall
Lifestyle changes that can further reduce fall risks for seniors
Our Safe and Steady guide provides a list of easy to do home modifications to reduce the risk of your loved one falling in their home recommended highly from our elder assistance services. It also contains a 59-point home safety checklist.
Get Started with Visiting Angels
For more information and to schedule a free consultation call 951-639-5949.
Download our free "Safe & Steady Fall Prevention Resource Guide" today.
Serving Serving Murrieta, Temecula, Hemet, Menifee, Canyon Lake, Lake Elsinore and Surrounding Areas
Visiting Angels
MURRIETA, CA
25096 Jefferson Ave Suite B212
Murrieta, CA 92562
Phone: 951-639-5949
Fax: 951-639-3664
HCO #334700056