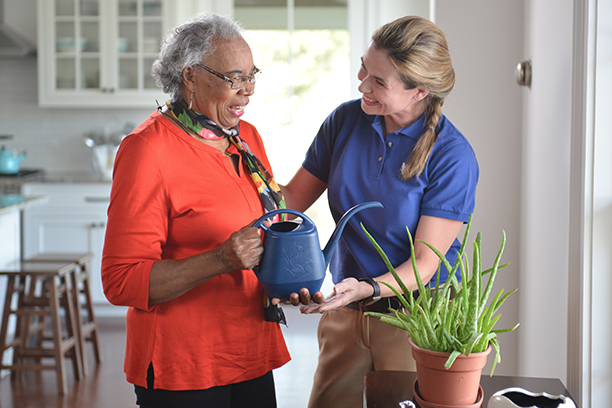 Private Pay Home Care Services in Murrieta, CA, and Nearby Cities
Private pay services are the most popular, cost-effective way to pay for in-home senior care. Private pay home care offers families a short and long-term solution that doesn't hide behind confusing or misleading insurance policies. Unlike traditional in-home senior services, a private pay service lander payment isn't meant to be reimbursed by your insurance company but instead paid for out of pocket by you or your family member.
Many aging adults wish to remain in their homes as they age, and a professional care agency can allow them to do just that. But how can families finance the care their loved one wants and needs?
Visiting Angels Murrieta provides private pay options for essential personal home care services throughout the Riverside area of California. This means that in most instances, clients pay for services privately, out-of-pocket. However, your loved one may be eligible for benefits that can help cover some of the cost of professional care at home.
Home Care Service Benefits For Veterans in Murrieta, CA
Our Murrieta office is an approved provider of Home Health Aide (HHA) & Respite visits as a benefit to Veterans for their service. These benefits are coordinated through the local Veterans Administration.
HHA visits are provided to help a Veteran remain in their home by assisting with everyday needs. Respite visits are designed to relieve the primary caregiver for a short period. Both visits are very important to your loved one's overall care plan.
Through these programs, Veterans may receive help with the following:
Cooking meals, cleaning, and doing laundry
Eating, dressing, and bathing
Medication reminders, incontinence care, and monitoring
Companionship, ambulation, and transfer assistance
Help with running errands and getting to appointments
Long-Term Care Insurance
Long-term care insurance (LTCI) is often considered a stepping stone from private pay home care to home care services. You can use a long-term care insurance policy to help pay for professional home nursing services and even some of the costs of assisted living facilities and adult day health centers.
The cost of the policy and its benefit to the policyholder will vary. If someone already requires care, it is unlikely that they will qualify for long-term care insurance. In most cases, this type of policy is taken out by adults in their 40s and 50s to begin saving for future care needs.
Check with your loved one and insurance broker to see if this policy has been established.
Privately, Out of Pocket Home Care Services
If you do not have long-term care insurance and your loved one is not eligible for Veterans benefits, Visiting Angels Murrieta can provide a professional and personalized home care experience for you or your family member. All of our services are paid privately – out-of-pocket – by you or the person receiving the benefits.
The first step we take when a new family comes to us is to complete a free in-home consultation. We will discuss our services, assess your loved one's needs, and create a customized care plan. Together, we can then create a care schedule to determine what days and for how many hours your loved one needs assistance.
During this consultation, we will discuss the cost of care and possible financial resources for your family. At that point, you and your family can decide how to proceed. At Visiting Angels, we are dedicated to providing quality home care services for seniors in their homes.
If you have any questions about our services or financing options or want to know your options, please get in touch with our Murrieta office today!


Serving Serving Murrieta, Temecula, Hemet, Menifee, Canyon Lake, Lake Elsinore and Surrounding Areas
Visiting Angels
MURRIETA, CA
25096 Jefferson Ave Suite B212
Murrieta, CA 92562
Phone: 951-639-5949
Fax: 951-639-3664
HCO #334700056