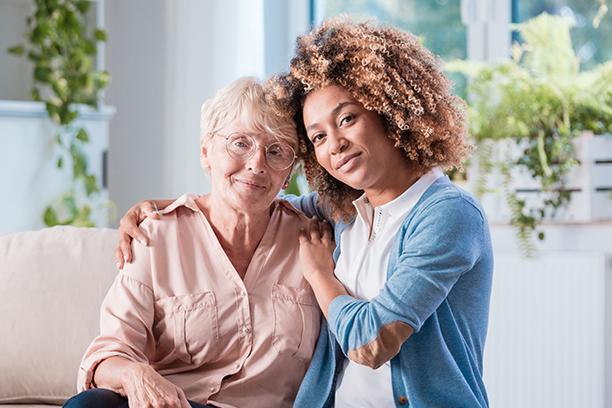 Proactive Assisted Living at Home
Proactive Elder Living Assistance Services from Visiting Angels
Elder living assistance services make it possible for your loved one to live safely and comfortably at home. With elder living assistance from the Angel companions at Visiting Angels, your loved one can live independently without concern. Visiting Angels will provide proactive care and will communicate openly with you about that care.
The Angel companions from Visiting Angels understand how difficult it can be to trust the care of your mom or dad, brother or sister to a stranger. That's why we are focused on providing elder living assistance care that comes with regular feedback and open lines of communication. Your Angel companion will provide regular feedback to authorized family members regarding the care they provide. Our caregivers are experienced professionals who understand that even small changes in your loved one's health or routine can indicate greater areas of concern. If your loved one's Angel companion sees anything out of the ordinary, they will reach out to you immediately.
In addition to the feedback you receive from your Angel companion, the service coordinators from Visiting Angels will also be following up with both you and your loved one. All our clients receive regular follow up visits from our service coordinators. These visits include both home visits and phone calls. Our service coordinators check in with your loved one to ensure they are happy with the care being provided and to allow them to ask questions. With Visiting Angels providing elder living assistance care, you can be confident your loved one will receive quality care each and every day.
As part of our commitment to providing a superior level of elder living assistance care, we encourage all our care recipients and their families to reach out to us with any questions. We are always happy to answer questions and talk about the care being provided. We can work with you to modify your loved one's care plan, to explain the advantages of different types of elder living assistance services, or to help you find peace of mind. Please call our office at any time to discuss the elder living assistance service we are providing. If you ever have to leave a message, we'll return your call within 15 minutes.
Find out why proactive elder living assistance services are the choice of families in the Riverside County. Call Visiting Angels office in Murrieta today to learn more about our proactive care.
Serving Serving Murrieta, Temecula, Hemet, Menifee, Canyon Lake, Lake Elsinore and Surrounding Areas
Visiting Angels
MURRIETA, CA
25096 Jefferson Ave Suite B212
Murrieta, CA 92562
Phone: 951-639-5949
Fax: 951-639-3664
HCO #334700056