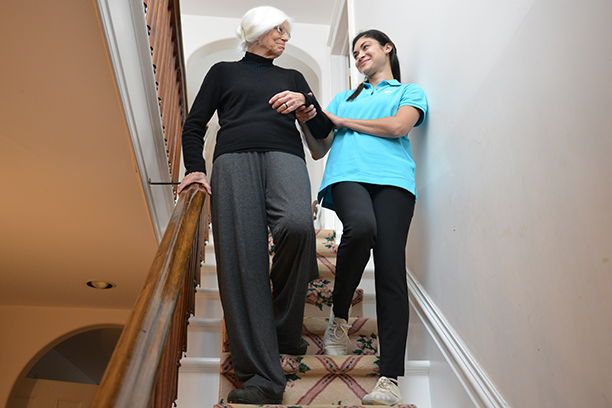 Living Assistance in Murrieta, CA and the Surrounding Area
At Visiting Angels, we know how important it is for seniors to age in the comfort of their homes. At the same time, we know how difficult aging in place can be without living assistance services.
Most seniors prefer to live at home; however, this can be highly challenging due to age-related issues limiting their mobility, strength, and ability to complete daily household tasks. Visiting Angels in Murrieta, CA provides quality living assistance services to help seniors age gracefully from the comfort of their homes.
Our most popular home care services make aging in place possible for seniors. We offer specialized services, such as Alzheimer's care, for clients with advanced care needs.
Our senior care can range from physical tasks such as light housekeeping or running errands to emotional companionship that our caregivers develop with their seniors over time to help improve their quality of life.
Visiting Angels Provides Living Assistance in Murrieta, Temecula, and the Surrounding Area
According to the AARP, nearly 90% of Americans over 65 would prefer to remain in their own homes for as long as possible. But without outside living assistance, many seniors struggle to maintain their independence over time. This can force them to leave their homes, reducing their ability to age.
When seniors have freedom at home on their terms, they benefit in several ways. Seniors who age in place live in a safe and comfortable environment and have excess time to spend on their hobbies and passions while relaxing and enjoying their golden years
Living at home also offers important health benefits to older adults. In shared living facilities, contagious illnesses can spread much more easily. As a result, studies have found that seniors who receive in home care have better health outcomes on average than seniors who receive care in a facility setting.
How Visiting Angels Can Help
Visiting Angels has been helping American seniors age in place for over 25 years.
Our living assistance services allow seniors to live at home safely and comfortably, whatever their situation. We make this possible by helping seniors with tasks and activities that have become difficult or unsafe to perform on their own. We can help with errands, cooking, laundry, and light housekeeping or assist with activities of daily living like grooming, dressing, and bathing.
At the same time, our caregivers provide seniors with companionship and conversation, helping those who would otherwise be at risk for social isolation. Our Living assistance services provide much-needed relief to family caregivers, which helps them spend more time together as well.
Every Visiting Angels client receives a custom care plan, tailored to their needs and preferences. We work with families to help them find the perfect care provider for every senior so they can rest assured their loved ones are getting the proper time and attention that they deserve.
Our approach has helped thousands of seniors extend their years at home. If you have a loved one who risks losing their independence, we encourage you to contact your local Visiting Angels of Marietta to schedule a free consultation.
Schedule Your Free In-Home Assessment Today
Schedule your free in-home assessment with our caregivers today by contacting Visiting Angels in Murrieta, CA, at 951-639-5949.
Serving Serving Murrieta, Temecula, Hemet, Menifee, Canyon Lake, Lake Elsinore and Surrounding Areas
Visiting Angels
MURRIETA, CA
25096 Jefferson Ave Suite B212
Murrieta, CA 92562
Phone: 951-639-5949
Fax: 951-639-3664
HCO #334700056