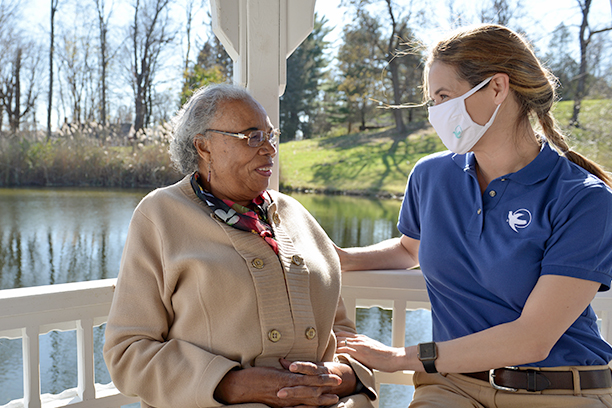 Expert In-Home Parkinson's Care Services for Seniors in Murrieta, CA and Surrounding Areas
Parkinson's Care in Murrieta, CA and Riverside County
Parkinson's disease is a chronic disorder that progressively affects movement. From shaking hands to walking, Parkinson's can gradually rob people of the ability for specific movements. When a loved one is diagnosed with Parkinson's, it is normal to be worried and have questions. The most common questions are:
When will more symptoms occur?
How quickly will they escalate?
How will this impact independence and quality of life?
When searching for these answers, you can trust the professionals at Visiting Angels Murrieta. We are a team of care professionals that have specialized in Parkinson's care services. We work to keep clients living at home for as long as possible.
Parkinson's is a degenerative neurological disease; it progresses slowly, meaning that the onset symptoms typically happen slowly over a long period.
But how do you know if you have Parkinson's disease? There are many symptoms of Parkinson's disease to look for, including slowness of movement, especially with walking or communication difficulties. Many patients will also experience changes in facial expression or muscle stiffness.
In most cases, patients live for 10-20 years after their initial diagnosis, which usually happens around 60. These patients will begin with symptoms slowly appearing and advancing as time goes off. The most common symptoms are tremors and shaking, as well as slowness and stiffness known as Bradykinesia. Other symptoms include trouble with balance, falls due to postural instability, confusion, and fatigue. These symptoms can be best treated with Parkinson's care services.
Parkinson's Care: How Visiting Angels Murrieta Can Help
When seniors are initially diagnosed with Parkinson's, they may not need a lot of extra support-- however, as the disease worsens, they will require much more support. Parkinson's care from Visiting Angels Murrieta is here when that time comes. Our agency offers non-medical services designed to assist seniors living with the disease and assist their families through respite care.
A few specific ways that our agency can help your ill loved one are:
Social support and companionship

Help grocery shopping and preparing meals

Transportation to and from doctor and therapy appointments
Monitoring so that falls don't happen
Personal care

assistance when bathing and dressing
Visiting Angels Murrieta knows that not every Parkinson's patient will require care during the standard business hours, which is why we offer after-hours support for emergencies. You can call our office; if we miss your call, we will return your call within 15 minutes or less.
Contact Visiting Angels of Murrieta today to learn how we help seniors living with Parkinson's remain independent. We look forward to working with you!
Serving Southwest Riverside County Areas
Visiting Angels
MURRIETA, CALIFORNIA
25096 Jefferson Ave Suite B212
Murrieta, CA 92562
Phone: 951-355-1940
Fax: 951-639-3664
HCO #334700056