Want to join the in-home caregiver team at Visiting Angels? Apply online or call our office at (301) 578-1616
Looking for a new job is a moment where you reflect and see what you really want to do and what impact you want to make. If you are looking for a job where you can help others and see the results of your hard work, Visiting Angels Silver Spring is the right opportunity for you.
We are currently looking for dedicated and experienced Certified Nursing Assistants, Geriatric Nursing Assistants, Home Health Aides and Companion Caregivers throughout Montgomery County, including Silver Spring, Bethesda, Rockville, Chevy Chase, Olney and surrounding communities. We offer many benefits for those who join our senior care team, including competitive wages, opportunities for advancement and more. We value the hard work and compassion our in-home caregivers put into each and every work day and look for ways to show our appreciation as much as possible!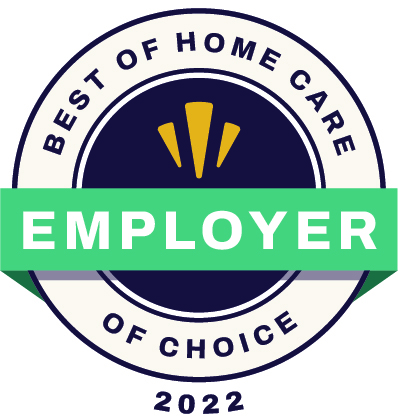 Why Work for Visiting Angels Silver Spring?
If you are unfamiliar with our provided services and mission, Visiting Angels Silver Spring focuses on assisting seniors with daily tasks and day-to-day chores and mobility.
Our in-home caregivers help clients with:
Grooming and Bathing Assistance
Medication Reminders
Preparing and Cooking Meals
Feeding Assistance
Dressing Assistance
Transportation to Appointments
Light Housekeeping
Additionally, our caregivers provide specialized senior care services that focus on specific care needs such as respite care, dementia care, Alzheimer's care, end of life care and more.
All services are fully customizable to fit our client's unique needs. At Visiting Angels Silver Spring, we're known for treating seniors with the dignity and respect they deserve, as well as being compassionate and caring as if they are a member of our own family.
What We Look For in Caregivers
We are looking for in-home caregivers who have the following:
Work Authorization
CPR and First Aid Certification
TB Test Results
Driver's License Preferred
At Least One Year of Homecare Experience is Preferred
Visiting Angels Silver Spring is a great place if you are looking for a job where you will feel good about your work and the impact it creates. Helping seniors continue to live comfortably in their homes while making the most out of every day can feel very rewarding. You will also have opportunities to advance your professional and academic career by taking our online courses for certifications for more advanced and rewarding work as a caregiver.
Join the Visiting Angels Team Today!
Call our Silver Spring, MD office or text "Angels79" to 25000 to explore our employment opportunities today!