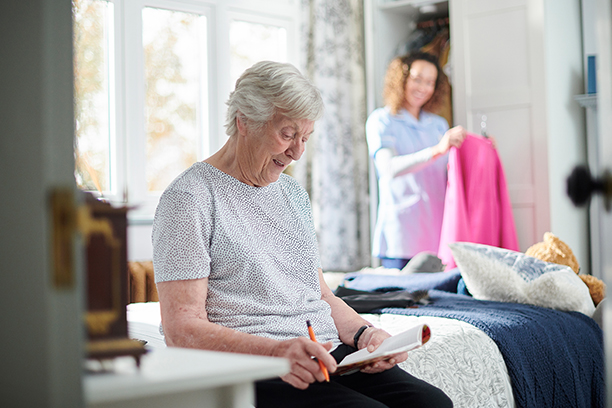 How Alzheimer's Care from Visiting Angels Helps Seniors in Silver Spring, MD and Surrounding Areas
At Visiting Angels, our mission is to improve the quality of life for seniors through quality Alzheimer's care in Silver Spring, Chevy Chase, Bethesda, Rockville and the surrounding areas in Maryland
When a parent or family member is diagnosed with Alzheimer's disease, it can be overwhelming. You likely have concerns about your loved one's safety and ability to care for themselves. You also want to make sure you are doing everything possible to help your loved one maintain their quality of life.
For families who are seeking professional care for their loved one, Visiting Angels Silver Spring can provide your loved one with experienced home care solutions.
Visiting Angels Silver Spring is a locally operated agency specializing in at-home Alzheimer's care for elderly adults. We work with seniors throughout Rockville, Bethesda, Burtonsville, Clarksburg, Olney, Chevy Chase and the surrounding communities. Our knowledgeable memory care professionals can help keep your loved one stay safe and comfortable at home, despite their disease. We are well versed in memory care and know how to handle the ins and outs of caring for someone with Alzheimer's disease.
The Benefits of Alzheimer's Care for Seniors in Silver Spring and Surrounding Communities
In-home care for seniors with Alzheimer's disease is geared towards helping your loved one improve their quality of life at home. Our services are tailored to fit your loved one's specific needs. This allows us to not only meet your loved one's needs more effectively but to grow and change with your loved one throughout the course of their illness.
There are many reasons why Alzheimer's home care from Visiting Angels Silver Spring can be beneficial to your loved one's well-being. including:
Care from experienced caregivers: If you've been acting as a family caregiver for your loved one, you may not be fully prepared to manage symptoms of Alzheimer's disease. Our caregivers have the proper training to provide care for seniors with Alzheimer's, so you can rest assured your loved one will receive proactive and knowledgeable care from caring professionals.
Care in familiar surroundings: When it comes to memory-related illnesses like Alzheimer's, relocating to an assisted living facility can actually worsen your loved one's well-being. Unfamiliar surroundings can make seniors upset, especially those who experience memory loss. With Alzheimer's care from Visiting Angels, your loved one can receive the care they need in the comfort and familiarity of their own home.
Respite: As a family caregiver, you may have been pushing your own needs aside in order to make sure your loved one is safe and comfortable. Our caregivers can ease your stress by providing the care your loved one needs in your place while you take some time for yourself. You'll have peace of mind knowing your loved one is in capable hands while you focus on your family, career or simply take a break. The much-needed respite can improve your well-being so you're more prepared to be there for your loved one.
What's Included with Alzheimer's Home Care from Visiting Angels Silver Spring
Alzheimer's care from Visiting Angels Silver Spring can include:
Wandering prevention and monitoring of your loved one
Assistance for dressing, personal hygiene, and bathing
Help planning and preparing dietary conscious meals
Walking assistance, transferring, and toileting
Fall prevention measures and safety
Transportation to appointments and therapies
Running errands such as grocery shopping or post office
Medication monitoring and reminders to take prescriptions
Household organization and light housekeeping tasks
Getting Started with Visiting Angels Silver Spring
Getting started with Alzheimer's care doesn't have to be complicated. Visiting Angels Silver Spring offers free consultations for seniors and their loved ones. Our care coordinator can come to your loved one's home to sit down with you and discuss your options. We will answer all your questions and gather information so we can create your loved one's unique care plan.
If you have a loved one in need of home care solutions to help them manage Alzheimer's symptoms and age in place, call our office in Silver Spring, MD today at 301-578-1616 and schedule your complimentary consultation.
Serving Silver Spring, Rockville, Kensington, Chevy Chase and the surrounding Maryland Suburbs
Visiting Angels SILVER SPRING, MARYLAND
804 Pershing Dr #110
Silver Spring, MD 20910
Phone: 301-690-8552