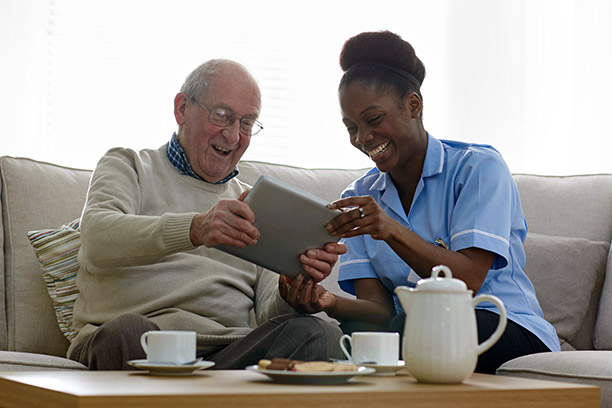 Alzheimer's Care at Home for Seniors in Silver Spring, MD and Surrounding Areas
With Alzheimer's care at home from Visiting Angels, seniors in Silver Spring, Rockville, Kensington, Chevy Chase, Olney, Bethesda and surrounding areas in MD can get the support they need to manage symptoms of Alzheimer's while remaining at home
It may be difficult to cope when a parent or family member is diagnosed with Alzheimer's disease, particularly if they live on their own. You're probably worried about your loved one's safety and if they're still capable of taking care of themselves. You also want to make certain that you are doing everything in your power to assist your loved one in maintaining their quality of life.
For families looking for professional care for a loved one, Visiting Angels Silver Spring can offer professional, personalized, one-on-one Alzheimer's care at home.
We are a locally owned and maintained home care agency that specializes in Alzheimer's home care for seniors. We work with older adults throughout Montgomery County in Maryland, including Silver Spring, Rockville, Kensington, Chevy Chase, Olney, Bethesda and surrounding towns. Regardless of how much their condition has progressed, our memory care specialists can assist your loved one in remaining safe and comfortable at home. We are well-versed in memory care and understand the complexities of caring for someone with Alzheimer's disease.
How Do Seniors Benefit from Alzheimer's Home Care Services?
With Alzheimer's care at home, our professional caregivers focus on enhancing your loved one's quality of life at home. Our services are customized to meet the individual requirements of your loved one. This enables us to not only address your loved one's needs more efficiently, but also to develop and adapt with them throughout their illness.
Here are some ways seniors with Alzheimer's and their families benefit from professional home care services:
Familiar surroundings: When it comes to memory-related disorders like Alzheimer's, relocation to an assisted living home might potentially harm your loved one's health. Unfamiliar circumstances might be upsetting to seniors, particularly those who suffer from memory loss. With Visiting Angels Silver Spring, you loved one can get the support they need without having to move.
One-on-one support from an experienced caregiver: If you've been caring for a loved one as a family caregiver, you may not be entirely equipped to handle Alzheimer's-related changes in their behavior or well-being. Our caregivers have received the necessary training to care for those living with Alzheimer's disease, so you can be certain that your loved one will get proactive and personalized care from dedicated experts.
Peace of mind for families: As a family caregiver, you may have put your own needs aside to ensure your loved one's safety and comfort. Caregivers from Visiting Angels Silver Spring can relieve your stress by providing Alzheimer's care at home for your loved one in your absence while you take care of yourself. You'll feel better knowing your loved one is in skilled hands while you concentrate on your family, work or just take a vacation. The much-needed respite may enhance your well-being, allowing you to be more prepared to care for your loved one.
What Services Does Visiting Angels Silver Spring Offer?
At Visiting Angels Silver Spring, we focus on assisting seniors with everyday tasks that have become difficult due to age-related issues. When it comes to caring for seniors with Alzheimer's, we also focus on providing meaningful companionship and helping clients find solutions to managing symptoms of the condition. Best of all, unlike other local home care agencies, your loved one's plan of care will include the services they need while working with their schedule in order to avoid disrupting their everyday routine.
Alzheimer's care at home can include:
Wandering prevention and monitoring of your loved one
Assistance for dressing, personal hygiene, and bathing
Help planning and preparing dietary conscious meals
Walking assistance, transferring, and toileting
Fall prevention measures and safety
Transportation to appointments and therapies
Running errands such as grocery shopping or post office
Medication monitoring and reminders to take prescriptions
Household organization and light housekeeping tasks
Call 301-578-1616 to learn how Visiting Angels Silver Spring can help your loved one.
Serving Silver Spring, Rockville, Kensington, Chevy Chase, Olney, Bethesda and throughout Montgomery County, Maryland
Visiting Angels
SILVER SPRING, MD
804 Pershing Dr #110
Silver Spring, MD 20910
Phone: 301-578-1616
Fax: 301-578-1619