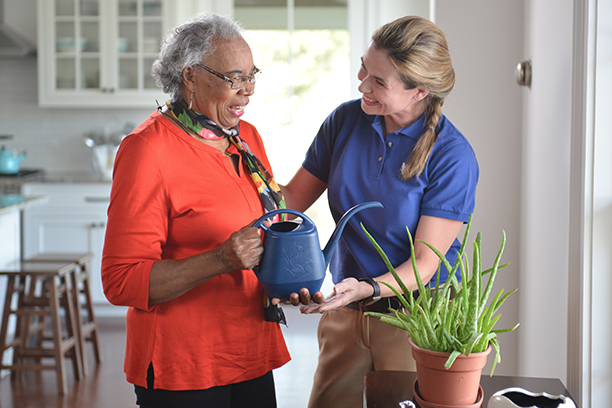 How Our Private Home Care Services Can Help Seniors in Silver Spring, MD and Surrounding Areas Manage Chronic Illnesses at Home
Our private home care services help seniors in Silver Spring, Bethesda, Rockville, Chevy Chase and surrounding communities in MD keep chronic conditions under control
When a senior loved one is diagnosed with a chronic illness, family members may find it hard to continue caring for them at home. However, despite developing a chronic condition, most seniors still wish to remain at home as they age, so relocating your parent or relative to a nearby nursing home may not be the right option for them or their well-being.
At Visiting Angels Silver Spring, our private home care services can help seniors keep their chronic conditions under control, maintain both their independence and routine, and lead active, quality lives in spite of their diagnosis.
What Are Chronic Conditions?
By definition, chronic conditions are conditions that require the attention of medical professionals for more than a year. Due to how long they can last, chronic illnesses can take a drastic toll on a person's quality of life and make everyday activities and tasks extremely difficult to perform.
Common chronic conditions among the senior population include arthritis, diabetes, heart disease, cancer, osteoporosis and others. As these conditions are serious, they require specialized care at home. In other words, managing age-related chronic illnesses may not be possible with standard in-home senior care.
How Does Visiting Angels Help Seniors in Silver Spring and Surrounding Communities?
Our private home care services are customizable and personalized for each client. For seniors with chronic conditions, these services do not just include assistance with daily tasks but help and support with managing the illnesses. Even though we provide solely personal care services, our services can make all the difference in the lives of older adults struggling with chronic afflictions.
Here are just some of the ways our caregivers can help your loved one:
Meal planning and preparation in accordance with the recommendations provided by medical professionals
Light housekeeping chores, like vacuuming, dusting, sweeping, cleaning bathrooms and kitchens and laundry
Assistance with a variety or personal care tasks, including bathing, dressing, grooming, toileting and incontinence care
Medication and fluid reminders
Mobility assistance
Transportation to doctor's appointments, social gatherings and other events and activities in the area
Meaningful companionship and interaction
Memory care for seniors diagnosed with any type of dementia, including Alzheimer's disease
Palliative care regardless of age or life expectancy
Fall prevention solutions and strategies
Transitional care after being discharged from a hospital or rehabilitation facility
And much, much more
To learn more about out private home care services and how we can help your loved one manage their chronic illness at home, please contact our Silver Spring, MD office today! We are here to help!
Serving Silver Spring, Rockville, Kensington, Chevy Chase, Olney, Bethesda and throughout Montgomery County, Maryland
Visiting Angels
SILVER SPRING, MD
804 Pershing Dr #110
Silver Spring, MD 20910
Phone: 301-578-1616
Fax: 301-578-1619