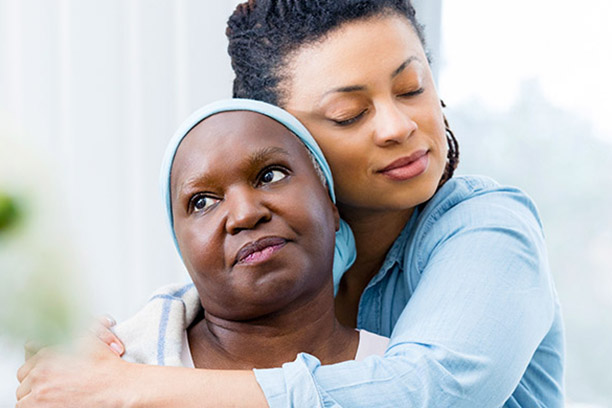 End of Life Care for Seniors and Families in Silver Spring, MD and Surrounding Areas
End of life care from Visiting Angels support both seniors and their families in Silver Spring, Chevy Chase, Bethesda, Rockville and the surrounding areas of Maryland
We all leave this Earth sooner or later – that much is true. But even though the end of life is a natural part of our life cycle, it is still so difficult to accept this truth. When a family member is diagnosed with a terminal life expectancy, they need end of life care. This often falls into the responsibility of a close family member.
Being the main caregiver can put a lot of physical and emotional strain especially once you experience the magnitude of tasks needed to care for your loved ones with limited life expectancy.
Some people who are diagnosed with terminal illnesses chose to spend their remaining days at home surrounded by their loved ones. But while they are spending their final days at home, it is crucial that they have access to supportive in-home care during the transition. That is where Visiting Angels Silver Spring can help.
About the End of Life Care Program from Visiting Angels Silver Spring
"It has been a blessing for my family having you as a caregiver in my mom's last days on earth. I appreciate all of you and you will be my family for life. God bless y'all for being a blessing to my family."
- Danny E.
At Visiting Angels, we provide in-home care not only to our clients but also to their immediate family in Silver Spring, MD. Our caregivers will do whatever they can keep your loved ones safe and comfortable as possible. While our end of life program does not involve hospice care, we can work side by side with other care providers who will visit the patient in their homes. But more than provide support to our clients, our caregivers can also give a helping hand to the family whenever they need it.
How Our Program Benefits Families in Silver Spring, Chevy Chase and Nearby Communities
Our end of life care program comes with the Life Care Navigation program, a collection of in-home care services designed for senior clients with specific care needs. The program is designed to give caregivers with the necessary information that they need to assist their clients and also their families during the entire end of life process.
The care is centered around your loved one's comfort. Our caregivers provide non-medical support to help minimize discomfort and provide a comforting presence to alleviate the feelings of depression, loneliness and anxiety.
We can provide comfort by:
Assisting with positioning, including raising the head of the bed, in order to help your loved one feel comfortable and reduce the likelihood of developing bed sores
Alleviating shortness of breath by opening a window or turning on a fan
Feeding assistance
Applying lotion to alleviate discomfort associated with dry skin
Resolving problems with temperature sensitivity
Assisting with bathing and toileting
Our caregivers can also provide emotional support to you and your family. We understand that the loss of a loved one can be stressful and can lead to emotional tension. We can work with you on navigating this stage in life, as well as provide assistance with caring for your loved one, including doing laundry, cooking meals and running errands.
Our caregivers provide a holistic approach to providing care during the end of life transition. Through our compassionate care and support, it is our aim to help you navigate your way to this most challenging part of your family's lives with some ease, comfort, and acceptance.
If end of life care from Visiting Angels could benefit your loved one, contact our Silver Spring, MD office today at 301-578-1616.
Serving Silver Spring, Rockville, Kensington, Chevy Chase, Olney, Bethesda and throughout Montgomery County, Maryland
Visiting Angels
SILVER SPRING, MD
804 Pershing Dr #110
Silver Spring, MD 20910
Phone: 301-578-1616
Fax: 301-578-1619