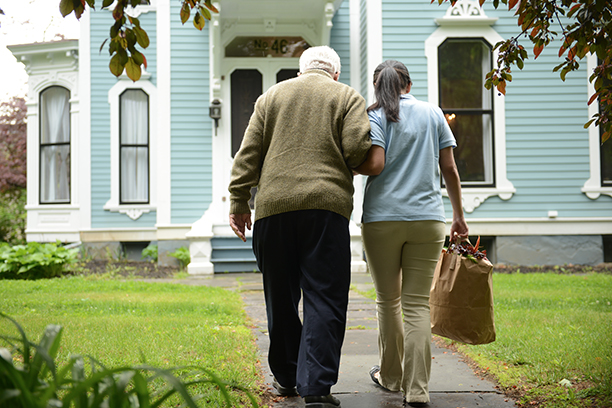 Palliative Care for Seniors in Silver Spring, Chevy Chase and Surrounding Areas in MD
The Certified Palliative Care program from Visiting Angels is designed to focus on the physical, emotional, social and spiritual needs of senior clients in Silver Spring, Chevy Chase, Rockville, Besthesda and the surrounding areas of Maryland
This specialized program is designed to provide comfort and improve the overall quality of life of the patient. Although always interchanged with hospice care, both terms are different. While hospice care is given to those who are nearing the end of life, palliative care is given to anyone who needs care no matter what their life expectancy is.
This program provides a holistic approach when it comes to the care of your loved ones. This means that aside from looking after the basic physical needs of the elderly, it also aims to provide their social, emotional, and spiritual needs. At Visiting Angels, our caregivers are available to provide meaningful care and support to your loved one when they need us most. We also provide 24-hour home care for seniors who need more comprehensive care.
Benefits of In-Home Palliative Care for Seniors in Silver Spring, Chevy Chase and Surrounding Communities
By taking a holistic approach to care, our caregivers can provide the all-around care your loved one needs in order to feel comfortable and happy.
This program provides comforting solutions for a variety of illnesses and chronic conditions, including Alzheimer's, dementia, Parkinson's, arthritis, cancer and other conditions.
With in-home care, your loved one can live out their golden years in their own home and not have to relocate to a nursing home or assisted living facility. If your loved one values their independence, they'll appreciate being able to age in place while getting the care they need to alleviate discomfort.
Learn More About Our Program
Here at Visiting Angels, we provide palliative care and many other services through our Life Care Navigation program. We have a pool of trained caregivers who can provide comfort to the patient and approaches care with a holistic approach. After all, it isn't enough to only provide physical care to your loved ones - caring for their emotional and social needs is essential as well.
Below are the types of services that we can provide:
Physical care: Our caregivers can recognize signs as well as respond to them. They also provide non-medical care to provide comfort to clients such as hygiene assistance, meal preparation, feeding and light housekeeping.
Emotional care: Our caregivers can provide compassionate support to clients especially those who suffer from anxiety, depressions, loneliness, sadness and stress.
Social care: Regular socialization and companionship is essential for older adults. Not only can our caregivers offer meaningful companionship with clients, but they also aim to create strong relationships and bonds with senior clients and their families.
Spiritual care: We understand that age-related difficulties can wear down an older adult's will and spirit, so we aim to restore hope by helping clients find comfort and relief and giving them the dignity and respect they deserve.
Getting Started with Senior Care from Visiting Angels Silver Spring
Our compassionate caregivers can improve your loved one's quality of life and allow them to maintain their independence and remain at home while ensuring they receive the care and support they need. Contact our Silver Spring, MD office so that one of our care coordinators can answer your questions about our palliative care services. Our care directors can also arrange an in-home visit to assess your situation so that they can match your loved one with the right caregiver.
Serving Silver Spring, Rockville, Kensington, Chevy Chase and the surrounding Maryland Suburbs
Visiting Angels SILVER SPRING, MARYLAND
804 Pershing Dr #110
Silver Spring, MD 20910
Phone: 301-690-8552