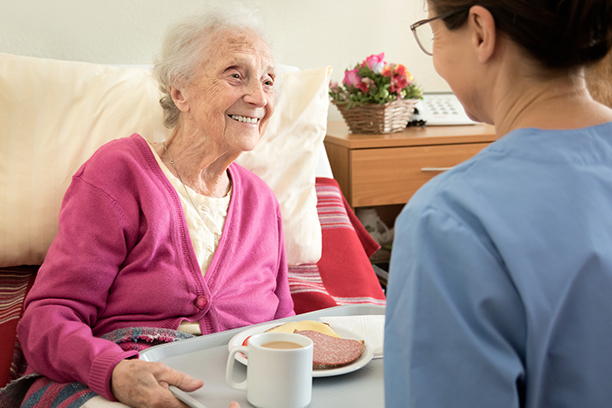 At-Home Senior Care Options for Alzheimer's Patients in Silver Spring, MD and Surrounding Areas
When caring for a loved one with Alzheimer's, it's important to be aware of elder care services that are available. That's why Visiting Angels offers quality at-home senior care for Alzheimer's patients in Silver Spring, Rockville, Bethesda, Chevy Chase and surrounding areas in MD
The Alzheimer's Foundation of America states that as many as 5.1 million Americans are currently living with Alzheimer's, a disease that causes a slow decline in memory, thinking and reasoning skills. The diagnosis of Alzheimer's can be a pretty devastating thing to deal with, but there are steps you can take to help manage the disease's effects.
Although there is no current cure for Alzheimer's, there are treatments and therapies that can help slow down the disease's symptoms and improve the overall quality of life for those affected by it. If you suspect that your senior loved is showing signs of Alzheimer's, it is of crucial important to be proactive and get the right at-home senior care in place as soon as possible.
Visiting Angels has helped many seniors in Silver Spring, Chevy Chase, Bethesda, Rockville and surrounding Maryland communities get the support they need to continue living their own home despite being diagnosed with Alzheimer's disease. We can provide the elder care services your loved one needs to stay safe and comfortable while aging in place.
What Are Common Symptoms of Alzheimer's Disease?
While getting the right elder care services is of utmost importance, it is also vital to first know the warning signs of Alzheimer's:
Challenges in planning and problem-solving skills, and difficulty concentrating
Difficulties with completing familiar tasks at home
Increased confusion about time and place
Trouble with understanding images and spatial relationships
Newly formed problems with words in speaking or in writing, or completing sentences
Often misplacing things and loss in ability to retrace steps
Decrease in judgment when making decisions
Withdrawing from work, social, and other family activities
Increased changes in mood and personality
If you senior loved one is experiencing any of these warning signs, it is crucial to have them screened by a physician for Alzheimer's. While some of these signs may be the normal signs of aging, it shouldn't be mistaken for basic forgetfulness. Without the right at-home senior care services to help manage the symptoms, these conditions can gradually get worse by the year.
How At-Home Senior Care Can Help Older Adults in Silver Spring and Surrounding Areas Manage Alzheimer's Symptoms
If a physician does diagnose your senior loved one with Alzheimer's, the more proactive you are in arranging for their elder care services, the more you can mitigate the disease's effects. The more you know about the disease the better you can help them live with the condition without drastically decreasing the quality of their life.
Arranging Alzheimer's care while in the early stages of the condition can make the difference between a poor and healthy life for your senior loved one. Fortunately, Visiting Angels offers specialized in-home care for seniors with Alzheimer's in Silver Spring, Rockville, Bethesda, Chevy Chase and surrounding communities in Maryland. With the support of our experienced caregivers, we can help your loved one stay safe and comfortable in familiar surroundings.
To find out more about how elder care services from Visiting Angels can help you and your family deal with the effects of Alzheimer's, please call or visit our local Silver Spring, MD, office today.
Serving Silver Spring, Rockville, Kensington, Chevy Chase, Olney, Bethesda and throughout Montgomery County, Maryland
Visiting Angels
SILVER SPRING, MD
804 Pershing Dr #110
Silver Spring, MD 20910
Phone: 301-578-1616
Fax: 301-578-1619