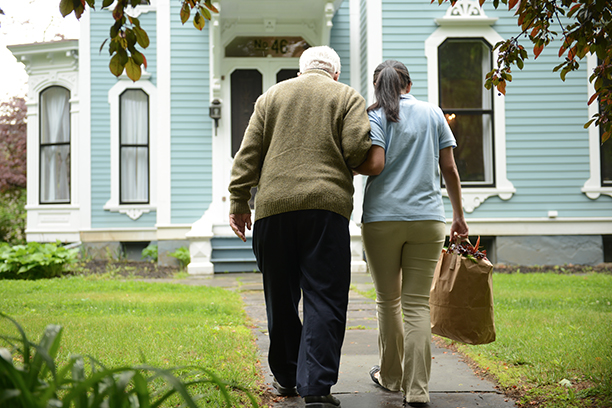 Professional Home Care for Seniors with Parkinson's Disease in Silver Spring, MD and Surrounding Areas
Learn how Visiting Angels helps seniors in Silver Spring, MD and surrounding areas manage symptoms of Parkinson's disease with professional home care services
When a loved one is first diagnosed with Parkinson's disease, it is highly unlikely that you will notice any symptoms of the condition. The early stages of the illness typically do not bring about any behavioral changes, but as Parkinson's progresses, the symptoms appear and gradually worsen. In the later stages of the illness, those with Parkinson's may find it extremely difficult to perform even the simplest of daily tasks.
Coming to terms with your loved one's Parkinson's diagnosis is not easy. However, in order to help them manage the symptoms of the condition and enable them to continue living at home independently, you may wish to consider professional home care options. At Visiting Angels, we offer top-quality Parkinson's care in Silver Spring, Bethesda, Rockville, Chevy Chase and the surrounding areas of Maryland.
With the help and support from our experienced, kind caregivers, your loved one can live a good, happy life despite having Parkinson's disease. We develop personalized care plans for our clients, delivering professional home care services tailored to the specific needs of each senior we cater to. We also match clients with caregivers based on compatible personality traits and adequate skills and experience.
Symptoms of Parkinson's Disease
In the earliest stages of Parkinson's, it is perfectly normal for seniors to show no symptoms of the illness. Over time, however, their mobility will start to decline.
The most common symptoms of this condition include:
Frequent tremors
Mobility issues
Balance problems
Depression
Sleep disorders
Delusions
Dementia (in the advanced stages)
How Visiting Angels Can Help Seniors in Silver Spring and Surrounding Areas with Parkinson's Disease
Since Parkinson's disease affects mobility and balance, seniors diagnosed with the condition are more likely to sustain an injury. Due to the symptoms of the illness, older adults are unable to take proper care of themselves and engage in daily activities.
With our Parkinson's care services, your senior loved one can receive help with mobility and assistance with routine tasks they are struggling with. Our caregivers will make sure that your parent is safe and comfortable at home and that they have all the support they could possibly need.
Our Parkinson's care program includes services like bathing and grooming, toileting and incontinence, medication and fluid reminders, meal preparation and feeding, light housekeeping and running errands, transportation and more.
As your loved one's needs will change as their condition progresses, it is good to know that our professional home care plans can be altered and adjusted at any moment. We will do whatever we can to help your loved one enjoy their senior years as much as they can.
Give us a call in Silver Spring, MD today to learn more and schedule a consultation with our care directors!
Serving Silver Spring, Rockville, Kensington, Chevy Chase, Olney, Bethesda and throughout Montgomery County, Maryland
Visiting Angels
SILVER SPRING, MD
804 Pershing Dr #110
Silver Spring, MD 20910
Phone: 301-578-1616
Fax: 301-578-1619