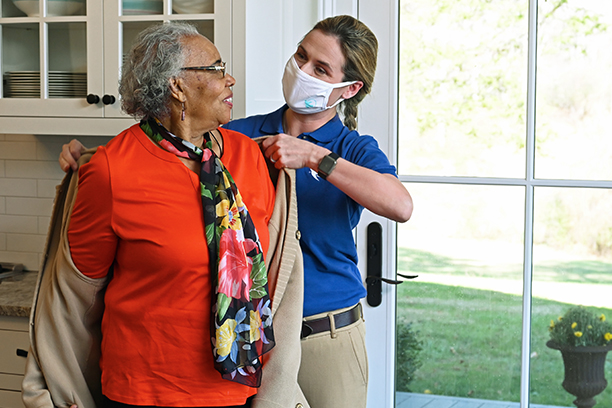 Long-Distance Care for Seniors in Silver Spring, MD and Surrounding Areas
Our home care for seniors supports aging adults in Silver Spring, Bethesda, Rockville, Chevy Chase and surrounding Maryland communities while keeping out-of-town loved ones involved in their care
Many elderly adults in Silver Spring, MD and throughout the United States live away from their family. Unfortunately, many children move to different places away from their parents because of job offers and other circumstances. While some elderly patients opt to stay in retirement homes, others prefer to stay in the comfort of their homes.
Taking care of your loved ones is very challenging especially if your senior loved one lives hundreds of miles away from you. If you want to extend your love to your loved one despite the distance, your best option is to hire professional caregivers. But how do you hire the right caregivers if you cannot be present during the selection process? What you need to do is to get caregivers from a reliable agency.
How Visiting Angels Silver Spring Provides Reliable Long-Distance Care for Seniors
With care for seniors from Visiting Angels Silver Spring, we can help coordinate long-distance caregiving to your loved ones so that they can get the support that they need while keeping the entire family in the loop about the condition of your loved ones.
Here are the long-distance services that we provide to our clients.
We will coordinate a detailed consultation for your loved ones by conducting a home consultation with your loved one. We can also provide a phone consultation with you so that you can still be involved in the care of your loved ones.
Our care directors will match your loved one with a compassionate caregiver who has the right skills to suit the needs of your loved one.
Once the care services start, we can regularly provide you with updates via phone or email so that you can get updated on the condition, status and well-being of your loved one. If they notice any changes, they will notify you immediately.
We will visit your loved one regularly to ensure that they are safe and comfortable. All of our offices have an after-hours line so that you and your loved ones can call in case of emergencies.
Getting in-home care is a great way to show your loved ones that you love them despite your absence. Thanks to the dedicated men and women offering this service, you will be able to ensure that they are safe and comfortable in their homes.
To learn more about our long-distance care for seniors, contact our Silver Spring, MD office.
Serving Silver Spring, Rockville, Kensington, Chevy Chase and the surrounding Maryland Suburbs
Visiting Angels SILVER SPRING, MARYLAND
804 Pershing Dr #110
Silver Spring, MD 20910
Phone: 301-690-8552