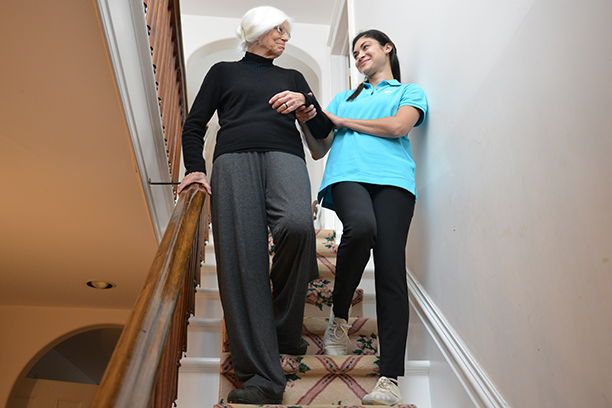 Elderly Home Care Supports Safe Mobility for Seniors in Silver Spring, Chevy Chase and Surrounding Maryland Communities
The Visiting Angels fall prevention program provides the personalized elderly home care services your loved one needs to maintain safety & independence in Silver Spring, Rockville, Bethesda, Chevy Chase and the surrounding areas in Maryland
Elderly people are at risk of falls. One-third of the senior population in the country experience falls and sustain serious injuries such as concussions and fractures. The incidence of falls among seniors is so high that over 800,000 people are hospitalized yearly. To make matter worse the recovery can take up to a year or longer in a long-term care facility thus it takes time before they can ever go home again.
At Visiting Angels, we strongly value the safety and well-being of our clients. This is why we've developed a fall prevention program that aims to help seniors stay safe in their own homes in Silver Spring, Rockville, Olney, Chevy Chase, Bethesda and surrounding areas in the Maryland suburbs.
How Falls Affect Seniors in Silver Spring, Chevy Chase and Surrounding Areas
Did you know that falls are the main reason why many senior adults lose their independence? Aside from causing physical injury, it can also impact the emotional and social aspects of individuals. Elderly loved ones who have experienced falls in the past are often traumatized and this is the reason why they tend to avoid leaving the house and miss important activities with families and friends. As a result, they often feel isolated, depressed, lonely, and sad. Voluntarily limiting their movements because they are afraid of falling can be disadvantageous because they don't get the exercise that they need thus they end up wasting away their health.
While falls are common, it is important to take note that they don't just happen without any reason. There are many risk factors that increase the chances of your loved ones of falling. These include medical problems, home environment, and physical condition. Specific conditions like poor eyesight, arthritis, dehydration, and lack of grab bars in key places in the house can increase their likelihood for falls. It is important to determine and address these factors so that falls can be prevented.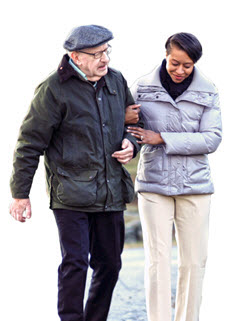 Get Started with Elderly Home Care from Visiting Angels Silver Spring
Here at Visiting Angels, we can help with fall prevention. Our fall prevention program is committed to investing in the education not only among our older clients but also the entire family. We also constantly train our caregivers to look for signs that may lead to fall-related risks and injuries. It is our aim to provide good quality of life to our clients without them feeling helpless and scared all the time.
To learn more about our fall prevention services and other options for elderly home care in Silver Spring, MD, contact our office today. At Visiting Angels, we're here to help!
Download Your Free Safe & Steady Fall Prevention Resource Guide today.
Serving Silver Spring, Rockville, Kensington, Chevy Chase, Olney, Bethesda and throughout Montgomery County, Maryland
Visiting Angels
SILVER SPRING, MD
804 Pershing Dr #110
Silver Spring, MD 20910
Phone: 301-578-1616
Fax: 301-578-1619