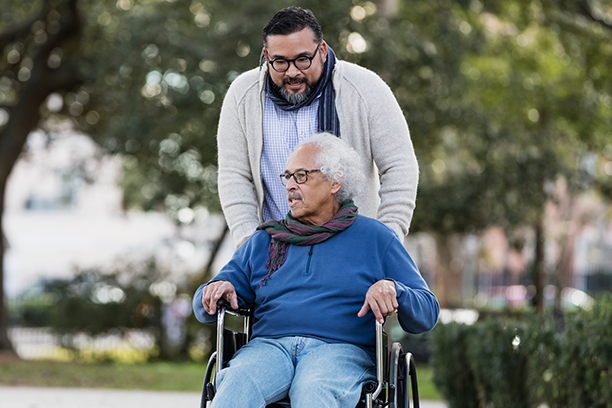 Meet Our Staff at Visiting Angels Silver Spring
Visiting Angels has an excellent office and in-field staff in Silver Spring, MD. Our primary goal is always to provide the best possible care for our clients. We are customer service-oriented in everything we do
We have a racially, ethnically and culturally diverse staff. We hail from all corners of the globe as well as from the United States. Our diverse heritages bring unique strengths and abilities. Visiting Angels is licensed, bonded and insured. Everyone who works for Visiting Angels must submit to a criminal background check which includes fingerprinting. There is an extensive interview process before an applicant can become an "Angel".
Caregivers
We have many "Caregivers with Character" many of whom have worked with us for many years. Because we try to match the needs and personality of the client with the skills and personalities of the Caregivers, it is essential that we have a large pool of qualified caregivers. Our Caregivers have different levels of experience and training ranging from Companions, Home Health Aides (HHA), Certified Nursing Assistants (CNA), Geriatric Nursing Assistants (GNA).
In addition to the schooling and experience required to become an "Angel", each Caregiver is required to attend quarterly in-service trainings. Every CNA and GNA is required to maintain their good standing with the Maryland Board of Nursing. A very important distinction regarding the Caregivers from Visiting Angels as opposed to caregivers from some other agencies is that our Caregivers are employees. What this means to you, the consumer, is that we take care of all taxes, workmen's compensation and other with-holdings as required by law. Conversely, caregivers, and those who hire them, who are not employees, do not enjoy these benefits.
Intake Specialist
This is the person you would be transferred to if you called to inquire about our services. They have a wealth of information about Visiting Angels services and even local resources to share with you.
Care Coordinators
We are fortunate to have five Care Coordinators. These five people each have a caseload of clients. We are set up this way so that each client has a point of contact. This enables Visiting Angels to always have our finger on the pulse of each client. We have purposely kept our Care Coordinators' caseloads manageable. This was intentionally done in order to provide a personal level of care for each client.
Registered Nurses
We have three Registered Nurses on staff. Each client who requires personal care is assessed by our nurses at no additional cost. These nurses also perform routine announced and unannounced supervisory visits to ensure customer satisfaction.
Human Resources Coordinator
The Human Resources Coordinator is consistently recruiting excellent caregivers. She monitors the changing needs of our clients to ensure that we always have the Certified Nursing Assistants (CNA), Geriatric Nursing Assistants (GNA), Home Health Aides (HHA) and Companions that are needed to serve our clients.
We like to keep our ratio of Caregivers to clients at 1.5 to 1. The Human Resources Coordinator monitors license compliance, health regulations, verifies employment eligibility and addresses any Caregiver issues.
Office Assistants
They help keep everything running smoothly; from a very warm greeting on the phone to all the daily office tasks.
Bookkeeper
The Bookkeeper monitors and maintains all bookkeeping activities including payroll and billing.
Leadership Team
This team is comprised of an Office Manager, a Director of Services, Case Manager, Human Resources Manager, Client Services Manager, and Quality Assurance Manager. This team works together to ensure that our core goals and values are always forefront.
Now that you know about us, let us get to know you! Call our Silver Spring, MD office and let us help you find the "Angel" that you need.
Serving Silver Spring, Rockville, Kensington, Chevy Chase, Olney, Bethesda and throughout Montgomery County, Maryland
Visiting Angels
SILVER SPRING, MD
804 Pershing Dr #110
Silver Spring, MD 20910
Phone: 301-578-1616
Fax: 301-578-1619