Senior Home Care in Dorchester County, SC
Summerville's Number One In-Home Care Service
Welcome to Visiting Angels Summerville! We provide in-home care to seniors throughout Dorchester County so they can continue to live in the comfort of their own homes, regardless of age and condition. Through a variety of respite care and senior home care services, we can help your loved one overcome the struggles that influence their life. With the gift of assisted independence, the entire family has peace of mind over their loved one's well being.
Forget nursing homes; if you have a loved one in need of senior home care then give us a call at 843-285-5155 so we can help make their lives easier.
Our Summerville Senior Home Care Service:
Even the most simple tasks can become problematic with age. One of our personal caregivers can assist with nearly every area of daily living for your loved one, including:
"Activities of Daily Living" (ADL)
Hygiene Assistance
Assistance in Dressing
Bathing/Showering
Medication Reminders
Assistance with Doctors Visits
Meal Preparation
Light Housekeeping
Errands, Walks, Grocery Shopping
Rewarding Companionship
Respite Care
Hospice support
Custodial Care
Respite Care for All The Family
Caring for a senior as a family member can be very tiring and demanding. Even the closest relationships can struggle when tedious, unattractive tasks are required daily. Here at Visiting Angels Summerville, we can provide respite care for your family by taking on the burden of responsibility ourselves.
We'll free up time in your schedule, give you a chance to rest or just be there to provide a helping hand. We're open to all levels of respite care, from 24/7 senior home care to just 1 hour a week. Whatever you need, let us know and we'll work ourselves in around your plans.
What Makes Visiting Angels Senior Home Care Unique?
24/7 In-Home Care
Our caregivers can be on hand for every second of the year. Don't worry if your loved one needs constant attention because we can provide exactly that. Our office is also just a call away, at any time.
Self Directed Balanced Senior Home Care
After decades of experience, we've developed a unique self-directed care plan that can help in all areas of life. We believe successful senior home care is about more than just the activities of daily living. That's why we focus on promoting a healthy mind, spirit and body.
We Provide Our Own Caregivers
Unlike less successful in-home care services, we're a caregiving agency. That means each of our clients gets their own expertly trained, loving caregiver. We only hire the best and they're always mature, genuine people that we're proud to employ.
Certified and Background Checked Caregivers
Every single caregiver that Visiting Angels Summerville employs is background checked by ourselves, local agencies and the FBI. They are all fully trained in their relevant areas and fully certified.
Unrivaled Experience
Since 1998 Visiting Angels has been one of the leading providers of in-home care and respite care in the USA. Through our experience, we've learned the precise knowledge and skills needed to make senior home care successful for every individual.
Personalized Senior Home Care
At the heart of our unique in-home care approach is personalization. From the moment we meet, everything is focused on you - your demands, your plans, your schedules and your concerns.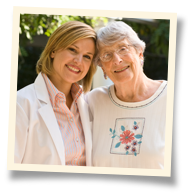 Personalized Care Plans are built to match your loved one's needs.
All schedules are built to fit you. We fit into your life, not the other way around.
We're able to focus on the areas of senior home care that your loved one needs the most.
We can make adjustments at any time to make life more comfortable for you.
Why Personalized Care Plans?
We've seen how not being treated as an individual can cause a negative spiral; that's why we avoid the failings of generic care plans by putting you in charge. Each individual has a different set of needs, a distinct personality and a different rhythm. With our personalized care plans your loved one will feel like their life and surroundings have been given a new lease of life.
Free Consultations in Your Own Home
We know how anxious seniors and their families can get when the time comes to consider a senior care service. But the good news is, we strive to make it as comfortable as possible. We can meet at your home to find out who you are as a person, ensuring you don't need to travel.
We'll answer any questions or concerns.
We'll explain everything in understandable detail.
We'll help you find peace of mind, to reduce anxiety from day one.
Get Started
You Choose Your Own Caregiver
We believe that the only person who should decide over the caregiver selection is the client and their family. That's why the ball is in your court only when it comes to the caregiver selection process.
Once we understand which skill set your loved one needs most, we'll provide you with a choice of relevant Visiting Angels Summerville caregivers.
You will get to meet the caregivers and evaluate your options.
You get total control over the selection, and you can change your mind at any time.
Once you've selected, your caregiver will work with you to develop an optimized Personalized Care Plan.

Specialized Senior Home Care Services
We're proud to say that we go one step further than most senior home care services. With our expertly trained caregivers, we provide in-home care and respite care for families who need support for specific conditions.
Through one-on-one, loving and patient care, your loved one can receive crucial support to ease the struggles of living with Alzheimer's, Parkinson's, Dementia, Stroke Recovery, end-of-life care or any other palliative care area.
Areas of Specialized Care:
"Very Pleasant Caring" - Visiting Angels Summerville, SC Reviews:
"Visiting Angels gives you a peace of mind. It helps you to feel that your loved one is being cared for and safe."
"The office is exceptional, they are nothing like the last agency where I would have to cover for the caregivers. Visiting Angels is responsible and caring."
Read more honest Visiting Angels Summerville reviews here.