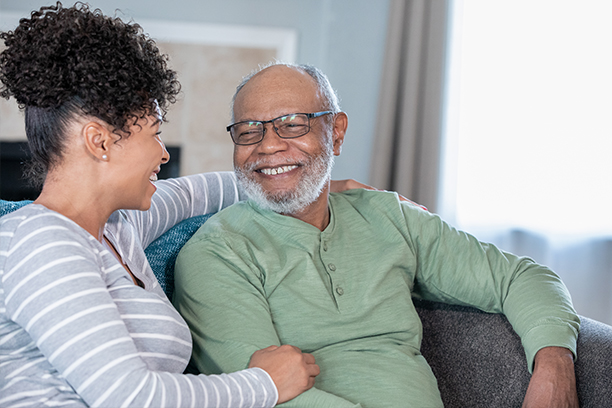 Alzheimer's Care in Las Vegas
Call Visiting Angels in Henderson - 702-407-1100
Call Visiting Angels in Las Vegas - 702-562-3322
(Emergency / After Hours Number: 702-339-2200)
There are many aspects to consider when a parent or relative receives an Alzheimer's or dementia diagnosis. Establishing a support network for you and your loved one is most important. Finding professional care and extra support is a great way to ease the stress of the situation and give your loved one the care they deserve. With our Alzheimer's care services at Visiting Angels® of Las Vegas and Henderson, we supply the expert assistance and the customized care you need.
Safe and Experienced Alzheimer's Care in Las Vegas
Our services at Visiting Angels of Las Vegas and Henderson are all about keeping your loved one safe and protected in their own home. To start, we provide a complimentary safety assessment of the home. This allows us to find possible fall risks and parts of the home that can threaten their health in other ways.
Beyond this assessment, we also provide dedicated and attentive memory care from trusted professionals. Our specialty is to look out for your loved one and provide a safe, comfortable environment to deal with the situation. Our team brings compassion, love, and an experienced approach to Alzheimer's care that makes it possible for your family member to continue living in their own home.
Flexible Memory Care from Visiting Angels of Las Vegas and Henderson
All our Alzheimer's care services are set up to meet the customized needs of different individuals. Memory care can vary depending on your situation, so we are proud to provide the specialized help your loved one needs. Also, this disorder is known to change over time, so it's important for us to be flexible and ready to keep up with your loved one's shifting needs. We are available 24/7 and have flexible scheduling options, so you can access our exceptional care services whenever you need. In fact, we even offer live in care for those that require it.
Our professional Alzheimer's care services are available throughout Las Vegas, Henderson, Summerlin, Anthem, MacDonald Ranch and Siena. So if your loved one is diagnosed with Alzheimer's or dementia, there is no reason to deal with it on your own. We have the expert care and flexible service to make life easier and more comfortable for everyone involved.
Call our team at Visiting Angels of Las Vegas and Henderson and learn more about our crucial Alzheimer's care services today.
Serving Summerlin, Las Vegas, Henderson and Surrounding Areas
Visiting Angels
LAS VEGAS, NV
1180 N Town Center Dr #100
Las Vegas, NV 89144
Phone: 702-562-3322
1701 N Green Valley Pkwy #9A
Henderson NV 89074
Phone: 702-407-1100
(Emergency / After Hours Number: 702-339-2200)