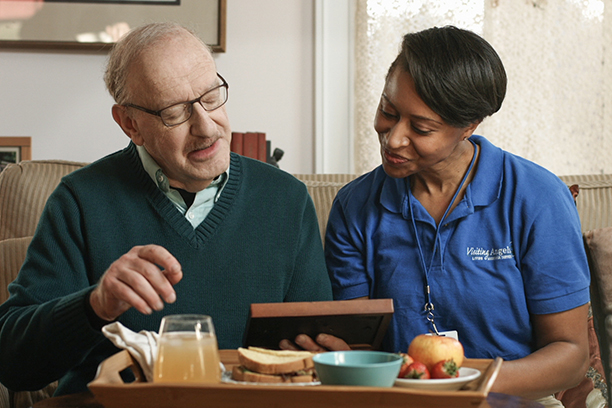 Home Care Services in Las Vegas
At Visiting Angels® of Las Vegas and Henderson, we are committed to providing the best care and companionship for our clients. With our range of essential personal home care services, we are able to make your loved one safe and comfortable in their own home. Read on for more details about our services.
More About Our Home Care Services in Las Vegas
Our main goal is to make aging in place possible for the elderly in our community and the surrounding areas. Our caregivers help their clients cope with the challenges of daily living that can often come with age. Whether your loved one is living with a disability, memory-related disease, physical limitation, or a chronic illness, we have the ability to serve their needs and allow them to remain in the comfort of their own home.
Some of our care services include:
Personal care
Meal planning and preparation
Light housekeeping
Companion care
Alzheimer's and dementia care
Mobility assistance
Palliative care
Transportation for appointments
End of life care
When you choose Visiting Angels of Las Vegas and Henderson, you are giving your loved one the benefit of customized care. For each of our clients, we create a personalized care plan that is tailored to meet their needs. The custom nature of our plans makes it easy to adapt your loved one's care to their changing needs. As they continue to age, they may encounter more difficulties, and our care can evolve to their situation.
Another benefit of our home care services in Las Vegas is that our caregivers operate on a flexible scheduling system. Your loved one deserves to receive care when they need it most, and our 24/7 availability allows this with ease. Our caregivers are available on part-time, full-time, respite, and live-in care schedules.
Get Started with Visiting Angels of Las Vegas and Henderson
If you think your loved one can benefit from our home care services, get started by scheduling their free care assessment with us today. We love to learn more about your loved one's unique needs and preferences, which will later help us create their personalized care plan. We also welcome any questions you have about our services, scheduling, and caregivers.
We are a locally owned and operated care agency serving seniors in the local community, as well as Henderson, Summerlin, Anthem, MacDonald Ranch, and Siena.
Contact Visiting Angels of Las Vegas and Henderson for more information about our home care services in the Las Vegas area.
---
* Live-in Care is available for clients who want or need a caregiver in the home 24 hours a day. Under the Live-in program, the caregiver works for 16 hours and sleeps for 8 hours. If the client needs assistance during the night, our caregiver is there to help them. For clients who do not sleep through the night or are up repeatedly, we offer 24-hour care. Under the 24-hour program, the caregiver there through the night does not sleep.
Visiting Angels does not require a contract and we are extremely flexible in providing its services. Clients essentially determine the schedule of when a Visiting Angels caregiver comes and goes. We can provide care up to 24 hours a day, 7 days a week. Our only real stipulation when setting up a schedule is that when our caregiver (employee) comes, they need to be there for at least two hours. Additionally, each client needs to use us at least six hours per week.
A client can have us come more than once a day for two hours. For example, maybe our caregiver comes first thing in the morning to help the care recipient get out of bed, "in and out" of the shower, dressed, make them breakfast (and of course do the dishes) and remind them to take their morning medication. After this two hour service, our caregiver leaves (and goes "off the clock") and we come back later in the day such as dinner time or bedtime. The client/care recipient decides what is the best time for us to assist and how often. We can come everyday of the week or just certain days.
With the set schedule, it enables us to send the same caregiver for each service. We are available for temporary or long term as there is no contract required. We are also available 24 hours a day, seven days a week including weekends and holidays.
Serving Summerlin, Las Vegas, Henderson and Surrounding Areas
Visiting Angels
LAS VEGAS, NV
1180 N Town Center Dr #100
Las Vegas, NV 89144
Phone: 702-562-3322
1701 N Green Valley Pkwy #9A
Henderson NV 89074
Phone: 702-407-1100
(Emergency / After Hours Number: 702-339-2200)