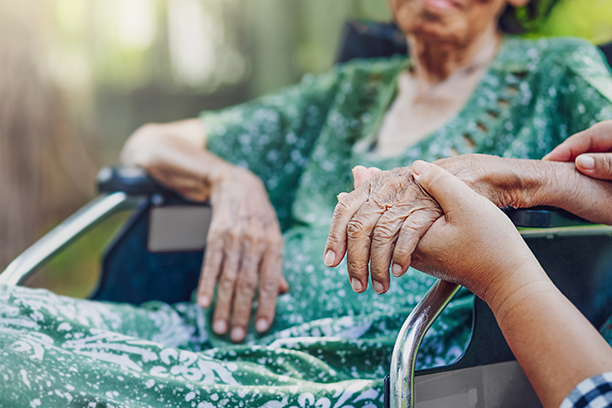 How Transitional Care in Las Vegas Reduces Hospital Readmissions
Ready-Set-Go Home with Transitional Care
For seniors, a single hospitalization can lead to a series of rehospitalizations that not only affect their physical condition, but also their quality of life. The aim of our transitional care program at Visiting Angels® Las Vegas is to stop this cycle before it starts by giving elderly adults a better chance of making a full recovery. Through in-hospital support and at-home care delivered by compassionate caregivers, our services enable seniors to feel fully supported throughout the journey of recovery and assist them with living life on their own terms, even during this time when they feel most vulnerable.
What Causes Readmissions in Las Vegas?
Every patient's situation is unique, but seniors who are readmitted to the hospital often share similar circumstances, which can include the following:
Feeling weak and exhausted. It's normal that seniors don't feel their best after a hospital stay, but this can result in further health complications if it prevents them from looking after their well-being.
Issues with mobility. Mobility limitations can keep elderly adults from doing essential tasks like preparing healthy meals, bathing, or going to the pharmacy to pick up medications.
Cognitive decline or memory issues. When seniors struggle to remember their doctors' orders or medication schedules, they can suffer serious physical consequences.
A lack of reliable assistance at home. Those who do not have a caregiver to turn to at home often find that making a full recovery is much more difficult.
How Our Transitional Care Program Helps
At Visiting Angels Las Vegas, we know nearly 20% of Medicare beneficiaries return to the hospital shortly after their discharge, and our Ready-Set-Go Home transitional care program was carefully designed to reduce this high rate of rehospitalization. Recipients of our transitional care services receive in-hospital support that helps them and their family members prepare for the discharge and make appropriate plans for care. We give families important resources during this challenging time and help them gather essential details from their loved one's physicians about what to expect from the transition and recovery process.
Our next step is to assist seniors with getting back into their daily routine at home. Caregivers can help out with implementing doctors' instructions, remembering medication schedules, cooking healthy meals, providing transportation to appointments, and more. The specific services we offer are always tailored to the unique needs of the senior and the circumstances of their discharge.
Get started with our transitional care program in the local area today. Just give Visiting Angels Las Vegas a call to set up a free consultation.
Serving Summerlin, Las Vegas, Henderson and Surrounding Areas
Visiting Angels
LAS VEGAS, NV
1180 N Town Center Dr #100
Las Vegas, NV 89144
Phone: 702-562-3322
1701 N Green Valley Pkwy #9A
Henderson NV 89074
Phone: 702-407-1100