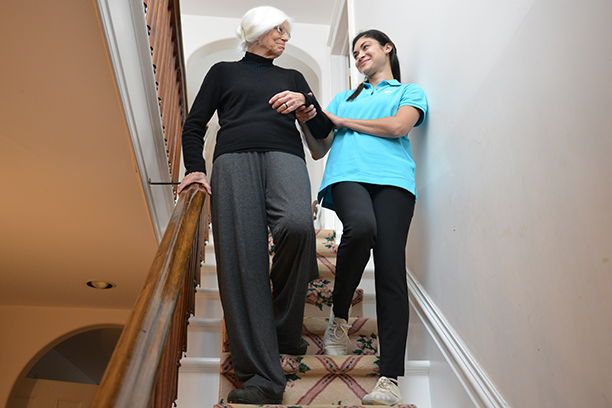 Respite Care Resources For Las Vegas and Henderson
Call Visiting Angels in Henderson - 702-407-1100
Call Visiting Angels in Las Vegas - 702-562-3322
(Emergency / After Hours Number: 702-339-2200)
What is respite care?
Respite care is temporary relief to those who are caring for family members, so the care recipient does not need permanent placement in a facility outside the home. While caregiving can be very rewarding, the physical, emotional and financial consequences for the family caregiver can be overwhelming without some support, such as respite.
Why is respite important?
Caregiving can be harmful to your health. Family caregivers are said to suffer a chronic condition at more than twice the rate as non-caregivers. Elderly spousal caregivers with their own history of illness, and who are experiencing care-related stress, have a 63 percent higher mortality rate than non-caregiving peers. Stress from providing care can take as much as ten years off a family caregiver's life. Family caregivers who provide more than 36 hours of care weekly are more likely than non-caregivers to experience symptoms of depression or anxiety.
Who provides respite care?
Respite is often provided by other family members, neighbors as well as day care centers, assisted living facilities, nursing homes and senior care agencies such as Visiting Angels - Las Vegas.
What does the caregiver do while providing respite?
The care can range from companionship to complete home care services such as personal hygiene assistance, ambulatory assistance or meal preparation. When Visiting Angels is providing respite care, the family or the care recipient selects which senior care services that it wants completed. Visiting Angels - Las Vegas will provide complete and customized home care services.
Who pays for Respite care in the Las Vegas Metropolitan area?
State of Nevada Dept. of Aging
486-3545
http://adsd.nv.gov/
Home and Department of Aging Community Based Waiver (HCBW formerly CHIP)
Alzheimer's Association
248 2770
www.alz.org
The Alzheimer's Association awards "respite" care vouchers that can be used to pay for respite services. They distribute these twice a year and the recipients have six months to use the funds.

Helping Hands of Vegas Valley
633-7284
www.hhovv.org
Helping Hands also awards "respite" care vouchers with two distributions a year. Recipients have six months to use the funds.
Veteran's Administration
Aid and Attendance
800-827-1000
http://www.benefits.va.gov/pension/aid_attendance_housebound.asp
A veteran can also work with an organization such as Veterans Home Care – 561-2382 and www.veteranshomecare.com. This business assists veterans and spouses obtain the special VA pension of "Aid and Attendance." Visiting Angels assists many veterans and spouses that receive the "aid and attendance" pension to pay for respite care. Homemaker and Respite – The Veterans Administration also has a Homemaker and Respite program for many of services. Your doctor's office must recommend a veteran for either of these programs, but it get general information the Veterans Administration website: www.va.gov/GERIATRICS/Guide/LongTermCare/Homemaker_and_Home_Health_Aide_Care.asp
Visiting Angels - Las Vegas is one of a select few home care agency's that the Veterans administration has asked to help veterans. We currently assist over 150 veterans under these programs.
Getting Started with Respite Care
Get the break you need by getting started with our customizable senior care services. Simply contact our Las Vegas or Henderson office, and we'll set a time for your free consultation. Once you've learned more about our approach to home care, you can have confidence about taking time away from your caregiving duties.
For respite care in the Las Vegas and Henderson communities, call Visiting Angels - Las Vegas today!
Serving Summerlin, Las Vegas, Henderson and Surrounding Areas
Visiting Angels
LAS VEGAS, NV
1180 N Town Center Dr #100
Las Vegas, NV 89144
Phone: 702-562-3322
1701 N Green Valley Pkwy #9A
Henderson NV 89074
Phone: 702-407-1100