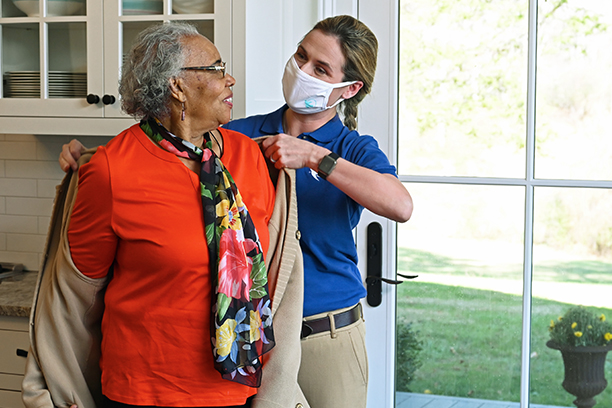 Respite Care in Las Vegas 
Call Visiting Angels in Henderson - 702-407-1100
Call Visiting Angels in Las Vegas - 702-562-3322
(Emergency / After Hours Number: 702-339-2200)
Helping a loved one with their daily routines can be a fulfilling way to spend time with them in their golden years. However, it can also lead you to put off taking care of your own needs. If you feel you no longer have time for yourself and want to take a break from your role as a family caregiver, our respite care providers in Las Vegas can help your loved one while you enjoy time off.
At Visiting Angels® Las Vegas, we know how crucial it is for family caregivers to avoid burnout. Only by protecting your mental, physical, and emotional well-being can you ensure you are able to properly care for your loved one. When you make the choice to take a step back for a few days or weeks and do some self-care, you will be doing something positive for both yourself and your loved one.
What is Respite Care?
If you've only recently learned about the concept of respite care, you may wonder whether this is the right choice for your personal situation in the Las Vegas area. Generally speaking, these kinds of services are delivered on a short-term basis to meet the temporary needs of seniors and their family caregivers. We can arrange to have one of our capable care providers support your loved one while you take a break for a few days or weeks. The ultimate aim is for you to be able to enjoy time alone without experiencing guilt, worry, or anxiety about your loved one's safety and contentment.
How Respite Care Helps Seniors in Las Vegas
When you choose to use our respite care services, you'll gain access to a wide range of supportive forms of care for your loved one based on their individual needs as well as their personal preferences.
Below are some of the services local families frequently request:
Help with bathing and other personal care routines
Reminders about medications and careful supervision
Chores and homemaking activities
Friendly conversation and patient companionship
Support with running errands or buying groceries
Getting Started with Respite Care
Get the break you need by getting started with our customizable services. Simply contact our office, and we'll set a time for your free consultation. Once you've learned more about our approach to care, you can have confidence about taking time away from your caregiving duties.
For respite care in Las Vegas or a community in the surrounding areas, call Visiting Angels Las Vegas today!
Serving Summerlin, Las Vegas, Henderson and Surrounding Areas
Visiting Angels
LAS VEGAS, NV
1180 N Town Center Dr #100
Las Vegas, NV 89144
Phone: 702-562-3322
1701 N Green Valley Pkwy #9A
Henderson NV 89074
Phone: 702-407-1100