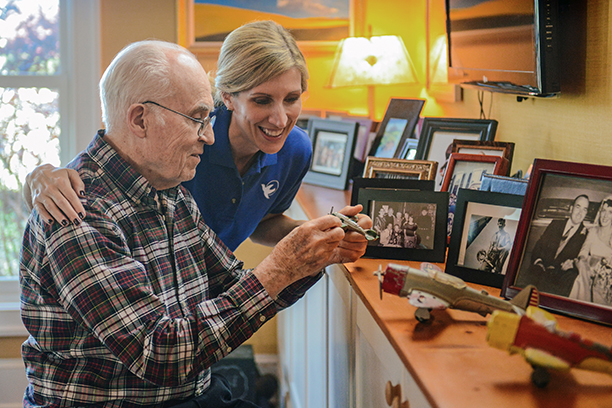 Home Care in Gig Harbor, WA
At Visiting Angels of Kitsap County, family is important to us. Whether they're blood relatives or family that we've chosen, our family picks us up when we're down and supports us at every stage of our lives. Realizing that a beloved family member needs a helping hand can be difficult. You want to bring in a caregiver that you can trust, someone that will better the life of your loved one. Visiting Angels of Kitsap County can connect you with just the caregiver that you're looking for. Our caregivers are experienced, trained, and passionate about providing a helping hand to the Gig Harbor community.
Personalized Home Care for Gig Harbor Families
With Visiting Angels of Kitsap County as your partner-in-care, you will have a hand in creating what personalized senior care plan will work best for your loved one. From 24-hour personal care to occasional companion care, we will find the services that fit best for your loved one. The senior home care services that we provide to our Gig Harbor clients include transitioning care, respite care, Alzheimer's care, dementia care, and end-of-life care.
Included in our personalized senior care plans is a selection of day-to-day activities that can make living at home easier for your loved one. These activities include housekeeping, bathing assistance, toileting assistance, meal preparation, laundry help, and companionship.
Our Visiting Angels can also provide transportation and companionship to many places in Gig Harbor. These places include:
If your loved one has a doctor's appointment at a nearby hospital (i.e. St. Anthony Hospital) one of our caregivers can transport them as well as accompany them to the appointment.
Does your loved one enjoy a good meal? We would be happy to take them to a local restaurant, like the Gig Harbor favorite: II Lucano.
To enjoy the sunshine and fresh air, many of our clients love to go to parks with their caregivers, including Wilkinson Farm Park.
From the post office to a shopping center, you can count on Visiting Angels of Kitsap County to ensure your loved one will get to their destination as safely and comfortably as possible.
Free Consultation
To learn more about our home care services and to schedule a free consultation, call 360-602-0609.
Retirement should be a happy and stress-free time for seniors. Retirees should enjoy each day pursuing hobbies, spending time with loved ones, and soaking up a relaxing pace of life.
However, as seniors age, the responsibilities of self-care and homeownership can become more difficult. Senior home care in Gig Harbor, WA, with Visiting Angels can fill the gap and keep seniors at home where they are comfortable.
Visiting Angels Senior Home Care Services
Visiting Angels provides compassionate and highly skilled senior home care in Gig Harbor, WA. We take great pride in finding and developing professional caregivers who are expertly trained to provide the services that seniors may need to stay independent and comfortable in their own homes.
We offer services 24-7, 365 days a year, so we are always here when we are needed.
Aside from our excellent services, we strive to build trusting relationships that withstand the test of time. Our goal isn't just to make sure basic needs are met but to improve the overall well-being of seniors so they can enjoy their retirement to the fullest.
Two of our primary areas of senior care services are home care support and personal care support.
Home Care Support
Managing everyday tasks when living at home can become overwhelming for seniors, especially those who experience health and/or mobility issues. Visiting Angels provides senior home care services to help ease their burden. We help with tasks including:
Medication reminders
Housekeeping
Meal planning
Meal preparation
Laundry
Running errands
Providing transportation
Our staff understands how overwhelming completing these daily chores can be. An in-home care professional can take a lot off of a senior's plate, enabling them to spend time doing the things they enjoy.
Personal Care Support
In addition to home care support, Visiting Angels also offers personal care support to help seniors with everyday personal tasks. These include:
Dressing
Bathing
Personal hygiene
Ambulation
Feeding
Transferring
Toileting
Our staff is expertly trained in providing personal care support in the most compassionate way possible. We are flexible and know how to work with seniors experiencing a variety of mobility issues and health ailments. We always provide our personal care services with the utmost discretion and professionalism.
Advantages of In-Home Caregiving
It is natural to explore a variety of options when a senior needs help with everyday tasks. Options for senior care can include moving in with a family member or transitioning to an assisted living community. While these solutions work for some families, they can require significant lifestyle changes.
For many seniors and their families, home care in Gig Harbor, WA, is an ideal option because it allows seniors to continue their retirement comfortably in their own homes. Other advantages of choosing in-home caregiving include independence, personalized care, and flexibility.
Independence
It is important that seniors maintain their independence through retirement, even if they need a little support with everyday activities. In-home care allows them to retain as much independence as they want while also easing the burden of completing tasks that have become difficult.
Personalized Care
One of the major advantages of in-home care is that every senior gets dedicated, one-on-one attention. This type of personalized service simply isn't possible in senior living communities. Visiting Angels provides thorough personalized home care plans for every client, ensuring that all needs are met in a way that is comfortable for the long term.
Flexibility
Choosing a care option like moving in with a relative or transitioning to an assisted living community does not preserve much flexibility. In-home care allows seniors to have total control over their services, their schedule, and their caregiver.
As the senior's needs or preferences change, so can their services. Clients of Visiting Angels are not locked into a specific plan — it can be changed at any time.
Cost-Effectiveness
Even seniors who have planned meticulously for retirement may experience financial stress at one point or another. In-home senior care services are often more affordable than transitioning to a full-time assisted living community.
In addition, the flexible nature of in-home care means that you can adjust services up or down as your financial situation changes.
How Visiting Angels Works
Finding long-term senior care for a loved one can seem like an overwhelming task. At Visiting Angels, we have a process in place that makes finding care simple and stress-free. The first step is an in-home consultation to determine needs and preferences.
During a consultation, a trained staff member will get to know you and become familiar with your daily schedule and where support is needed. They know what questions to ask to accurately assess what level of support is most appropriate. After the consultation, we develop a proposed schedule that fits within your budget.
After a schedule is agreed upon, we will match you with a caregiver who best aligns with your needs as well as with your personality and personal preferences. We aim to find the perfect match so you can form a long-lasting bond and feel totally comfortable with your caregiver.
As you start working with your caregiver, we are always here as a resource. Whether you have questions about your services or you need to change your plan, we are ready to help.
Quality Home Care in Gig Harbor, WA
When you choose Visiting Angels for senior home care in Gig Harbor, WA, you are taking a step toward an improved quality of life for yourself or your loved one. We pride ourselves on our first-in-class staff who are the best in the industry. Our staff has a proven record of reliability that we've worked hard to perfect over the years.
In addition to our quality care, we strive to make our services as affordable as possible so that seniors in need of care can access it. When you choose Visiting Angels, you can rest assured that you are in good hands.
Contact Us
The staff at Visiting Angels is here whenever you need us to answer questions or set you up with an in-home care plan in Gig Harbor, WA. Give us a call today to get started.
Serving Kitsap County and the West Sound Area, including Bremerton, Poulsbo, and Port Orchard, WA.
Visiting Angels
KITSAP COUNTY, WA
700 Prospect St #204
Port Orchard, WA 98366
Phone: 360-602-0609
Fax: 360-637-3819