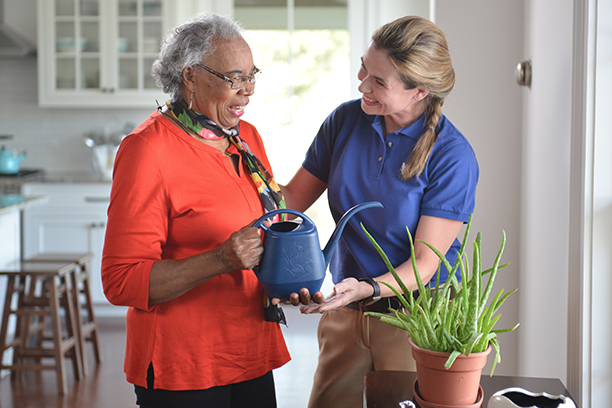 Visiting Angels of Kitsap County Provides Senior Home Care Services in Kingston, WA. Your Loved Ones Can Safely Age with Personalized Services.
Are you looking into professional senior home care options for an elderly loved one? Whether your loved one just needs assistance with everyday tasks for a few hours a day or needs advanced care to manage symptoms of late-stage Alzheimer's, it's important to find a reputable and compassionate caregiver who can provide the care your loved one needs.
Visiting Angels of Kitsap County offers personalized home care services to seniors living in Kingston, WA, and the surrounding area. Our goal is to help seniors continue to live at home for as long as they wish by assisting with tasks that have become too difficult due to age-related issues. With the help of our caregivers, your loved one can continue living independently in their own home while staying safe and comfortable.
We provide seniors of the Kingston, WA area the following services:
Light housekeeping

Assistance with bathing, grooming, and dressing

Meal preparation

Toileting and incontinence care

Medication reminders

Companionship

Transportation

Running errands

And more
Visiting Angels of Kitsap County is Committed to Providing Personalized Home Care to Seniors in Kingston, WA, and the surrounding communities
What sets us apart from other local senior care agencies is our commitment to providing personalized care. At Visiting Angels of Kitsap County, our care plans are both personalized and flexible. Your loved one's needs will change over time, which is why it's important that their care plan changes along with them. Simply contact our office if any changes need to be made. We can adjust the services provided, adjust scheduling, assign a new caregiver and more.
We understand your loved one has their own unique needs, which is why we will create a uniquely tailored care plan that includes the services they truly need. Does your loved one need help getting dressed? Do they need a caregiver to accompany them as they go grocery shopping at Food Market? Do they need someone to make sure they don't wander around at night? No matter the care your loved one needs, with Visiting Angels of Kitsap County, you can rest assured they're in capable and caring hands.
Call for a Free Consultation
Call 360-602-0609 to learn about our senior home care services that can help your elderly loved one feel safe and comfortable in their own home.
Personalized Senior Home Care in Kingston, WA
As seniors move further into their retirement, it is not uncommon for them to need more support in their daily lives. Some seniors need occasional help with tasks here and there, while others need constant support.
One of the best options for seniors who need a little extra help is home care. Home care is a type of senior care that is provided in the comfort of a senior's own home. Home care is convenient, easy to adapt to, and can quickly become a comfortable part of any senior's life.
If you are looking for senior care for yourself or a loved one in Kingston, WA, contact Visiting Angels. We have been providing the highest quality senior home care service in the area for years.
Home Care in Kingston, WA, with Visiting Angels
Visiting Angels provides professional care services to seniors in the Kingston, WA, area. We not only provide the highest quality care, but we also aim to create a comfortable environment and lasting relationships. Caregivers are trained to provide the care needed while also allowing seniors to remain as independent as possible.
Visiting Angels caregivers can greatly improve the day-to-day quality of life for seniors right away. When seniors begin experiencing issues with mobility or experience difficulty completing daily tasks, having a caregiver's help can make an instant difference.
Staff is available for seniors 24/7 and is always there when they are needed. Visiting Angels has a comprehensive program that works with seniors and their families to find the right balance and ensure that everyone involved is satisfied with the service provided.
Personal Care Services
Personal care services help seniors who need assistance with activities of daily living. Seniors can experience difficulty completing activities of daily living for a variety of reasons, including changes in mobility, lack of strength, or recovery from an injury or surgery.
A caregiver from Visiting Angels can assist with daily activities in a way that is helpful but allows seniors to maintain their autonomy. Seniors can feel confident that they have the support they need when they need it.
Daily living activities that caregivers can provide assistance with include:
Dressing

Toileting

Feeding

Transferring

Personal hygiene

Incontinence care

Ambulation

Pet Care
Our staff is not only trained in providing assistance with these activities, but they also understand the sensitivities that can be present when a senior needs help with daily living. We always use the utmost respect and discretion when providing services and are responsive to feedback from seniors and their families.
Senior Home Care Services
Seniors who require support with daily activities may also benefit from support with managing errands and chores. Managing the daily duties of living at home, including cleaning, cooking, and other household chores, can be a lot to manage for seniors who are experiencing aging challenges or changes.
Continuing to manage all of these home care chores can leave seniors overwhelmed, exhausted, and stressed, and it can even put them in danger. The staff at Visiting Angels can assist with these chores and ensure that nothing falls through the cracks.
Our senior Home care services include help with:
Medication reminders

Housekeeping

Meal planning

Meal preparation

Errands

Transportation

Laundry
Home care in Kingston, WA, can mean the difference between aging in place and having to transition to assisted living outside of the home.
Advantages of Choosing In-Home Caregiving
In-home caregiving is often the best solution for long-term senior care. It can quickly improve a senior's quality of life, and it is a flexible option that can change over time depending on the needs of the senior.
Personalized Home Care
One of the greatest advantages of in-home senior care in Kingston, WA, is the personalized nature of care. Unlike the staff at assisted living communities, in-home caregivers are dedicated to one senior at a time and can provide truly individualized care.
With Visiting Angels, each senior and their family determines what care they need and how they want to carry out their daily routine. Seniors will feel like they are connecting with a friend or companion rather than simply receiving care as a service.
Independence
Many seniors worry that they will lose independence when they seek in-home care. With care from Visiting Angels, nothing could be further from the truth. The staff is specially trained to only provide as much care as is needed, not more.
We understand that loss of control and autonomy can be devastating to a senior's mental health. That's why we always strive to empower seniors while also ensuring they get the care they need in a safe environment.
Comfort
Another advantage of in-home care is the level of comfort afforded to seniors compared to other types of senior care. In-home services do not require making a transition to a senior living community, which can be stressful and overwhelming.
Seniors can remain in the comfort of their own homes and retain their normal daily schedules. In-home care can be seamlessly integrated into the life of a senior without major disruption or drastic changes.
Affordability
One of the major factors for families seeking senior care is the cost. Unfortunately, high-quality senior living communities are not feasible for all situations. In-home care can bridge the gap and provide the care that seniors need at an affordable price.
With a variety of pricing plans and payment options, in-home care offers the flexibility that many families need.
How Visiting Angels Works
If you are new to the idea of in-home care, you may be wondering how it works. The first step with Visiting Angels is a free in-home consultation. During the consultation, a member of our staff will meet with the senior and their family one-on-one to get to know them and assess their needs.
Next, we will develop a personalized plan that reflects the needs and preferences of the senior and allows for adjustments along the way. Families always have the opportunity to be involved in developing the care plan.
Once a care plan is established, Visiting Angels works to find a caregiver who will be a good match for the senior. Our goal is to bring together caregivers and seniors who will form a lasting bond. We introduce caregivers to the senior according to the care plan and iterate on the plan as needed.
Why Choose Visiting Angels?
Visiting Angels makes quality in-home care to seniors in Kingston, WA, accessible. Through years of experience, we have developed a truly unique service model that provides reliable senior care while still offering flexibility.
Our approach to senior care is a holistic one that focuses on total wellness, not just on immediate needs. We have excellent relationships with partners in the community, such as St. Michael's Hospital, the Veterans Administration, Kaiser Permanente, and a network of local care facilities.
Underlying our holistic approach is our number one priority and commitment to our community: senior safety. Our staff is talented and dedicated to meeting the needs of seniors while providing total peace of mind to them and their families. In addition, we offer extra protection, as we are insured and bonded.
Finally, while we've grown over the years, we've never stepped away from offering the most affordable rates for care. The cost of our in-home care services makes them accessible to all seniors who need support.
Call Us Today
At Visiting Angels, we are always here to help you make the right care decision for you or your loved ones. We have staff available around the clock to meet your needs and answer your questions. We have been providing the highest quality home care in the area for over 11 years. Give us a call today to get started.
Serving Kitsap County and the West Sound Area, including Bremerton, Poulsbo, and Port Orchard, WA.
Visiting Angels
KITSAP COUNTY, WA
700 Prospect St #204
Port Orchard, WA 98366
Phone: 360-602-0609
Fax: 360-637-3819