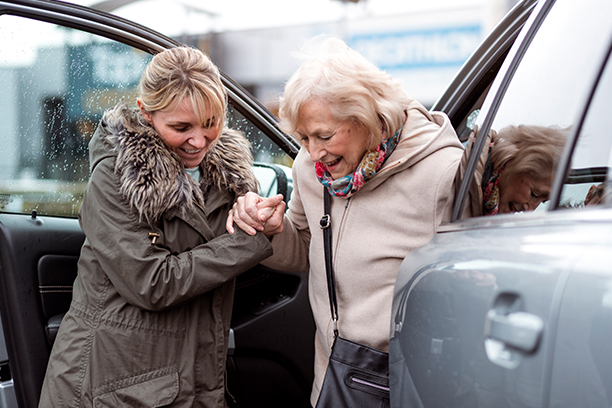 Home Care in Silverdale, WA
We provide home care to seniors and adults at Visiting Angels of Kitsap County. Whether you're looking for short-term post-hospital stay care or 24-hour Alzheimer's care, professional care shouldn't just be defined by a bunch of strict rules and guidelines. We make it a priority to give Silverdale families the opportunity to personalize their senior care however they need to.
Do you believe that one of our Angel companions could benefit your loved one's everyday life? Contact us today; we would be happy to assist you!
Within our collection of senior care services, entitled Life Care Navigation, we offer many different custom services that cater to many common needs of seniors and disabled adults in Silverdale.
Our professional home care services in Silverdale, WA include:
Personal care
Companion care
End-of-life care
Alzheimer's care
Dementia care
Post-hospital stay care
Respite care
Active, Healthy Lifestyles for Silverdale Seniors
In our custom, one on one care plans, we encourage seniors to remain active in their local communities. We believe that remaining active positively affects a senior's mental health as well as physical health. For example, if your loved one loves to enjoy nature, we would happily take them over to the Silverdale Waterfront Park.
If your loved one needs to run errands, we can make sure that it's as simple as possible through friendly companionship and transportation. If your loved one has a doctor's appointment at , we can take them to the appointment and accompany them along the way. Whatever your loved one is looking for in their in home care, we can provide it.
Want to learn more about our home care services in Silverdale, WA? Call Visiting Angels of Kitsap County today at 360-602-0609.
Caregivers & In-Home Senior Care in Silverdale, WA
Visiting Angels is here to make you or your loved one as comfortable as possible throughout life's senior years. Our in-home professional caregiver service is authentic, dependable, and empowering.
We understand that seniors don't want to give up their personal space to receive top-quality care.
At Visiting Angels, we come to you. You can stay right where you belong — at home, surrounded by those who love you. Let us do the rest of the work for you.
Who Are We?
At Visiting Angels in Silverdale, WA, we provide dignifying senior care in the comfort of your home. We personalize each of our beloved clients' senior care plans to provide the best quality of life possible.
We are passionate about providing in-home care that exceeds your expectations. Our Angels (professional caregivers) are here for you 24/7, no matter what. We assist with whatever you need to make daily life easier and more comfortable.
When it comes to in-home care, our caregiver service stands out from the rest. Our lovely team of senior care professionals treats you with dignity, respect, and warmth every single time we visit.
You never have to worry about yourself or your loved one losing independence; we foster the independence of our senior clients daily.
Families in Silverdale are welcome to gather more information about Visiting Angels. We invite you to consider our caregiver service to make life easier for your loved one, your family, and yourself.
Empowerment and Independence: Superior Senior Care
Visiting Angels is the central hub for high-quality, empowering senior care in Silverdale. We foster a warm, dignified environment in your home with every visit.
One of our top priorities is helping you or your loved one maintain independence. We understand that living at home is the hallmark of senior independence, and we are here to enhance that experience for you.
You don't have to worry about major lifestyle changes, moving, or any other stressors. With Visiting Angels, you can stay right where you are and receive care whenever you need it. What's better than that?
The Importance of In-Home Care
In-home care is essential for the mental health and well-being of seniors everywhere.
Research has shown that retired seniors who feel independent are happier and healthier than their peers. In-home care from Visiting Angels is the best way to achieve this goal.
Social connections are also important in the lives of seniors. After retirement, seniors benefit immensely from maintaining tight bonds with friends and family. By receiving in-home care, you don't have to move away from the people you love the most.
By opting for personalized, in-home care, you don't have to give up or change anything. You get to continue being your authentic self — with the convenience and assistance that you deserve.
About Our Angels: Uplifting Care in Your Sanctuary
Visiting Angels only works with the most compassionate, knowledgeable senior caregivers in Silverdale, WA. Our Angels are here to support you via companionship, assistance, and safety monitoring.
Our caregivers are trained to have special skill sets for senior caregiving. They provide uplifting, dignifying care in your most comfortable environment: your home.
Your care is tailored to your individual needs. There is no such thing as "routine senior caregiving." Every visit from our Angels improves your quality of life and helps your household run smoothly.
Our Angels strive to maintain your independence as much as possible. This means that you control your environment; we simply help you out!
24/7 Senior Care
Upon request, our Angels will visit your home at any time. We are available on weekends, holidays, and for overnight shifts.
Every senior has their own schedule, and we can work around yours. Our 24/7 senior caregiver service allows you to get the assistance you need outside of business hours.
The Benefits of 24/7 Care
When you have access to a caregiver service at any time, you also have peace of mind. You no longer need to worry about coordinating holidays, overnights, and weekends with loved ones. Instead, one of our Angels will take over and provide essential care during these important times.
Safety is one of our top priorities when it comes to senior care. Safety doesn't stop just because it's a weekend or holiday. Our caregivers are passionate about providing top-notch senior care around the clock (and the calendar).
You can rest assured knowing that you or your loved one is taken care of and won't fall victim to injuries or accidents. We care and are here for you 24/7.
What We Do
Senior care is a broad term that could mean many different things. At Visiting Angels in Silverdale, we help with activities of daily living and much more.
Our caregiver service aims to improve your quality of life at every turn while focusing on your unique needs. Your care plan is personal to your medical, emotional, and physical requirements.
Activities of Daily Living: Personal Care
Important activities of daily living (ADL) include caring for your physical health and hygiene. Our Angels assist you with all the necessary personal care tasks you could ever need.
Some personal care tasks we assist with include:
Bathing
Feeding
Hair brushing
Using the toilet
Getting dressed
Walking and stair mobility
Oral hygiene (brushing teeth, flossing, denture care)
Maintaining comfort and cleanliness throughout the day
These activities can become challenging as you age. With the help of Visiting Angels, you can safely and thoroughly perform personal hygiene and care.
Every person deserves dignity and comfort. By helping you with personal care, we ensure that you feel your best every day.
Home Care
Your living space is important to you, and we understand that at Visiting Angels. Our professional caregivers assist you in caring for your home.
Running a household is a lot of work. There are many tasks to worry about, like laundry, meal preparation, and cleaning. With the help of Visiting Angels in Silverdale, you can focus on other things that need your attention, like family, friends, and fun.
Our home care assistance includes:
Laundry
Light housekeeping
Meal planning and preparation
Running errands outside the home
Fostering a safe, accessible home environment
Providing transportation to and from other places
If your household chores overwhelm you, let Visiting Angels do the hard work!
Free Consultations
When you're trying to make decisions about senior care, the last thing you want is an expensive fee for a consultation. At Visiting Angels, we provide free in-home consultations.
During your free consultation, we walk through your home and come up with a personal care plan that meets your needs. If you like what you hear, we can move forward.
We always remain approachable and affordable, and our free in-home consultations are just what many families need.
Personalized Care Plans
Whether you or your loved one needs Alzheimer's monitoring, simple assistance with the tasks of daily living, or something in-between, we're here to help.
We formulate a personalized in-home care plan for you that meets all your needs. Your health, wellness, and safety are our top priorities, and your care plan always reflects that.
If your care plan needs adjustments, it's no problem. We simply tailor your care to your current needs, whether they're medical, physical, or emotional.
There are no one-size-fits-all care plans with Visiting Angels. We serve the senior citizens of Silverdale, WA, according to each person's individual needs and goals.
Budget-Friendly Senior Care
We aim to be accessible to every family who needs our caregiver service. We provide affordable senior care so you don't have to break the bank to get the assistance you deserve.
Many seniors across America struggle with costs of living, budgeting, and income inequality. At Visiting Angels in Silverdale, WA, we strive to match your budget and give you affordable, high-quality in-home care.
No Surprises on Your Bill
We are passionate about honesty and authenticity. We will never charge you for any services that you aren't aware of ahead of time. We provide thorough breakdowns of our hourly rates so that you can make informed decisions about your care.
Flexible Caregiving Schedules
Whether you or your loved one needs 24-hour care or occasional visits, our Angels are flexible and accommodating. You can choose a caregiving schedule that works for you and your loved ones.
You and your family know exactly what you need, which is why we give you the authority to determine your schedule. Whenever you need us, we will come to you.
During your consultation, we'll help you come up with a Visiting Angels caregiving schedule that meets your financial needs. Cost should never be a barrier to safe, compassionate senior care in Silverdale.
Why Choose Visiting Angels?
Several aspects of our caregiver service set Visiting Angels apart from other services in the Silverdale area.
We offer unique advantages to families and seniors because we are passionate about our services. Learn about some of the perks you get when you use Visiting Angels for your senior care.
Affordability
Senior care can be expensive, but it doesn't have to be. At Visiting Angels, affordability is at the core of our mission.
We know how stressful financial worries can be, and that's why we offer budget-friendly care. When you choose Visiting Angels, you are choosing affordability without sacrificing your quality of care.
Home Safety: Insured and Bonded
As a home care agency, we are insured and bonded. This gives our clients peace of mind as they generously allow us into their homes.
We are dedicated to keeping you, your loved ones, and your property safe and respected. Our insurance and bonding policies are there to protect you in every way possible.
Strong Relationships with Referral Partners
Referrals are key to taking proper care of our senior clients. There are many complex medical and rehabilitation needs that seniors have.
We partner with the following institutions:
Kaiser Permanente
St. Michael's Hospital
Rehabilitation facilities
Veterans Administration
These relationships allow us to refer you or your loved one to some of the best medical and rehabilitation facilities in the area.
You will always be taken care of, thanks to our strong commitment to professionalism and networking.
Dependable and Reliable
Consistency is important when building trust with our clients. We uphold strong expectations of dependability, reliability, and honesty for our professional caregivers.
You never have to worry about last-minute cancellations, no-shows, or other stressful events. With Visiting Angels, your care takes priority over any other obligations we have — and it shows.
Our clients consistently rave about our reliable caregivers and convenient scheduling patterns. If you're looking for someone you can count on, Visiting Angels are the caregivers for you!
Outstanding Professionalism
While we put tremendous effort into building warm, comforting bonds with our clients, we still remain professional when it matters. You can count on us to take care of the business side of things for you.
Professionalism is important because it means that we show up for you and your loved one every time we visit. Our professional caregivers demonstrate time management, communication skills, and self-motivation.
At Visiting Angels, we know that you are putting your trust in our services. We always deliver on our promises with the utmost professionalism and frequent communication.
Excellent Management
Our caregivers are at the forefront of what we do, and we make sure to manage their activities to help things run smoothly. We provide top-tier caregiver management to ensure that everyone gets where they need to be — on time and with a smile.
The quality of any business's management reflects on its services, and at Visiting Angels, it's no different. You can see the results of our professionalism and excellent management. Our caregivers are respected and supported throughout the world of senior care at all times.
Contact Us Today
We offer free, in-home consultations for new clients who are considering Visiting Angels in-home senior care. We are happy to explain our customizable care options around the clock, whenever it's convenient for you.
You can reach us by phone or online. To get started with your senior care plan, contact us today.
Serving Kitsap County and the West Sound Area, including Bremerton, Poulsbo, and Port Orchard, WA.
Visiting Angels
KITSAP COUNTY, WA
700 Prospect St #204
Port Orchard, WA 98366
Phone: 360-602-0609
Fax: 360-637-3819