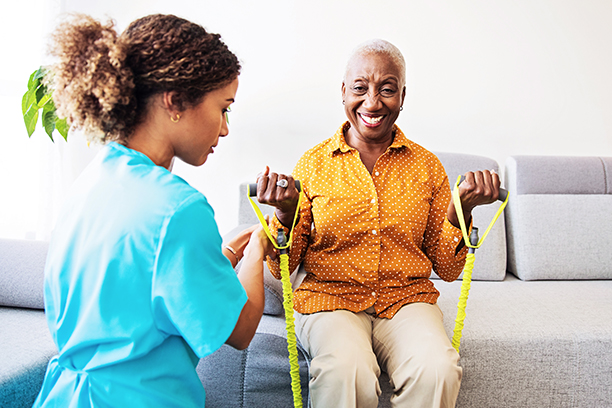 Home Care in Bremerton, WA
At Visiting Angels of Kitsap County, we're dedicated to helping the Bremerton community find their definition of perfect home care. Whether you loved one needs occasional social care or 24-hour dementia care, we can connect you with a caregiver that always puts your needs first.
Giving Bremerton seniors the opportunity to age in place is a priority. If you're not aware, aging in place is the act of remaining at home for as long as possible. Our compassionate, knowledgeable Angel companions help their loved one's with everyday tasks throughout the home and greater community.
Some of the many ways our caregivers can assist your loved on in Bremerton, WA include:
Bathing, grooming, and dressing assistance

Meal preparation and planning

Medication reminders

Friendly companionship

Light housekeeping

Laundry help

Errand running (grocery shopping at

Safeway

, visiting the library, etc.)

Transportation
Through the in home care from our caregivers, our clients can remain comfortable and content in the setting of their choosing.
We Personalize Your Home Care in Bremerton, WA
Each of our clients is unique and deserves a senior care plan that reflects their unique needs. From your schedule preferences to your health and wellness needs, we will ensure that they all will be catered to. When you choose Visiting Angels of Kitsap County as your Bremerton partner-in-care, you're choosing an agency that will stand by you for the long haul.
Our senior care plans also aren't set in stone. When your loved one grows, their care plans grow with them. If there are any changes that need to be made, contact our office at your earliest convenience and we will ensure those changes come to fruition.
Call 360-602-0609 to learn about our home care services and how we can help your loved one feel safe and comfortable in their own home.
Senior Home Care in Bremerton, WA
As seniors move into the later years after retirement, they often need support to continue living independently. Whether seniors need occasional help with tasks that have become difficult or around-the-clock support with daily living activities, care options are available.
One of the best and most comfortable options for seniors who need assistance is home care. Home care is convenient and allows seniors to age in place. It is easy to integrate into a senior's everyday life. If you or a loved one is looking for home care in Bremerton, WA, Visiting Angels can help. We are a leader in senior care and have been providing services in the Bremerton area for years.
Home Care in Bremerton, WA, with Visiting Angels
Visiting angels provides professional senior care services to Bremerton, WA, residents in need. We believe that in-home care is more than just helping seniors with day-to-day activities. We aim to create a lasting bond between seniors and their caregivers. Caregivers also try to empower seniors to retain as much autonomy as possible.
The care provided by Visiting Angels staff can greatly improve the quality of life for seniors without having to uproot them from their environment. Staff is available 24 hours a day and 365 days a year to work with seniors and their families.
We also work with each senior and their family to create a personalized plan that meets individual needs. Our comprehensive approach ensures that each senior is getting the care they need and is happy with their caregiver.
Personal Care Services
Personal care services are intended to help seniors who need support in activities of daily living. There are many reasons seniors may need help with these tasks. Challenges in mobility, changes in flexibility and strength, or recovery from a medical event are some of the most common.
A qualified caregiver can assist with these activities, keeping seniors safe as they meet their day-to-day needs.
Examples of activities of daily living include:
Personal hygiene

Dressing

Toileting

Incontinence care

Ambulation

Feeding

Transferring
Our staff understands the sensitivities that can come along with offering these services. We always provide assistance with the utmost discretion and respect.
Home Care Services
Aside from personal care activities, seniors aging in place might need help managing errands and chores. Cooking, cleaning, and household chores can be exhausting for seniors who are experiencing changes in health or mobility.
When seniors attempt to take on these responsibilities for too long, they can become stressed, feel overwhelmed, or put themselves at an increased risk of an accident.
Caregivers at Visiting Angels can assist with these responsibilities, relieving stress and ensuring that home care activities are taken care of.
Home care support can provide assistance with tasks such as:
Meal planning and preparation

Medication reminders

Housekeeping

Laundry

Errands

Transportation
Home care in Bremerton, WA, can make a big difference for seniors aging in place while still allowing them to continue with their normal routines. Seniors can focus less on completing everyday chores and more on the things they enjoy.
Advantages of Choosing In-Home Caregiving
In-home senior care is a simple but effective solution for seniors who need a little extra support. It can make a meaningful difference from day one, and it offers a number of advantages over other options for senior care.
Personalized Care
One of the major advantages of home care in Bremerton, WA, is the personalized service that seniors receive. Unlike senior living communities, where staff is sometimes spread thin and dedicated to a standard schedule, in-home caregivers provide individualized care.
Each senior determines what they need help with, how they like to carry out their routine, and even who their caregiver is. Seniors will never feel like they are just a number on a chart; instead, they should feel like their caregiver is a valued friend.
Independence
When seniors need extra support with some daily activities, it does not mean that they should give up their independence. The feeling of losing independence or control over their daily schedule can be extremely difficult for seniors and can be detrimental to their mental health.
In-home caregivers are specially trained to provide the support needed, but not more than is needed. They strive to empower seniors to maintain as much independence as possible while ensuring that all of their needs are met.
Comfort
In-home care is often a preferred solution among seniors and their families because it allows seniors to stay at home where they are comfortable. This type of care does not require making a big transition to a senior living community and giving up control over daily routines or preferences.
Seniors have enough stress and challenges in front of them as it is, so getting the care they need should not be another source of stress. In-home senior care services easily integrate into the senior's current lifestyle without requiring drastic changes.
Affordability
Support care can be a significant cost for seniors and their families. High-quality senior living communities are out of reach for many families. In-home care provides flexible scheduling and payment plans that can work for most financial situations.
Visiting Angels is always happy to work with families and find an arrangement that is affordable but gives seniors the support they need.
How Visiting Angels Works
If in-home care services sounds like a good solution for you or your loved one, you may be wondering exactly how it works. At Visiting Angels, we always start a caregiver relationship with a free in-home consultation.
Our staff will meet with the senior and their family in person to get to know them and understand their needs. From there, we will work to develop a personalized plan that takes into account the needs of the senior in addition to their preferences.
Families can be very hands-on in developing this care plan. They receive one-on-one attention from a representative to establish a plan that works for everyone. Visiting Angels also spends time finding a caregiver who is a good personality match for the senior so that they can form a natural bond.
Finally, in-home care plans are flexible and can be adjusted over time as needs or preferences change.
Why Choose Visiting Angels?
Visiting Angels has been a leader in home care in Bremerton, WA, for many years. Our staff is well trained, well managed, and knowledgeable about the unique needs of seniors. We have a unique service model and a proven record of reliability and professionalism.
We also recognize that care for seniors should take a holistic approach. That's why we have maintained outstanding relationships with referral partners such as Kaiser Permanente, St. Michael's Hospital, and the Department of Veterans Affairs, as well as a network of local rehabilitation facilities.
From day one, safety has been our highest priority. Our staff knows how to meet the needs of seniors in a way that provides total peace of mind to families. We are also insured and bonded.
Finally, Visiting Angels offers affordable rates for seniors and their families. The cost of care should never keep a senior from getting the support they need.
Call Us Today
At Visiting Angels, we know that choosing a care provider is a big decision. Our staff is here to walk you through every step of the process and answer your questions along the way.
Whether you are looking for occasional support with household chores or 24/7 care, we stand ready with dedicated staff to meet your needs. Give us a call today to get started on your personalized care plan.
Serving Kitsap County and the West Sound Area, including Bremerton, Poulsbo, and Port Orchard, WA.
Visiting Angels
KITSAP COUNTY, WA
700 Prospect St #204
Port Orchard, WA 98366
Phone: 360-602-0609
Fax: 360-637-3819