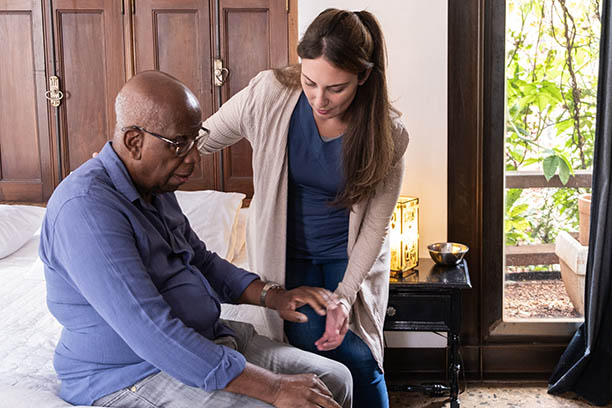 Palliative Care in Port Orchard, WA and the Surrounding Area
With our Certified Palliative Care program, all our clients can receive excellent care and assistance. Our care is focused on easing discomfort and enriching the quality of life for all clients despite their life expectancy. This program is unlike hospice care, which is focused on providing care for clients that are entering the end of their life.
Palliative Care in Silverdale, Bremerton, Poulsbo, Gig Harbor, and Nearby Cities
Our certification program teaches our caregivers to look at senior care with a holistic mindset. They become more comforting, soothing, and supportive.
To cater to all clients, we focus on a wide range of needs from our clients including physical care, emotional care, social care, and spiritual care.
To address physical needs, we recognize and respond to physical cues and signs to ensure the best possible care.

To address emotional needs, we put a value of compassion at the forefront when dealing with our clients. We also support seniors that may be dealing with anxiety, depression, loneliness, or anxiety.

To address social needs, we help our clients build and strengthen their relationships with their friends and family. At the same time, we provide our own companionship and conversation to help them build and maintain their social skills.

To address spiritual needs, we do everything we can to restore hope within the lives of our clients. We yearn to help them find comfort and relief from any age-specific difficulties that they may be dealing with while treating our clients with dignity and respect.
Getting Started
Visiting Angels of Kitsap County is the ideal place to hire professional caregivers for your loved one. We'll answer all your questions and schedule a care consultation in the comfort of your own home. We also offer customized home care plans and the opportunity to Select Your Caregiver, to ensure the care fits your loved one's needs perfectly.
Learn more about our approach to palliative care and schedule a free in home care assessment by calling Visiting Angels of Kitsap County at 360-602-0609.
Serving Kitsap County and the West Sound Area, including Bremerton, Poulsbo, and Port Orchard, WA.
Visiting Angels
KITSAP COUNTY, WA
700 Prospect St #204
Port Orchard, WA 98366
Phone: 360-602-0609
Fax: 360-637-3819