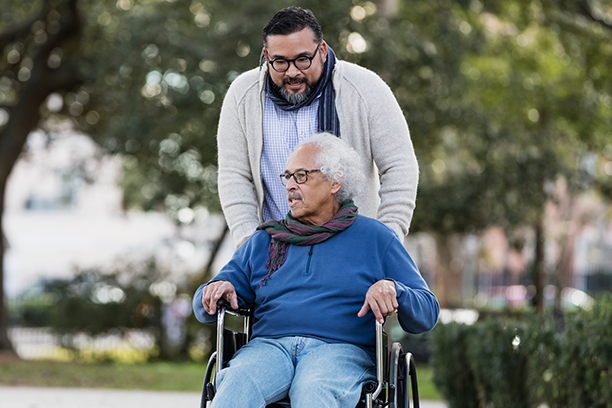 Visiting Angels helps seniors in Port Orchard, WA safely age in place with personalized home care services
Are you looking into professional care options for an elderly loved one? Whether your loved one just needs assistance with everyday tasks for a few hours a day or needs advanced care to manage symptoms of late-stage dementia, it's important to find a reputable and compassionate caregiver who can provide the care your loved one needs.
That's why Visiting Angels of Kitsap County offers personalized home care services to seniors living in Port Orchard, WA. Our goal is to help seniors continue to live at home for as long as they wish by assisting with tasks that have become too difficult due to age-related issues. With the help of our caregivers, your loved one can continue living independently in their own home while staying safe and comfortable.
Visiting Angels of Kitsap County
Visiting Angels provides excellent at-home senior care services in Kitsap County and the surrounding areas. Our caregivers are professional and friendly, offering services that allow seniors to remain in the comfort of their own home, while being as independent as possible.
Our staff members are well trained to provide outstanding services. They have great relationships with referral partners like St Michael's Hospital, CHI Hospice, Kaiser Home Health and Hospice, the Department of Veteran's Affairs and other facilities. Our teams are built to be consistently reliable, dependable, honest, and trustworthy.
If you want to improve your own quality of life with the least amount of change to your lifestyle, then consider the senior home care services in Port Orchard from the team at Visiting Angels.
The Benefits of At-Home Senior Care Services in Port Orchard
Making the decision between in-home senior care, nursing homes, and other options can be difficult -- but it doesn't have to be. Visiting Angels of Kitsap County has a dedicated team of caregivers who can make this changing time of your life as stress-free as possible. The many benefits that a care plan with Visiting Angels can provide include:
Family involvement

Comfort

Peace of mind

Independence

Personalized care

Help with activities of daily living

Improved nutrition along with meal preparation

Companionship

One-on-one attention

Cost effectiveness

Improved recovery outcomes

Pet care (walking and feeding)

Respite care for families

24-Hour care available
Visiting Angels provide at-home care services in Kitsap County, Mason County, Pierce County and Vashon Island that help seniors feel valued and well cared for.
Visiting Angels of Kitsap County is the Right Choice
Our caregivers provide personalized, one-on-one care for seniors that allows them to maintain their independence while receiving uplifting assistance from the comfort of their own home. At Visiting Angels of Kitsap County, you have the opportunity to personalize your care plan to ensure that your family member's unique needs are met in the best way possible. Here are some of the other benefits you can expect when you work with Visiting Angels of Kitsap County.
Click on the Tabs for More Information:
Maintaining Independence
The transition from living independently to needing assistance can be a bit overwhelming. Many seniors fear that they will lose that independence. However, the assistance provided by our in-home caregivers focuses on the physical, mental, and social wellbeing of your loved one to help them live the highest quality of life possible.

Visiting Angels caregivers assist seniors wherever necessary, but they also allow seniors to maintain their autonomy as much as possible, prioritizing the independence of the seniors they care for.
Companionship
Caregivers develop meaningful, authentic, and caring relationships with seniors to provide joyful companionship, along with custom care plans that will evolve as the seniors' needs do.

Whether your loved one lives near you or is farther away, the at-home senior caregivers in Port Orchard with Visiting Angels will give them the companionship they need. Whether your family member could benefit from a full-time caregiver or occasional companionship and care, Visiting Angels has a plan for you.
Help with ADLs
Caregivers can help seniors and adults with disabilities with a wide variety of day-to-day activities, from help with toileting, showers and dressing to running errands. The reliable at-home senior care in Port Orchard that Visiting Angels provides includes assistance with activities of daily living (ADLs). Caregivers can assist with personal care support, as well as home care support.
Personal Care Support
Through the personalized, one-on-one care plan, the Visiting Angels at-home senior caregivers in Port Orchard will assist your loved one with any personal care which they might require. This personal care support includes:
Bathing

Dressing

Personal hygiene

Oral hygiene

Toileting

Transferring

Ambulation

Feeding
If you or your loved one has additional personal needs, just let us know.
Home Care Support
While it is comfortable for seniors to age in the comfort and familiarity of their own home, it can become difficult to do with standard housekeeping tasks, like laundry or washing dishes. In addition to personal care assistance, Visiting Angels caregivers will assist seniors with their home care, including:
Meal planning and preparation

Medication reminders

Housekeeping

Laundry

Errands

Transportation

Grocery assistance

Pet care
We make it easy to know that your loved one will have everything they need.
Home Care Options in Port Orchard, WA
We offer the following services for seniors in Port Orchard, WA:
Light housekeeping

Assistance with bathing, grooming and dressing

Meal preparation

Toileting and incontinence care

Medication reminders

Companionship

Transportation

Running errands

And more
Peace of Mind
Finding dependable senior home care in Port Orchard is quite a task. Hiring a caregiver to provide your loved one with the essentials they need to thrive in their senior years can be worrying, but with Visiting Angels, peace of mind comes naturally.

It is important to the team at Visiting Angels that you feel comfortable with the caregiver you choose, regardless of the care plan your loved one needs. The caregiving services offered by Visiting Angels are available 24/7, and our agency is insured and bonded.

To help prevent potential falls, every client is provided with a fall risk assessment, as well as a free prevention booklet. Caregivers will be with your loved one every step of the way, and our team will regularly check in with them to ensure that everything is going well.

You can rest easy knowing that your family member is well taken care of by the Visiting Angels senior home care caregivers in Port Orchard.
What You Can Also Count on From Visiting Angels...
Cost Effectiveness

From 24-hour personal care to Alzheimer's monitoring, the Visiting Angels of Kitsap County will provide you with care that meets your individual requirements and unique needs. Regardless of your budget, there is affordable, dependable assistance available for your loved one.

The personalized care plans allow you to ensure that your family member is getting the best care possible, all while remaining within your desired budget. Visiting Angels provides affordable rates for at-home senior care services, and you'll never be surprised by a bill.

Visiting Angels of Kitsap County believes that affordable senior care should be available for everyone who needs it. We will work with you to create a plan that suits both your budget and wellness needs. At Visiting Angels, quality at-home senior care is a priority.

Ready to Provide Your Loved One with the Care They Deserve?

If you want to give your loved one the reliable, one-on-one care that they deserve, look no further than the Visiting Angels of Kitsap County. No matter what kind of care plan you need, Visiting Angels is a dependable choice.

To get started, all you have to do is call Visiting Angels of Kitsap County for a free, in-home consultation.
---
What sets us apart from other local senior care agencies is our commitment to providing personalized care. We understand your loved one has their own unique needs, which is why we will create a uniquely tailored care plan that includes the services they truly need. Does your loved one need help getting dressed? Do they need a caregiver to accompany them as they go shopping at Albertsons? Do they need someone to make sure they don't wander around at night? No matter the care your loved one needs, with Visiting Angels of Kitsap County, you can rest assured they're in capable and caring hands.
At Visiting Angels of Kitsap County, our care plans are both personalized and flexible. Your loved one's needs will change over time, which is why it's important that their care plan changes along with them. Simply contact our office if any changes need to be made. We can adjust services provided, adjust scheduling, assign a new caregiver and more.
Call Visiting Angels of Kitsap County at 360-602-0609 to learn about our home care services and how we can help your loved one feel safe and comfortable in their own home.
Serving Kitsap County and the West Sound Area, including Bremerton, Poulsbo, and Port Orchard, WA.
Visiting Angels
KITSAP COUNTY, WA
700 Prospect St #204
Port Orchard, WA 98366
Phone: 360-602-0609
Fax: 360-637-3819