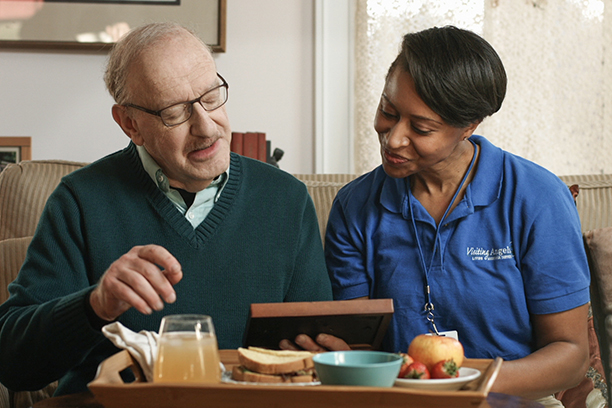 How Home Care Works
We understand that it is a very big decision to allow someone to come into your home or into the home of a loved one. You have so many concerns and maybe even many questions.
Do you have some of the following questions or concerns?

You want to respect the wishes of a loved one, but you know that you need help and/or your loved one is not safe.
You know you need help, but do not know where to start.
You do not wish to ask friends and family for help any more ... or at least not as much as you may really need. But you do not know what other services provide.
What do services like Visiting Angels do? How could they possibly meet the many needs I have?
I wonder if they would be just willing to speak with me ... I may not be ready yet.
I do not wish to have any high pressure sales or anyone calling me all the time about whether I'm ready to have anyone come in.
What if I don't like the person they send?
My house is not very neat ... I am not able to prepare it the way I want for visitors or home help ... so I don't think I can ask them to come.
.... and many more questions ....
No questions is too small or too big to ask. You can be candid with us and privately share with us what is going on and we will be honest when laying out our scope of services. We have much experience and you may be surprised to find out that you are not alone in your situation - whatever that may be. If we determine there are part of your needs that cannot be met by us, chances are we will have some good recommendations or referrals for you.
Call our office today at 678.277.9930. We have friendly office staff that will talk with you. We will not rush you off of the phone and we will not pressure you into something you are not ready for. We will offer a no cost home visit so we can talk in a private, non rushed manner about your needs.
We encourage you to do your homework and find an agency that is willing to give you the time you need. Everyone is so rushed these days ... home care planning, although often needed during a crisis situation, should be done thoughtfully and with confidence. You should be able to trust the agency and their hiring practices, as just one example.
Many people are surprised to learn that we often get called to assist with:
- in hospital bed side care
- in assisted living facility one-on-one care
- transition care as someone is just moving to a new location whether that be a home or facility.
We can ease your burden and help you by:
- Consulting with you about scheduling, costs, care.
- Create a personalized care plan.
- Adjust with changing needs.
Serving Alpharetta, Milton, Woodstock, Canton and the Surrounding Communities
Visiting Angels
ALPHARETTA, GA
11775 Northfall Ln #207
Alpharetta, GA 30009
Phone: 678-277-9930
Fax: 678-277-2761