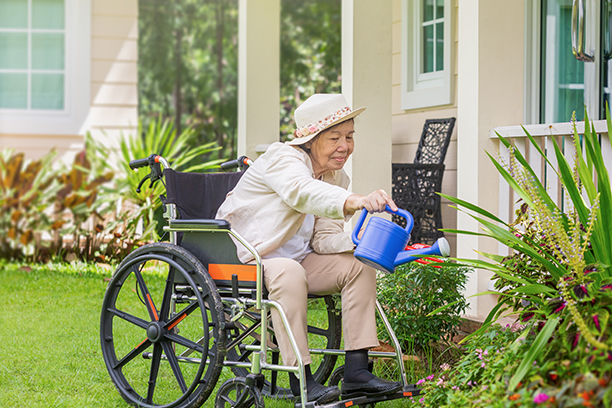 Long Distance Care Giving in Alpharetta
How In-Home Living Assistance Can Help Your Family Find Peace of Mind
It is natural to be upset when a loved one needs assistance and you are unable to physically be there to help. There could be many reasons for this. Maybe you do not live close by; or maybe you have physical limitations of your own; or maybe you have an immediate family that you are tending to; or maybe your employment situation does not allow for it.
No matter what the reason, it is situations like these where an agency like Visiting Angels of Alpharetta, GA can help.
In-home or in facility living assistance from Visiting Angels of Alpharetta can include senior care, companion care, elder care, memory care, transitional care, respite care, and other forms of non-medical aid. Services from our agency are personalized. We create a customized care plan so your loved one will be most receptive and most pleased.
We understand the challenges that come with the physical types of losses that come with aging. The loss of physical capabilities, loss of loved ones and loss of independence are just a few of the issues that we have witnessed, and have experience with, at Visiting Angels. We get it. We are advocates.
"We were able to enjoy our time away thanks to your visiting angels. Thank you!" says one client.
"Your agency is aptly named!" says another.
Other Ways Visiting Angels In-Home Living Assistance Care Has Helped
Follow ups to family members (if not violating privacy requests)
Advocates for third party needs when requested (i.e. long term care insurance, doctors, home health)
Check in calls and visits by office staff or on staff Registered Nurse.
Modified care plans and requests as needed.
Modified schedules as needed.
Creative problem solving with family members.
Consulting with family members as requested, at no additional cost.
Take advantage of the extensive experience we have at Visiting Angels Alpharetta, GA.
We know this is a difficult time for you and your family. We are a good resource even if you do not use our services. You can be sure you will get honesty and integrity from our office staff. Call anytime - literally - at 678.277.9930.
Serving Alpharetta, Milton, Woodstock, Canton and the Surrounding Communities
Visiting Angels
ALPHARETTA, GA
11775 Northfall Ln #207
Alpharetta, GA 30009
Phone: 678-277-9930
Fax: 678-277-2761