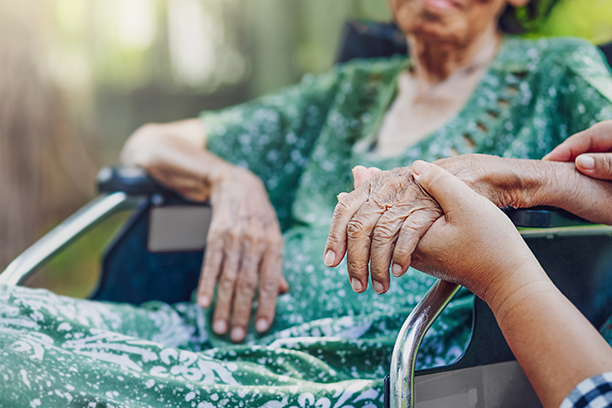 Frequently Asked Questions About At Home Senior Care in Augusta, GA and the Surrounding Area
Visiting Angels Offers Answers to Questions About Our At Home Senior Care from Families in Augusta, Evans, and Surrounding Areas
When you realize that an aging loved one's quality of life is beginning to decline, it can be overwhelming to figure out what to do. At Visiting Angels of Augusta, we understand finding the perfect care solution for your family member can be daunting. Every question you have is valid and important. We created a list of the most asked questions to help you navigate choosing the care – at home senior care or otherwise – for your loved one and to give you peace of mind along the way.
How Do I Know If My Loved One Needs Professional Care?
If you are beginning to wonder if your loved one needs professional help, look out for these signs:
They are unable to complete daily tasks like they used to

They have begun to lose or gain weight

They have unexplained bumps or bruises

They are avoiding social gatherings

They have an untidy living space

They begin wearing the same clothes for days on end or their clothing is dirty
When your loved one begins displaying some of the above, it is good to talk to their doctor and to investigate professional care services further.
What Services Do You Offer?
Visiting Angels of Augusta offers a range of comprehensive at home senior care services designed to fit the unique needs of everyone. The goal of our services is to help seniors age in place so they can continue to be near the people, places, and things that make them feel fulfilled. We offer the following specialized at home senior care services:
What Is Aging in Place?
Aging in place is a term used to describe the at home senior care services that can be made so seniors can continue living in their home, that of a family member or friend instead of entering an assisted living facility. This option is favorable to most seniors, and we aim to help seniors fulfill this wish.
Do You Provide Care in Assisted Living Facilities?
Yes. We can go into Assisted Living Facilities, if the facility allows it, to help care for your loved one.
How Soon Can Services Begin?
At home senior care services can typically begin within 48 hours. Sometimes, depending on the circumstance, services can begin the same day.
Can You Make Changes to Your Schedule?
At Visiting Angels of Augusta, we are working around your schedule to best meet the needs of you and your loved one. We offer flexibility in our scheduling and can typically make changes with no more than a week of notice.
How Do You Get Started?
To begin care with Visiting Angels of Augusta, we will start with a free in-home consultation where our care coordinators will get to know you and your loved one. Together you will create a comprehensive care plan that will feel like Visiting Angels of Augusta is an extension of your family. Should your needs change the plan can be adjusted to accommodate.
Contact Us to Learn More
If you have any additional questions about our at home senior care, contact our office today! Our staff will be happy to answer any of your questions and can schedule a free, in-home assessment with one of our experience care coordinators. To get in touch with a staff member, please click one of the buttons below.
Serving Augusta, Evans, Martinez, GA, and the Surrounding Area
Visiting Angels
AUGUSTA, GA
119 Davis Road Suite #6B
Augusta, GA 30907
Phone: 706-955-4220
Fax: 678-817-5717