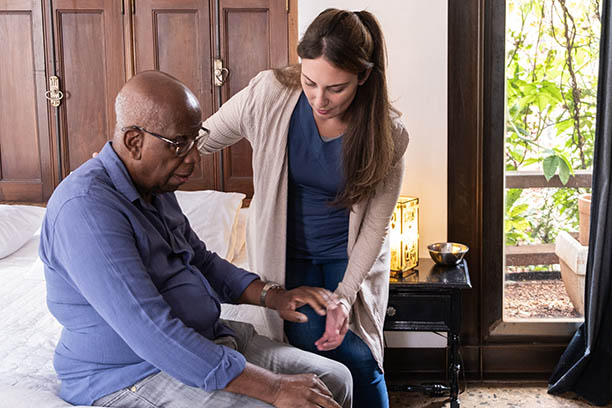 Certified Palliative Care Is Our Holistic Approach to Care in Augusta, GA and the Surrounding Area
If Your Loved One Is in Need of Holistic Care in Augusta, Evans, Martinez, or a Nearby City, Visiting Angels' Certified Palliative Program May Be for Them!

Although they have many things in common, palliative and hospice care are different types of specialized care. While both focus on improving a senior's quality of life by ensuring comfort; hospice care is specifically for people nearing the end of their life. Palliative care, traditionally, seeks to provide comfort and well-being to all patients, regardless of life expectancy.
At Visiting Angels of Augusta, our goal is to ensure the highest quality of life with our
private home care
. Our Certified Palliative Care program offers specialized care and support, bettering the lives of our senior clients.
What Our Program Entails
Our holistic program also includes end of life care, ensuring your beloved elder has comforting care and support during the end of life process.
This program trains in home caregivers in our philosophy of care with a holistic mindset, one that is compassionate, comforting, and soothing. Overall, we strive to restore hope and help with healing. In order to do restore hope, health, and dignity, we place our focus on a broader array of care requirements, including the emotional, physical, spiritual, and social needs of seniors in our care:
Emotional: We adopt a compassionate approach, assisting elders who may be dealing with loneliness, depression, stress, or anxiety.
Physical: We recognize and respond to common signs among older adults, giving comfort and support to our clients.
Spiritual: We restore hope to our clients' lives, ensuring each person is treated with respect and dignity, helping them find relief and comfort from age-related issues.
Social: We focus on building relationships with our seniors and their families, ensuring our clients have compassionate companionship and caring conversation.
The Benefits of Holistic Care
To truly understand the scope of our Certified Palliative Care, we wanted to share some of the great benefits it can bring to seniors:
The focus is on your loved one's health AND happiness - our caregivers place their client's goals, desires, and aspirations first

A senior's quality of life is shown to vastly improve when they receiving holistic care

We can work with your medical team and other health professionals to ensure you receive complete care for all of your needs

While medical professionals focus on treatments, our caregivers can focus on alleviating pain and symptoms

Chronic illnesses that are often seen as debilitating become more manageable when a senior has an experienced professional at their side

Holistic care can help reduce doctor's visits
Schedule Your Free, In-Home Assessment
Contact us today at 706-955-4220 if you or a loved one in Augusta Evans, Martinez, Woodbridge, or the surrounding area that requires certified palliative care. We will answer any of your questions about our various in-home services, such as personal care, companion care, and private home care. Book an appointment with one of our care coordinators for a free evaluation in the comfort of your loved one's home and find out how we can help you and your family.

Serving Augusta, Evans, Martinez, GA, and the Surrounding Area
Visiting Angels
AUGUSTA, GA
119 Davis Road Suite #6B
Augusta, GA 30907
Phone: 706-955-4220
Fax: 678-817-5717