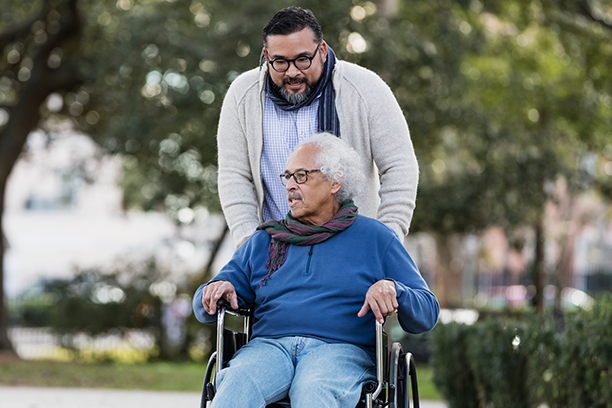 Long-Distance Elderly Care in Augusta, Evans, GA, and the Surrounding Area
Visiting Angels Offers Long-Distance Elderly Care in Augusta, Evans, and Neighboring Communities
The truth is, it's occasionally easy to find qualified elderly care. But, when you're living hundreds of miles away from your dear senior, it may be especially problematic and can feel downright impossible. However, with Visiting Angels of Augusta on your side, you get experienced and dedicated in home caregivers who understand how challenging it can be to live far from a loved one.
At Visiting Angels of Augusta, it doesn't matter where your loved one lives, whether they live in a different town or state, we'll assist and help you coordinate long-distance caregiving. Our home care will ensure that your loved one will get the support they need. What's more is you'll not only get the best quality comfort care, but you'll also get a care partner who keeps you in the loop every step of the way.
Long Distance Caregiving Services
Nowadays, many people live quite far from their extended family members. Whether it is several hours away or several states, there are many reasons why adult children end up relocating away from family. Whether it's an exciting job prospect, personal circumstances, or educational opportunities, seniors may find themselves far from their loved ones. In the meantime, elder parents might decide to move to warmer climates for retirement, spending their golden years in sunnier states.
Regardless of the reason why you need to arrange in home elderly care, Visiting Angels of Augusta can help you ensure the best long-distance care. Here are a few ways in which we can assist you and your loved one:
Once you call or inquire online, the office will answer all your queries, providing you with detailed information via phone or e-mail.
Then, we'll set-up a free, on-site care consultation for your senior.
For long-distance elderly care, we conduct a no-obligation, in-home evaluation for your loved one and, also provide a detailed phone consultation with the family member responsible for coordinating care.
Afterward, we'll match your loved one with a compassionate, skilled companion that is ideally suited.
Once we start with care services, we will regularly send phone or email updates, keeping you up-to-date on the emotional, cognitive, and physical state of your loved one. Should we notice any change in their health, we will notify you instantly.
To ensure the safety and well-being of our senior clients, we perform routine check-in calls and drop-in visits. Our office maintains an after-hours line that family members can call when there are urgent situations or emergencies.

Schedule Your Free, In-Home Assessment
Visiting Angels of Augusta is here to answer families' questions about elderly care. If you have an elderly loved one who needs additional assistance at home in Augusta, Evans, or the surrounding area, contact our agency at 706-955-4220 today! Our staff will be happy to schedule a free, in-home assessment with one of our experienced care coordinators.

Serving Augusta, Evans, Martinez, GA, and the Surrounding Area
Visiting Angels
AUGUSTA, GA
119 Davis Road Suite #6B
Augusta, GA 30907
Phone: 706-955-4220
Fax: 678-817-5717