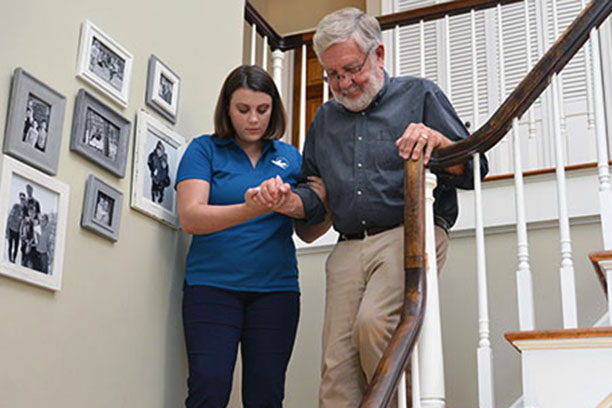 Preventing Falls with In Home Care Services in Augusta, GA and the Surrounding Area
Visiting Angels Offers Seniors In Home Care Services Designed to Keep Your Loved One from Suffering an Unnecessary Fall in Augusta, Evans, or Neighboring Communities
When we are young most falls do not result in injury. Yet when a senior suffers a fall, it could leave lasting physical, emotional, and social damage - having a major impact on their overall quality of life.
Sadly, for many seniors the fear of falling and becoming injured causes them to isolate themselves. They turn down invitations and miss many important family events to avoid the risk of falling. In time this fear can lead to major depression, sadness, anxiety, loneliness, and complete social isolation. At Visiting Angels of Augusta, our in home care services are designed to reduce or eliminate the risk of falls for seniors living in Augusta or the surrounding areas.
Fall Facts
Falls are far more common than most of us realize, consider these "fall facts:"
Each year 1 in 3 seniors will fall – 1 in 5 seniors will end up with a serious injury such as broken hips, concussions, and fractures.
Once a person suffers a fall, they are at a high risk of falling again.
Hospitals in the U.S. admit more than 800,00 fall victims per year.
It can take a full year in a long-term care facility for many seniors to recover. Many will never set foot in their home again.
At Visiting Angels of Augusta, we are committed to providing in home cares services designed to prevent falls for our senior clients.
There Is No Such Thing as a Fall That "Just Happened"
It is true, falls never just happen, there is always some type of risk factor involved. The description of a risk factor is anything that can increase the chances of a senior falling. This could include certain medications, physical conditions, medical issues, and the person's home environment.
Consider these common risk factors:
Poor eyesight
Arthritis
Multiple medications
A lack of grab bars in the bathroom
Loose carpeting or rugs
Clutter around the house
Eliminating Fall Risks
As part of our in home care services, we inspect our clients' houses and asses them for fall risk factors. This way they can quickly be taken care of eliminating the risk of falls. Preventing falls and the injuries that come with them is one of the most common reasons given for hiring in home care services for an elderly loved one. At Visiting Angels of Augusta, we are committed to teaching our caregivers, senior clients, and their family a variety of ways to reduce the risk of a fall that could seriously impact the client's way of life.
Schedule Your Free, In-Home Assessment
If you would like to learn more about the in home care services offered by Visiting Angels of Augusta, contact our office at 706-955-4220 or click the button below to fill out our intake form and schedule your free in-home consultation today! Each in-home consultation comes with a complimentary fall assessment to determine if your loved one's home needs any adjustments to help prevent costly and dangerous falls.

Serving Augusta, Evans, Martinez, GA, and the Surrounding Area
Visiting Angels
AUGUSTA, GA
119 Davis Road Suite #6B
Augusta, GA 30907
Phone: 706-955-4220
Fax: 678-817-5717