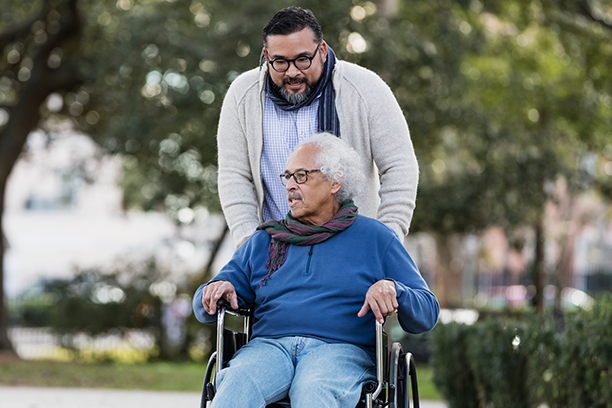 Get Paid To Be A Caregiver For A Family Member
Would you like to get paid to be a caregiver for your loved one?
It's extremely common today for family or close friends to provide unpaid (informal) caregiver services to their loved ones. Providing home care services to the elderly who may be disabled, or suffering from dementia or Alzheimer's disease cam be time consuming and require a lot of resources. Using your time to help can take away from the time needed to 'make a living'. Good news though... there is a program available that can help you get paid to care for your loved one. It is the waiver program offered by the Dept of Health and Human Services.

At Visiting Angels - Bethlehem, we can help facilitate this process with you. Providing care for a loved one through Visiting Angels would also offer a great work history as we are the number 1 choice for home care in the Poconos and the Greater Bethlehem area.
Here are some frequently asked questions about this program:
Who is eligible?
The family member or friend in need of care, must qualify for the Medicaid program. Visiting Angels can offer direction with the process.
What do I need to do to qualify?
Must be 21 years old, pass a background check, and go through our on-boarding process to become an employee of Visiting Angels.
Do I need experience?
Not always. Just a willingness to learn and accept training.
How much would I get paid to provide home care services to my loved one?
It depends upon the number of hours awarded by the state to your friend or loved one. Some awards are less than 40 hours but many offer more hours. We must pay overtime based upon a 40 hours work week so the pay is varied and you would know your weekly salary prior to hiring.
What Areas Do You Serve?
Greater Bethlehem and Poconos area.
If you would like to inquire about this program, give us a call today at 610-253-6353.
Serving Bethlehem, Northampton and surrounding Lehigh Valley
Visiting Angels
BETHLEHEM & NORTHAMPTON,PA
35 E Elizabeth Ave
Bethlehem, PA 18018
Phone: 610-253-6353