June 2018 Employee Spotlight | Visiting Angels NJ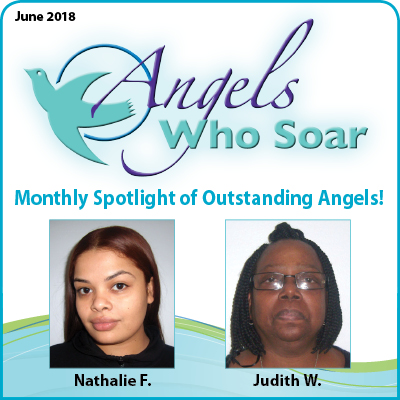 We appreciate and value our home care field employees! Every month we spotlight them as Angels Who Soar. This June we are highlighting Nathalie F. and Judith W.
Nathalie F. has been on our Angel team since September 2017. Not only do our clients appreciate her, but the office staff does, too. Over the Memorial Day weekend, she was willing and able to do 3 fill-in assignments in a row! It's so helpful, especially on a holiday weekend, to have special "go-to" Angels like Nathalie who are willing to step-in at a moment's notice. We also appreciate that she responds to office requests within an hour.
Judith W. is one of our star newer Angels who has not missed an assignment by calling out. She is a hard-working employee who currently cares for 3 of our clients. While most of our Angels prefer to work closer to their own homes, Judith has been willing to travel to assignments throughout both Mercer and Burlington counties, which we greatly appreciate!
Thank you, Nathalie and Judith!