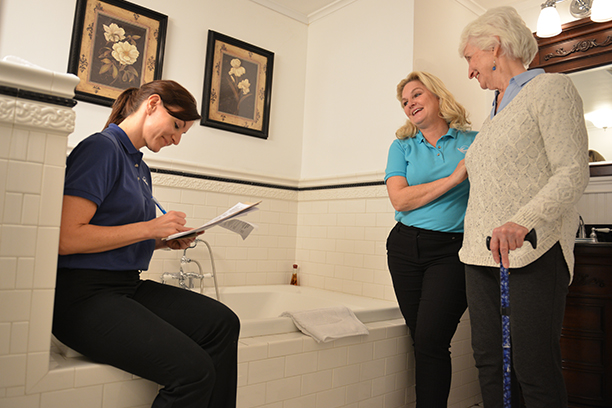 Home Care News by Angels
Don't miss an issue of "Home Care News by Angels"!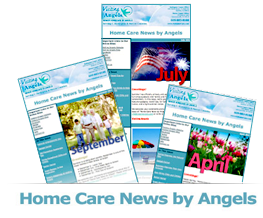 Each issue features engaging topics relevant to seniors and seniors' families. We also feature useful gadgets and products, senior humor, Angel Recipes, what's happening at our New Jersey offices, and more!
July/August 2023: Fun Things To Do Around New Jersey This Summer; Senior Humor: The Best Son; Balance and Strength May Reduce Fall Risk for Seniors; 4 Ways to Improve a Senior's Indoor Environment; Angel Recipes: Cherry Tomato Salad; Gadget Corner: Link Latch and Twinkle Star Emergency Roadside Flare; Angels Who Soar: Outstanding CHHA Caregiver Employees of the Month—Sherley J-G and Audrey "Niqqie" L; Client Review: Nancy C from Hamilton, New Jersey; What's Happening at Visiting Angels: Congratulations to our Co-Owners, Nora + Rudy!
May/June 2023: 4 Healthy Habits for Seniors to Keep Sharp; 6 Legal Documents Seniors Should Have; Gadget Corner: Storyworth Personal Memoir Books and Bird Buddy Smart Bird Feeder; Client Home Care Review: Tom C, Princeton, NJ; Home Health Aide Employees of the Month: Patricia L and Rosina A; Senior Humor: A Perfect Marriage?; Angel Recipes: Cucumber and Onion Salad; Celebrity Birthdays
March/April 2023: 5 Super Foods for Older People; 4 Tips to Help Seniors Practice Good Oral Hygiene; Gadget Corner: Scrubzz Rinse-Free Bath Sponge and Lexie B2 OTC Hearing Aide Powered by Bose; Visiting Angels Client Review: Claudia G, Ewing, NJ; Outstanding Angels of the Month: Grace P and Shirley M; Senior Humor: The Dress; 50 Years Ago: 1973 Trivia; Angel Recipes: Chicken, Asparagus, and Mushroom Skillet

January/February 2023: Senior Humor: The Honeymoon's Over; Preventative Nail Care for Seniors; 7 Bathroom Safety Tips to Prevent Falls and Injuries; Gluten-Free Slow Cooker Chicken Vegetable Soup; Client Review of Visiting Angels' Care: Kim G from Pennington, NJ; Gadget Corner: Seronic Dialogue Enhancing Portable TV Speaker and Presto Plug Outlet Extender; Angels of the Month: Jesus "Maria" T. and Milagros "Millie" A.

November/December 2022: Tips to Reduce Holiday Stress for Seniors; Bedroom Safety Tips for Seniors; Angel Recipe: Slow Cooker Lasagna; Gadget Corner: Zippo HeatBank 6 Rechargeable Hand Warmer and Gripperz Spill-Proof Cup Holder; Senior Humor: The Pet; Client Review: Nancy M from Cherry Hill, NJ; Outstanding Employees: Jocina H and Josephine V

September/October 2022: The Impact Grandchildren Can Have in Senior Care; Appliances That Promote Senior Safety and Accessibility; Senior Humor: The Text; Angel Recipes: Easy Apple Coleslaw; Gadget Corner: Kuhn Rikon 5-in-1 Master Opener and Special Edition Scrub Daddy; Angels Who Soar: Celebrating Our Hardworking Employees: Wislaine A. and Veronica T.; 50 Years Ago: Emmy Awards; Client Home Care Review: Liza G from Pennington

July/August 2022: Fun things to do in NJ in July and August; Senior Humor: Senior Aerobics; How to Help Seniors with Hoarding Problems with video; Angel Recipes: Cheese Tortellini with Tomatoes and Corn; 10 Benefits of Swimming; Gadget Corner: Lift Lender and Bug Bite Thing; Client Testimonial: Lisa in Beverly, NJ; July-August Celebrity Birthdays; Angels Who Soar Employees of the Month: Jeilyn and Amal; Recognizing Our Long Service Caregivers
Don't miss an issue! Go to our E-Newsletter Archive Page to read all past and current issues
Serving Mercer & Burlington Counties in New Jersey
Visiting Angels
MERCER & BURLINGTON COUNTIES, NJ
140 Darrah Ln
Lawrenceville, NJ 08648
Phone: 609-883-8188
Fax: 609-883-8199
200 Campbell Dr #105C
Willingboro NJ 08046
Phone: 609-883-8188