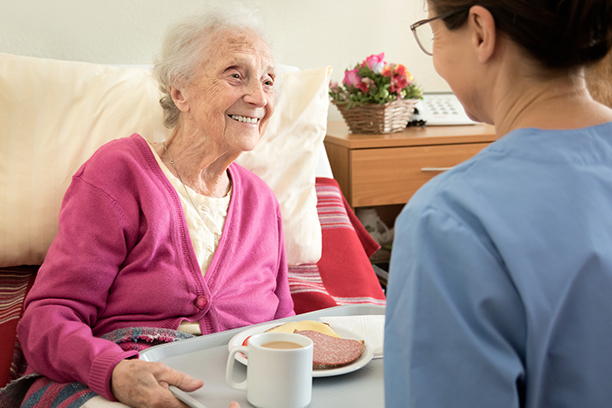 Veterans Program in NJ | Aid & Attendance Benefit
Visiting Angels of Mercer & Burlington Counties provides qualifying New Jersey veterans and their widowed spouses with home care at no personal cost—well before they are awarded the Aid & Attendance home care benefit from the U.S. Department of Veterans Affairs
Qualifying veterans and their widowed spouses may be eligible for the Aid & Attendance benefit from the U.S. Department of Veterans Affairs (VA). Once the veteran's application for this benefit has been approved, a veteran can receive home care services funded by the U.S. government. However, it may take between 8-12 months for the application to be approved, thus delaying much-needed care.
Visiting Angels Provides Home Care Services to Qualifying Veterans Faster—At No Personal Cost or Risk
Visiting Angels offers a Veterans Program in which we will start servicing qualifying veterans or their surviving spouses shortly after submitting their applications for Aid & Attendance benefit program—before VA approval. If the VA eventually approves the veteran's application, the government will pay for the home care services that Visiting Angels provided during the 8-12 month processing period. However, if the VA rejects a veteran's application, neither the veteran nor the veteran's family will be charged for any home care assistance provided under Visiting Angels' Veterans Program.
The Veteran's Aid & Attendance Benefit Program: Who May Qualify
A veteran:
Has a non-service related disability
Is unable to perform at least two activities of daily living
Must have served ninety consecutive days active duty, with at least one day during wartime
Must also hold an Honorable Discharge status
A widowed spouse must have been:
Married to the veteran at the time of the veteran's death and never remarried
Married to the veteran for at least one year or have had children by the veteran
Living with the veteran at the time of the veteran's death, unless the separation was due to medical or military reasons
Financial requirements:
Total combined household assets (excludes the primary home and car) cannot exceed a cap that is based on the age of the veteran or his widowed spouse and ranges from $10,000 to $40,000.
Veterans must satisfy the Veterans Affairs' Low Income provision. Their net monthly income, after deducting certain medical expenses, must be low enough to meet the VA's criteria
Medical requirements:
Certification by the individual's doctor stating they are in need of assistance due to an existing medical condition (acute or chronic)
Estimated Benefits Available
Veteran with Spouse: May cover up to 75 hours each month for home care services
Veteran, Single: May cover up to 65 hours each month
Veteran's Widowed Spouse: May receive up to 40 hours each month
These are guidelines and may vary. For full details, visit the U.S. Department of Veterans Affairs website at www.va.gov.
Serving Mercer & Burlington Counties in New Jersey
Visiting Angels
MERCER & BURLINGTON COUNTIES, NJ
140 Darrah Ln
Lawrenceville, NJ 08648
Phone: 609-883-8188
Fax: 609-883-8199
200 Campbell Dr #105C
Willingboro NJ 08046
Phone: 609-883-8188