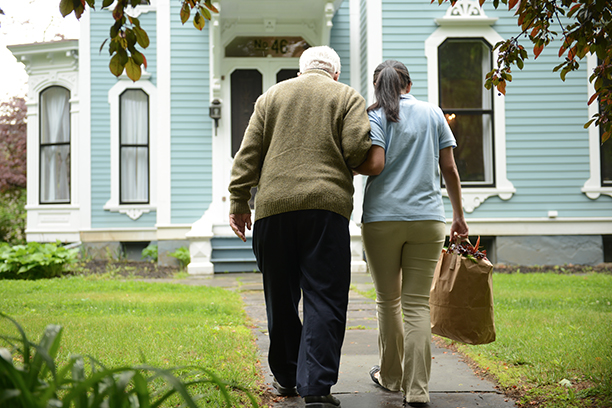 Expert In-Home Parkinson's Care Services for Seniors in East Cincinnati, OH and Surrounding Areas
Parkinson's Care in East Cincinnati
Has your loved one been diagnosed with Parkinson's Disease? If so, you may be feeling a lot of fear and uncertainty-- which is normal. The most common questions you may be asking yourself are:
How quickly will they escalate?

When will symptoms occur?
How will this impact their independence and quality of life?
Visiting Angels East Cincinnati is here to help you work through these questions and the diagnosis through our Parkinson's Care services. We have the information and care needed to support your loved ones while keeping them safely in their own home for as long as possible. We have compiled a list of things you should know about the disease and how we serve those.
Most patients live 10-20 years after the initial diagnosis. This disease generally occurs around the age of 60.

This disease is a degenerative neurological disease. It slowly progresses over time, which is why Parkinson's Care can be helpful.
Doctors don't know precisely why the illness occurs, but they understand that dopamine production is impacted when the brain begins to decline. This neurotransmitter is responsible for brain-to-muscle communication so that patients experience a loss of motor function.
Symptoms will gradually appear, advancing as time goes on. The most common symptoms are tremors and shaking, as well as slowness and stiffness known as Bradykinesia.
Other symptoms patients experience include trouble with balance, falls due to postural instability, confusion, and fatigue.
Parkinson's Care: How Visiting Angels Wall Can Help
When your loved one is first diagnosed with Parkinson's, they may feel as if they do not need a lot of extra attention and support. As time goes on and the disease worsens, there are many areas of care that they may need assistance with. Visiting Angels offer a variety of services that help with Parkinson's care. We also provide family caregivers with respite care. Just some of the specific ways we can help your loved one includes:
Personal care

assistance when bathing and dressing

Transportation to and from doctor and therapy appointments

Help grocery shopping and preparing meals

Social support and companionship
Contact Visiting Angels of East Cincinnati, OH today to learn how we help seniors living with Parkinson's remain independent. We look forward to working with you!
Serving Eastern Cincinnati: Montgomery, Hyde Park, Mt. Lookout, Terrace Park, Newtown, Kenwood, Blue Ash, Amberley Village, Milford, Indian Hill, Amelia, and Anderson Township
Visiting Angels
EAST CINCINNATI, OH
8595 Beechmont Ave #207
Cincinnati, OH 45255
Phone: 513-898-1440
Fax: 513-898-9075