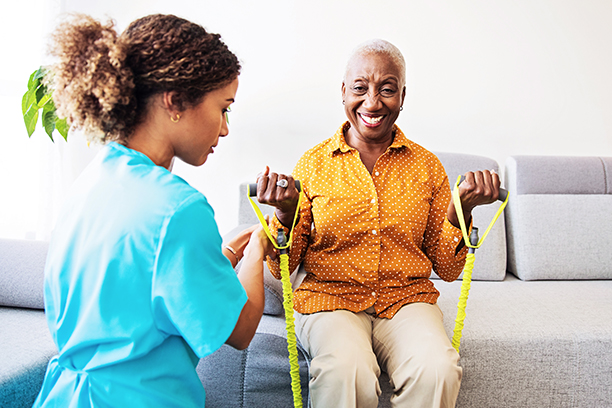 How a Caregiver Can Help Reduce Hospital Readmissions
More and more seniors each year are forced to be away from their homes for long periods due to illness. According to the Centers for Medicare and Medicaid Service (CMS), "nearly one in five Medicare patients discharged from a hospital, approximately 2.6 million seniors, are readmitted within 30 days, at a cost of over $26 billion every year." At Visiting Angels of East Cincinnati, we help seniors beat the odds and avoid hospital readmission.
How We Reduce Hospital Readmissions in Cincinnati, OH and Surrounding Areas
At Visiting Angels of Cincinnati, we have a three-pronged process towards preventing hospital readmission. From the hospital to back at the office, we do all that we can to ensure our clients thrive.
At the hospital:

To prevent readmission, care must start at the hospital. One of our caregivers at Visiting Angels of East Cincinnati will give the patient a copy of "Ready-Set-Go Home". This is a discharge guide that will inform about what they need to do prevent readmission. It will also include information about the client's medical conditions including special dietary needs, reported symptoms, and medications. With this guide in hand, they'll be prepared to come home when the time comes.

At the client's home:

As our clients enjoy the comforts of home, our caregivers will be there to record their activity and catch problems before they become unmanageable. We will be there to correct unhealthy behavior, like missed appointments and medication doses. Our caregivers will also report signs of potential problems to available case managers and supervisors so problems can be addressed in a timely fashion.

At the Visiting Angels Office:

Our office staff are equipped with the researching skills to identify clients who are at high risk for readmission. We will do all that we can to help them through their medical situations by offering medication and appointment reminders, facilitating medication delivery, and other tasks as needed.
Why Do Hospital Readmissions Occur?
Combating hospital readmission begins with education. Reasons behind readmission largely depend on the patient and their environment, but these are instances that occur often:
Not taking medication; not taking medication properly

Lack of follow-through towards discharge instructions

Trouble handling disease or illness at home

Lack of follow-up towards medical appointments or follow-through with medical instructions

Exhaustion from hospital eating schedules and lack of sleep
Serving Eastern Cincinnati: Montgomery, Hyde Park, Mt. Lookout, Terrace Park, Newtown, Kenwood, Blue Ash, Amberley Village, Milford, Indian Hill, Amelia, and Anderson Township
Visiting Angels
EAST CINCINNATI, OH
8595 Beechmont Ave #207
Cincinnati, OH 45255
Phone: 513-898-1440
Fax: 513-898-9075